5.0 inch Android for PSP-Like Smart Phone
Loading Port:

Shekou
Payment Terms:

TT OR LC
Min Order Qty:

1000 unit
Supply Capability:

50000 unit/month
Inquire Now
Customer Service
OKorder Service Pledge
Quality Product
Order Online Tracking
Timely Delivery
OKorder Financial Service
Credit Rating
Credit Services
Credit Purchasing
---
Add to My Favorites
---
1. Structure of Smartphone Description:
MT6582 ( Quad core 1.3Ghz Processor) Cortex A7
Android 4.4.2, 1GB+8GB, 2.0MP+5.0MP
2. Main Features of the Smartphone:
1) Display size/resolution: 5" IPS HD 1280*720 HD 1280*720
2) Touch panel:CTP (Multi touch)
3)HW platform: MSM8916 (Quad-Core) 1.3GHz
4) OS: Android 4.4
5)Sopport:OTG,NFC
3. Smartphone Images: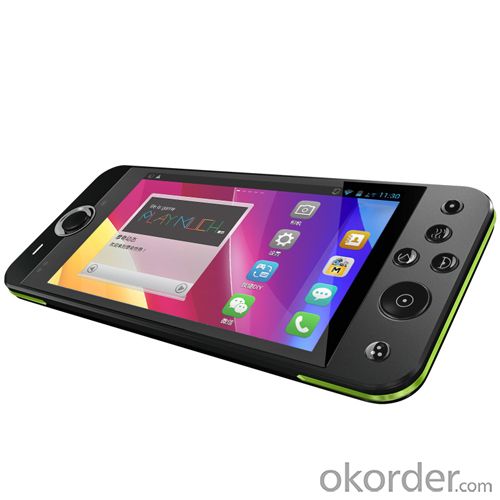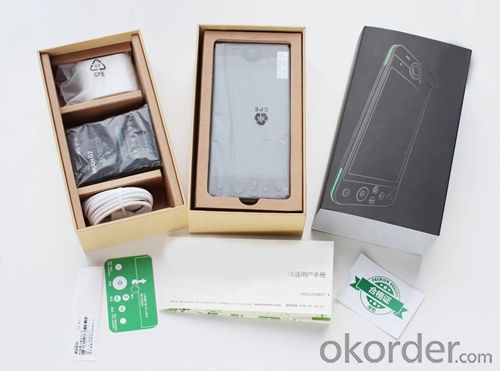 4. Smartphone Specification:

S/W
OS :Android 4.4
Languages:Muilt-languages, support customized
Imput:Andriod and others
Image Format:JPEG,GIF, BMP, PNG
Audio Format:Midi, MP3, AAC,WB AMR,AAC+,eAAC
Video Format:AVI(H.264, DIVX, XVID), rm, rmvb, MKV, WMV, MOV, MP4(H.264, MPEG, DIVX, XVID), MPEG, MPG, FLV.
:
FM Radio:Support (Earphone cable as an antenna)
Record:Support
GPS:Support
G-sensor:Support
Proximity sensor:Support
Light sensor:Support
E-compass:Support
Air Guestures:Not support
Infrared remote control:Not support
Connection
Earphone:D3.5mm, stereo
USB:Mirco 5PIN, USB2.0
Charge:USB connector
OTG: support
Accessories
User's Manual:Standard
AC/DC Power Adapter:Standard
USB Cable:Standard
Earphone:Optional
5. FAQ of Smartphone:

1. Question: What is your product quality?
Answer: 100% test before shipping ,one year warranty , very few defective rate .
2. Question: Can you put my brand name (logo) on the phone ?
Answer: Yes, for samples order we can't print logo,if order over 3000pcs , we can do OEM your logo on back cover
and box ,turn on picture and unlock slide sign , menual all of this with your logo on .
3. Question: which way to ship the goods to me ?
Answer: By fedex , Dhl for small order ,big order by air or by sea .
4. Question: What payment method do you accept?
Answer: T/T ,LC and West Union.
5. Question: if the goods has problem ,how to solve it?
Answer : if goods has problem , it can send back us , we will repair to you .
Q:Why gas stations can not call the phone?

A mobile phone is a radio communication tool that emits radiated radio waves (radio frequency electromagnetic radiation) that can cause radio antennas to sense radio frequency currents.
Q:I want to sell mobile phone in Africa, but I don't know about the market. Is Africa mobile phone market huge? And what kind of mobile phone do Africans like?
Q:Does anybody know any kind of PDA or mobile phones that comes with full internet browser like on a deskstop or laptop?It gotta show the pictures and everything on the webpages.

Thes days most mobile phones have screens big enough to accomodate web browsing along with pictures. Nokia is the easiest to use in terms of layout and ease of use.
Q:Can i download backgrounds and ringtone from my computer to my virgin mobile Aloha phone? If I can how do i do it? Please and thanks!

I don't think it can be done. And if it can be, not very easily. Here's why. Virgin Mobile makes great cheap phones. But they come at a different price. They intentionally limit (nice way of saying cripple) the phone in certain ways to prevent phone unlockers from taking these cheap phones and putting them on other phone networks like Metro PCS or Cricket. Virgin Mobile along with Tracfone both sell cheap phones and are famous for suing big time phone unlockers. And often winning the lawsuits too. To prevent unlockers from hacking their phones , one of the most common things they do is limit user access to the phone by limiting usb cable connections, bluetooth and other data port connections between the phones and pcs ( usb cable connections is one of the most common ways to flash/unlock a phone). The Aloha might be an exception but I don't think so because it is a cheaper model. (Virgin doesn't want some company buying up hundreds of Alohas at Best Buy or whatever and reflashing them and reselling them for a big profit at Virgin Mobile's expense.) They spend a lot protecting their lower end stuff. Kind of ironic really .
Q:I am doing a coursework and that is the title, i was wondering if anyone has any FOR points for my coursework? and where you got it from too, that'd really help! thnx a bunch :)

i dont really understand your question but i will answer anyway. mobile phones are very safe because you can go anywhere with it (ulike a landline) and you can keep in touch with your friends and family in case something happens
Q:Hello! I'm looking for a phone, it has to be T mobile, and I already have a plan if that matters, yea, anyways! So I want a phone that actually WORKS effectively ha ha! And I would love it to be red :) That'd be great, and the less expensive the better! Thank you so much!

So okorder
Q:Hey. I'm order a new phone yesterday (the switch back from virgin mobile) and I was wondering if it really is worth 80 dollars. But for anyone who has it is it good?

well actually it is worth it because 80 for a qwerty phone its pretty cheap! all the other qwerty phones are very expensive specially if you buy it full invoice price! which is good about this cell is that is cheap and it does a lot of thingsyou made a good decision. the bad is that the camara is not as great.and the front display isn't great eitherbut you made a good decision.dont worry if you have any question just email mei have a sidekick slide by the way but am about to get this phone too because its cheap liike bulky phones and the messaging packed from virgin mobile its awesome! peace!!!!
Q:im am in this plan thing at a mobileshop where i keep a mobilephone for like 4 years and then i can upgrade to a similarly priced phone for free, any way i brought a nokia n95 (at about $800 - $900) (i can also put money towards it as well when upgrading) and i was wondering what mobile phone i should get, i was thinking of either an iphone 4 or a htc 7

iPhone 4 I was going to say that before reading the details but since you were considering buying it then don't just consider, GO BUY IT! I have it and it rocks!~
Q:How do I get my pictures off my T-mobile phone and put them on my myspace???

I have t-mobile and i just plug my phone into my computer click startmy computer then click on your phones file (the name is different for everyone) then you pics should be in there! :) good luck
Q:i tried using 1800-reverse on my mobile hone today because i had no credit and it didn't work, when i got home i tried on my LAN-phone and it worked. i live in south Australia, is there a different number for mobiles?

No,it just because there isnt yet any agreement between 1800reverse and mobile phone inc for such the service and the mobile phone inc apply the very simple TOS,no credit no call. Soon if they both has agreement (if they want) the mobile phone inc will get the money from 1800reverse for your call.And thats NO money NO connection.
1. Manufacturer Overview

Location
Year Established
Annual Output Value
Main Markets
Company Certifications
2. Manufacturer Certificates

a) Certification Name
Range
Reference
Validity Period
3. Manufacturer Capability

a)Trade Capacity
Nearest Port
Export Percentage
No.of Employees in Trade Department
Language Spoken:
b)Factory Information
Factory Size:
No. of Production Lines
Contract Manufacturing
Product Price Range