1.3 mm medium aluminum ultrathin electronic glass
Loading Port:

China main port
Payment Terms:

TT OR LC
Min Order Qty:

394 m²
Supply Capability:

39400 m²/month
Option:

1244.6*1092.2mm
OKorder Service Pledge
Quality Product
Order Online Tracking
Timely Delivery
OKorder Financial Service
Credit Rating
Credit Services
Credit Purchasing
---
Add to My Favorites
---
Item specifice
---
1.3 mm medium aluminum ultrathin electronic glass, electronic grade, size 1244.6 * 1092.2 mm, 290 pieces per box, total 394 m2 per box.The thickness range is from 1.26 mm to 1.34 mm, and the thickness difference is ≤0.05 mm.
Electronic Glass is a kind of high strength touch and cover glass, which is one of the key materials of capacitive touch screen and also the protection cover glass. Widely used in smart phones, tablets, laptops, smart watches, car applications, public query systems, ATM machines, song and order system, industrial control, medical and other fields. In recent years, the demand for touch screen and cover glass is strong and growing steadily due to the increase in sales of electronic products such as smartphones and tablet computers, the increase in screen size and the development of the non-metal back cover market.
At the same time, due to its high strength, light weight and high transmission, high performance e-glass has been gradually accepted and applied in large-scale fields such as photovoltaics, new energy electric vehicles and high-speed trains, the future high-performance electronic glass products will have greater potential demand, the market prospects continue to look good.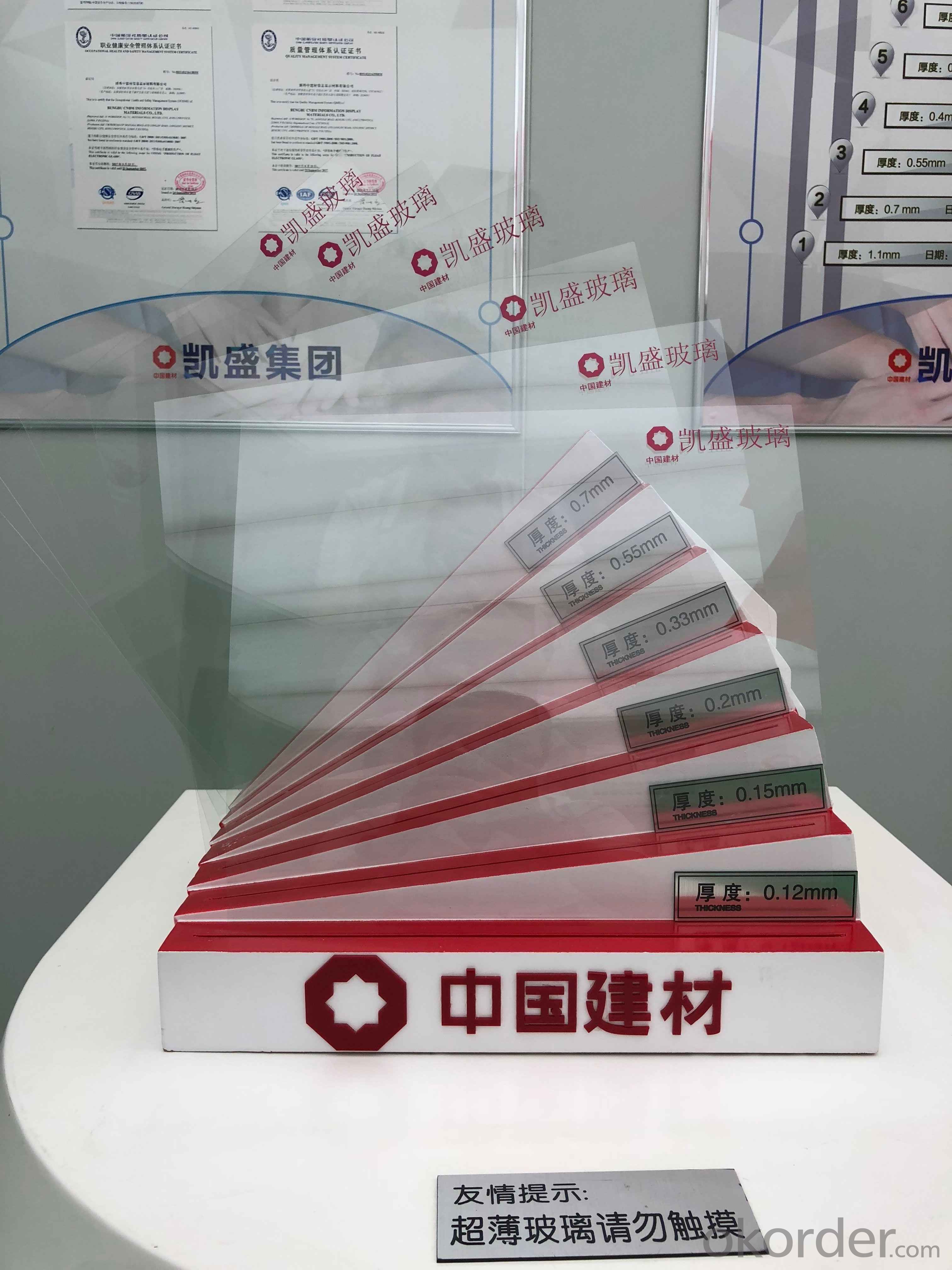 Q:IN THE STATE OF FLORIDA CAN A STATE GLASS AND GLAZING CONTRACTOR PULL A BUILDING PERMIT FOR A COMMERCIAL OR RESIDENTIAL BUILDING/

He can not go higher then residential buildings. Anything higher then that would have to work with a building contractor. there limit is anything three stories and stores. A general contractor is unlimited.
Q:can i build a tank 2000x500x400mm with braces with 5mm thick glass?

NO WAY. You are going to need at very least 12 - 15 mm glass on that tank maybe higher. That just going of a tank here which is just over 55 gallons or 220 lt in it and that has 7mm in it and braced. As off them measurements that going to be close to a 105 gallon tank or close to 400 lts. So ya looking at 400 kg of weight just in water before ya add anything else to it eg gravel etc. And as soon as ya fill it ya going to have a huge mess to clean up when the glass gives way under the weight .
Q:nan

It means that fantasy and reality are not one and the same thing. In a fantasy people can imagine what they want to. So for this fantasy you can picture a shock wave. Titan takes off by providing a very sudden very high force. Which radiates through the building shattering glass. Just like high explosive would. But this is only a background to a plausible fiction.
Q:My living room west sun, want to paste a window in the insulation film. Will the glass insulation film is doing? Are you going to work? Will the house darken?

Hello: Insulation film is affixed to the inner surface of architectural glass to improve the performance and strength of glass, so that it has insulation, heat insulation, energy saving, anti-riot, anti-ultraviolet, landscaping appearance, to avoid privacy, security and other functions, Car glass and building doors and windows, partitions, roof and so on. The use of foil glass and the use of ordinary flat glass, tempered glass, semi-tempered glass compared to the security has been greatly improved. The third layer: anti-ultraviolet isolation layer; the fourth layer: radiation protection; the first layer: the first layer: transparent layer of plastic protective layer; Isolation layer; fifth layer: metal insulation film layer; sixth layer: AAA, PET base layer; seventh layer: fixed adhesive layer; eighth layer: antioxidant isolation layer; ninth layer: wear Coating layer; tenth layer: aerobic neutral coating. Paste the effect is very good, and will not affect the lighting.
Q:Glass insulation film how to tear off

You tear when the time to a little skill, it is best to cooperate with two people together. To use Qiaojin, tear when the edge of the tearing point of water spray
Q:What are the types of glass?

Ordinary flat glass is also called window glass. Ordinary flat glass with light transmission, insulation, sound insulation, wear resistance, resistance to climate change performance, and some insulation, heat absorption, radiation and other characteristics, which are widely used in mosaic buildings doors and windows, Interior decoration and so on.
Q:In the kitchen glass lid heating process, it is necessary to remove the heated glass cover from the heating furnace and transfer it to the conveyor belt in the specified direction for subsequent process. Currently rely on manual operation, due to high temperature radiation production conditions are bad, there is no alternative to artificial approach?

Features and functions: ??????? 1) run the game can be configured to run smoothly to avoid mechanical resonance. 2) accurate positioning, running a continuous impact of small mechanical. 3) Simple and reliable operation, maintenance-free. 4) During the transit process, there is a 180 degree flip process action to facilitate the next step to work. 5) The transit time is maintained for 3 to 6 seconds, which is conducive to improving product quality. 6) on the edge of the glass cover to protect, to avoid the defective.
Q:Tempered glass and ordinary glass technology and raw materials What is the difference in detail Thank you

The production process of the glass is: raw material crushing, sieving, weighing, mixing, high temperature (1600 degrees) melting into glass liquid, glass liquid homogenization cooling forming, cutting, annealing, cooling, inspection, packaging. The main raw materials are: quartz sand or sandstone, feldspar, soda ash, limestone, dolomite, in addition to soda ash are ore raw materials, need to break into the appropriate size. Tempered glass is a reusable product of ordinary glass. The main components of its glass is silica, calcium oxide and sodium oxide, so called sodium silicate glass. There are two ways to temper glass, physical steel (air-cooled steel) and chemical steel. Tempered glass is used in the chemical steel method. The principle is to use the "head" of the larger potassium ions to replace the glass surface "head" smaller sodium ions, making the glass surface was tensioned, that is, the formation of compressive stress, so that the glass has a very high impact resistance Increased by 5 times). Physical tempered architectural glass also makes the glass surface compressive.
Q:I have been laid off my job of 26 years doing exactly this. I would like to look into teaching at a community college passing my skills onto others. Any advice?How much do you think I could expect to get paid?Thanks in advance!

Start by going to yahoo questions and posing a question along this lines: how do I go about getting a job teaching others to design and build leaded glass windows? Then wait for brilliant ideas to make you into the next Bill Gates (or Windows as the case may be).
Q:Lists any references if possible, thanks.

In places with high chance of earthquakes, they use a fusion of 1/4 inch of glass which is glued ot and inch of heavy-duty plastic.
1. Manufacturer Overview

Location
Year Established
Annual Output Value
Main Markets
Company Certifications
2. Manufacturer Certificates

a) Certification Name
Range
Reference
Validity Period
3. Manufacturer Capability

a)Trade Capacity
Nearest Port
Export Percentage
No.of Employees in Trade Department
Language Spoken:
b)Factory Information
Factory Size:
No. of Production Lines
Contract Manufacturing
Product Price Range