Superior Steel Forged Grinding Ball For Plant Cement and Mine
Loading Port:

Shanghai Port
Payment Terms:

TT or LC
Min Order Qty:

25M.T. m.t.
Supply Capability:

200000M.T./Year m.t./month
OKorder Service Pledge
Quality Product
Order Online Tracking
Timely Delivery
OKorder Financial Service
Credit Rating
Credit Services
Credit Purchasing
---
Add to My Favorites
---
(1).Raw material: Round steel ,the raw material of forged balls ,are totally ordered from our national large -scale steel mills. We can also provide special processing as per special requirements of different grinding balls
Materials.
(2).Scientific Proportioning :Rational chemical composition is gradually optimized and formed by our technical staff after continuous tests. It is unique .The best configuration of various alloying elements can combine the ball′s hardness and toughness' at their best.
(3).Electric furnace smelting: All cast steel balls are produced by intermediate frequency electric furnace .The purity and stability of materials are effectively ensured after uniform temperatures conditioning and twice hot metal purificati0n.
(4).Assay before furnace :Temperature control is an important and complex process during cast steel ball production. Different tapping temperature and heat temperature are sensitively reflected in the quality of the products. It is requested to master the proper pouring temperature ,mold temperature ,so that can make sure the products achieve a good state of body tissue during the transition from Liquid to solid states.
(5).Mould forming: Pouring when the molten iron temperature difference between molten iron and the molds. In this way ,the ball can achieve internal organization of grain refinement and be more dense .Meanwhile ,the carbide is radically arranged ,and such Carbide is embedded in the matrix again during grinidng process, forming harde layer continuously .So that the hardness and thoughness is maintained to a reasonable.
(6).Heat treatment: We have two sets of heat treatment production line .One is oil quenching, the other is air quenching ,so that the grinding balls can be burring through quenching. And the grinding media has the characters of high hardness ,good thoughness,low wear rate ,low break rate, wear -resistant etc. through tempering
The Product Description of Superior Steel Forged Grinding Ball For Plant Cement and Mine
Model

Mechanical properties

Microstructure

HRC

Times of falling (5m)

Low Chromium

≥45

8000

P+C

Medium Chromium

≥55

10000

P+C

High Chromium

≥60

10000

M+C
Chemical Composition of Superior Steel Forged Grinding Ball For Plant Cement and Mine
Model

Chemical Composition

C

Si

Mn

Cr

P

S

Low Chromium

2.3-3.4

≤1.5

0.7-1.5

1.3-2.7

≤0.1

≤0.1

Medium Chromium

2.2-2.8

0.5-1.0

0.7-1.0

11.0-15.0

≤0.1

≤0.1

High Chromium

2.4-3.2

0.5-0.8

0.7-1.2

15.0-18.0

≤0.1

≤0.1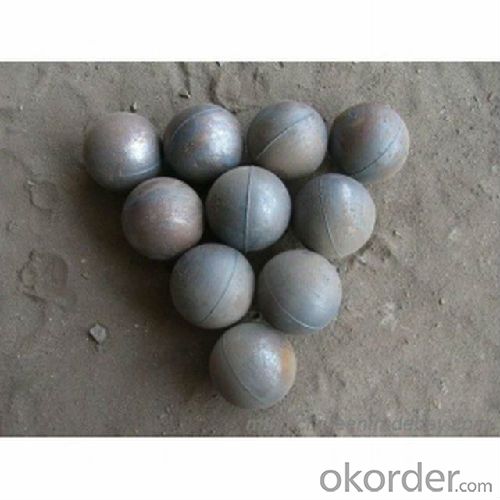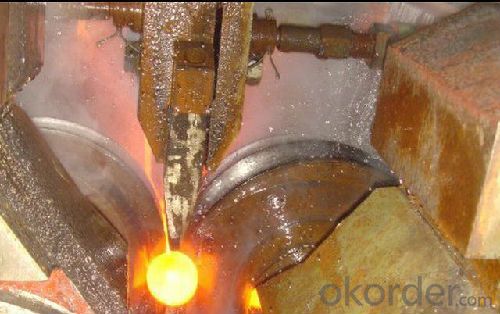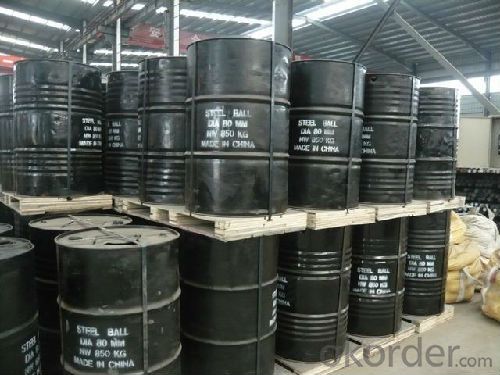 Q:Casting parts by shot blasting, spray painting, baking after the formation of very small rust spots, how to solve ah?

The first process is very important. Shot blasting must be thorough. The solution is to wipe the surface of the paint with a release. Re shot
Q:What's the cause of the choking of the casting?,

2. when casting mold exhaust condition is not good, in the casting material use consider whether and hinder its gas permeability; in the process to consider to release more pores, multi venting; core exhaust is particularly important.
Q:How can the casting be quenched and tempered?

Another is the result of pre heat treatment (quenching or annealing) after quenching and tempering treatment, suitable for ZG35SiMNMo, ZG35CrMo and so on. Please tell the casting process is your product and material and then set tempered.: shutup:
Q:The difference between cement sand castings, resin sand castings and vacuum casting parts

Vacuum casting is the process of using ventilation molds. Molten metal flows into the mold by air pressure, and then removes air to form a vacuum. The casting process is mainly used for small parts or jewelry with exquisite detailsCompared with the traditional clay sand casting, heat hardening resin sand casting production with low surface roughness, high precision, good quality characteristics, dimensional accuracy of resin sand mold after hardening with good rigidity and high, and not easy to deform, so in the choice of process parameters, mechanical processing you can select a smaller margin, thereby reducing the consumption of metal solution and machining cost, which can improve the dimensional accuracy of castings.
Q:ZGMn13 casting parts processing, with what knife head good?

The ZGMn13 itself is not have processing, if only the processing point, sharpening, ordinary can, if the processing area is relatively large, ZGMn13 external impact load is bigger, its surface wear resistance is high; the two is with the gradual wear of surface hardening, the hardening layer is continuously formed new if you have suggestions, processing, plasma cutting or flame cutting try
Q:What is the difference between casting and stamping parts?

Cold stamping is generally no longer done by cutting, or only a small amount of cutting is required. The precision and surface state of hot stamping parts are lower than those of cold stamping parts, but they are better than those of castings and forgings, and the amount of cutting is less.Stamping is mainly based on process classification, can be divided into separation process and forming process two major categories.
Q:Casting parts need to be subjected to the kind of heat treatment after the weldment is finished

Annealing is needed to eliminate stress and refine grain
Q:What reason is the bronze statue choking fire?

The casting process in boiling phenomenon, is the setting of the exhaust hole positioner position or number is not reasonable, the air cavity can not be discharged, overwhelmed by a material inlet, reflux, change mould, sincerely help you look forward to adopt,
Q:What is the difference between forging parts and casting parts?

Forging is in hot state through the metal hammer or press equipment produced by forging parts. A casting is a metal that is liquid and is poured into a cavity of a specified shape and cooled and solidified. It is the forging metal soft pinch molding, and casting the metal into thin cooling solidification.Forged parts are costly and have long production cycles.
Q:Cause of choking of casting parts

The reason is not in the coated sand, see coating gas evolution, the best use of zircon powder coating (low gas evolution), there is a mold according to a vent needle, this depends on your way is flat or vertical pouring pouring pouring, if vertical pouring, venting pin on the die, and the big piece how could the plane, pouring water flat, a breath, a taboo ah!
Grinding Prince was established in February, 2004 with an area of 24,400 square meters. Our company is an outstanding private enterprise specializing in the production of wear-resistant, corrosion-resistant, and heat-resistant alloy iron and steel castings. Currently, our production capacity of various types of wear-resistant casting balls and heat-resistant steel castings is 10,000 tons.
1. Manufacturer Overview

Location
Anshan City, Liaoning Province,China
Year Established
2002
Annual Output Value
US$1 Million - US$2.5 Million
Main Markets
Domestic Market; South America; Eastern Asia; South Asia; Mid East
Company Certifications
ISO9001;IS014001 Certificate
2. Manufacturer Certificates

a) Certification Name
Range
Reference
Validity Period
3. Manufacturer Capability

a)Trade Capacity
Nearest Port
Shanghai Port;Dalian Port;Tianjin Port;Yingkou Port
Export Percentage
No.of Employees in Trade Department
6 - 10 People
Language Spoken:
English; Chinese; Spanish
b)Factory Information
Factory Size:
24,400 square meters
No. of Production Lines
Above 10
Contract Manufacturing
grinding ball,grinding media,casting ball,casting grinding ball
Product Price Range
Average