Product Introduction:
1. The base of Galvanized Steel Roof Tiles is galvalume, as well as vermiculites processed by high technique on its surface.
2.The base of colorful metal roofing tile is galvalume or galvanized sheet. The processing of the surface adopts techniques of painting and coloring at high temperature.
3. Compare to the galvanized sheet, galvalume is more durable, heat resisting, heatproof and anti-corrosion.
4. The colorful vermiculite has been processed at high temperature, thus to be brightly-colored, and never faded.
5. China "colorful stone coated metal roofing tile machine"
6. .high precise and run throughly
7. reliable quality with CE,BV,ISO certification
8. professional service and engineer
9.good reputation and trustable
Product Advantages:
1. Light weight.
To compare with the traditional ceramic tile, the weight of our metal roof tile is just 1/6 of it.
It is convenient to carry, store and use, so it can save the time and cost of installation.
2. Easy installation.
Metal roof tile is very light and it is easy to incise and cut off, so it is suitable for all kinds of buildings,
especially for the heavy grade roofs and towers.
3. Excellent durability.
High quality galvalume plates and natural stone chip coatings are characterized by their excellent
anti corrosion features which extends the life span of tiles for more than 30 years without fade.
4. Recyclable and Eco-friendly.
Metal roof tiles are galvalume based and have high recyclable content. Over 90% of the tiles are
recyclable,which makes it more economical.
5. Beautiful appearance.
Rich color and variety types will bring a beautiful surface for your roof.
6. Earthquake resistance.
Earthquake can cause the infinite property loss, the more is because of the structure roof and the
weight of tile. Stone coated metal roof tiles are light and firm,they can lighten the building and won't
easily cause damages to the under structures of the buildings in earthquakes.
7. Wind resistance.
Even metal tile just has the 1/6 of weight to the traditional tile,the scientific interlocking system design
techniques guarantee the roofing system more safety in the storms.
Product Specification:
| | |
| --- | --- |
| Tile Size | 1170mm*420mm |
| Installed Exposure | 1080mm*370mm |
| Coverage Area | 0.4m2 |
| The Number of Pavement | 2.5pc/m2 |
| Weight | 2.4kg/m2 |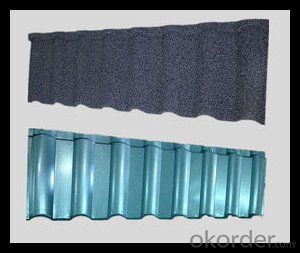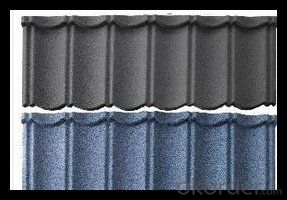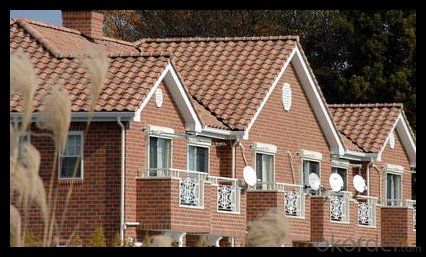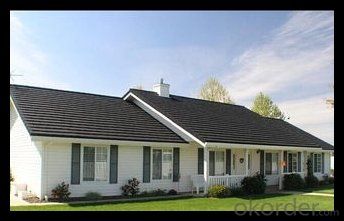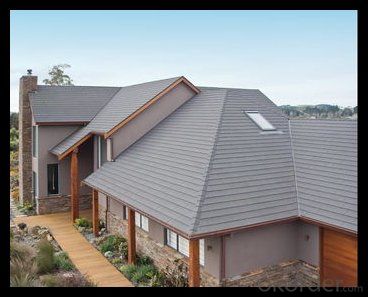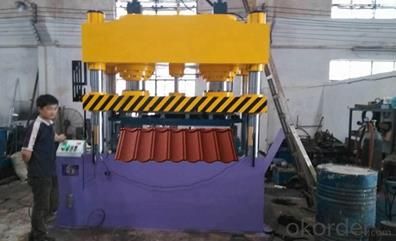 FAQ:
Q: What's your payment?
A: T/T, L/C, etc.
Q: Can you offer samples?
A: Yes, we could offer according to customer's requirement.
Q: Can I check the quality before loading?
A: Yes, it will be better.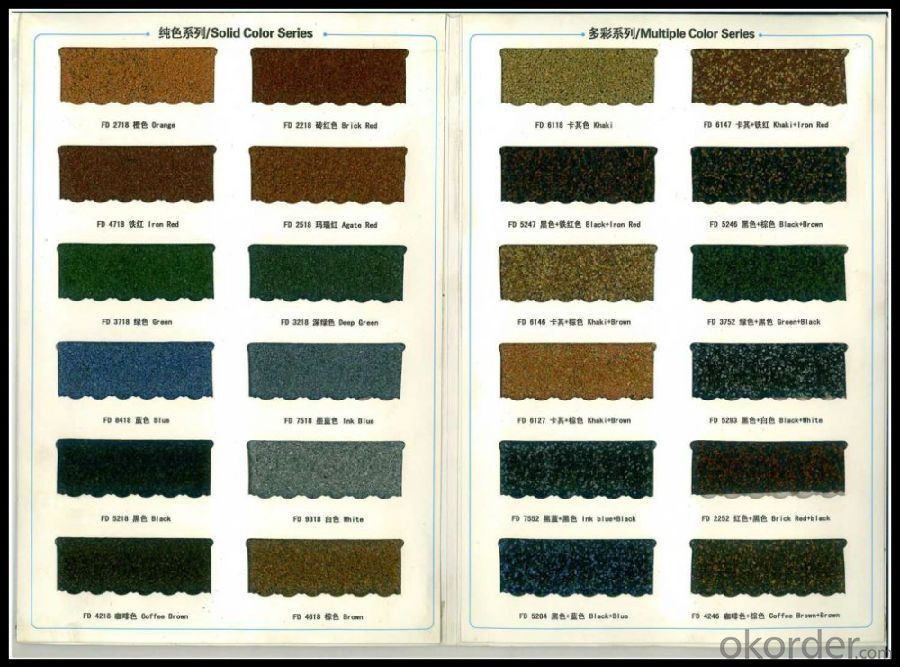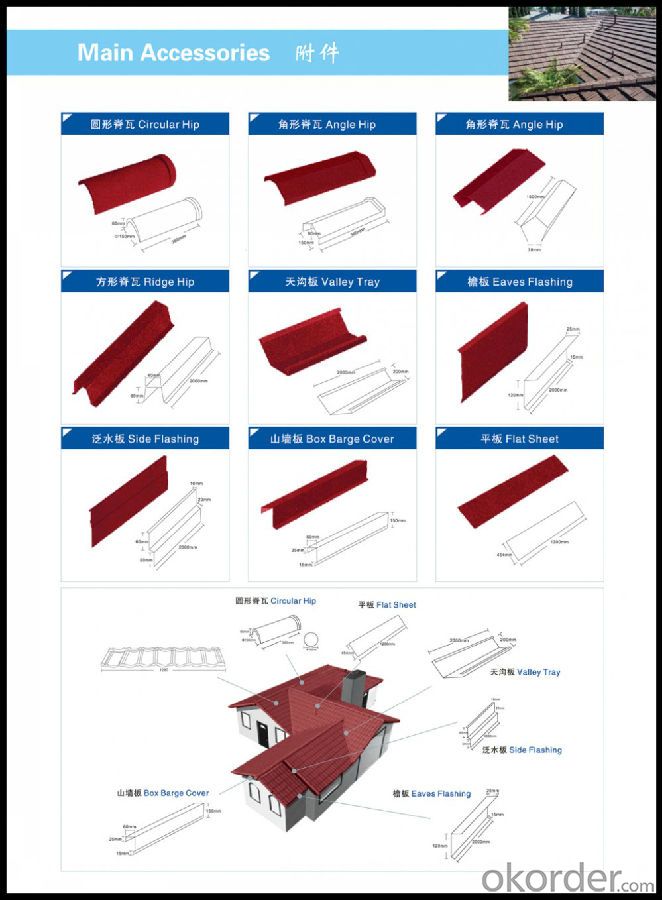 Q:Will the aluminum plate is flammable?

The conventional aluminum-plastic plate from the fire to judge this point of view, is flammable, not the flame level.
Q:Urgent: pvc board, aluminum plate, aluminum buckle plate What is the difference

Aluminum buckle plate - PVC buckle plate replacement, because of its environmental protection, rich colors, in the home improvement market quickly replaced the PVC; price between 50-300 yuan;
Q:Is the aluminum-plastic plate plastic? What is the difference between the two? What are their uses?

They belong to the same kind of decorative material. Its advantages are: surface smooth, uniform color, long life, simple construction and so on. (But the price is more expensive). Generally used for building facades, store decoration (should use better quality brand) can also be used for home interior decoration.
Q:Aluminum-plastic plate and aluminum plate which is cheap under the specific price instructions

Qualified aluminum-plastic panels are generally in the range of 50-150 yuan per square meter. Aluminum plate is generally 80-600 yuan per square meter.
Q:How to install Yuba on aluminum-plastic board

Aluminum slab board specifications generally 300X300, before the old section of Yuba should be able to install on. Now generally use more warm, safe and durable.
Q:Can be a detailed introduction to the difference between aluminum veneer and aluminum-plastic plate, and with detailed data and unit price comparison, the scope of comparison, etc., thank you

Aluminum plate is the aluminum plate (mainly for the use of the board, a small amount for decoration), aluminum composite panel is the internal composite plastic composite panels (mostly for decoration works), specifically divided into single and double panels (also divided into indoor and outdoor ).
Q:Yueyang where to buy aluminum-plastic plate, which the market has aluminum-plastic plate sales

December Xunyi mechanical and electrical market part of the shops opened, when the major hardware and mechanical have. Now you can go to the sun bridge big market or Dongting Building.
Q:Ceiling now we all use what brand, almost all aluminum-plastic plate it

My home is that the red star Meikailong it, do activities to buy TOTOJCD, really good, they have a lot of other you can go and see
Q:China aluminum-plastic plate door decoration materials, where to buy a good point? Have prawn help?

To Kunming cloud like building materials to buy, they are a set of aluminum-plastic plate, aluminum veneer production and wholesale as one of the large curtain wall decoration materials business, the introduction of the quality of aluminum-plastic plate is very good.
Q:What are the specifications of aluminum-plastic plates?

Category: According to the burning performance of curtain wall board is divided into ordinary type and flame retardant type. Flame retardant type according to the fire level is divided into A and B level.
1. Manufacturer Overview

Location
Year Established
Annual Output Value
Main Markets
Company Certifications
2. Manufacturer Certificates

a) Certification Name
Range
Reference
Validity Period
3. Manufacturer Capability

a)Trade Capacity
Nearest Port
Export Percentage
No.of Employees in Trade Department
Language Spoken:
b)Factory Information
Factory Size:
No. of Production Lines
Contract Manufacturing
Product Price Range
Hot Searches
Related keywords