Solar Portable Charger S006
Loading Port:

Shenzhen
Payment Terms:

TT or LC
Min Order Qty:

500 pc
Supply Capability:

1-100000/month pc/month
OKorder Service Pledge
Quality Product
Order Online Tracking
Timely Delivery
OKorder Financial Service
Credit Rating
Credit Services
Credit Purchasing
---
Add to My Favorites
---
Specification of Solar Portable Charger
When put the solar charger under the light, the photovoltaic solar panel will automatically convert the light into electrical energy for reserving energy. As to the different solar charging efficiency is caused by corresponding different intensity of light, what we need to do is just place the product under the light, and the solar indicators will be working, that means the product is on working status, also we can judge the battery capacity by check the indicator's status, it will tell us the statues of the product's battery capacity.
Parameters of Solar Portable Charger
Color:Black,White,Red,Green , Pink
Weight:60g
Size:113*60*12.5mm
With the Monocrystalline Silicon efficiency rate of solar energy over 18% Internal Lithium-Polymer
Solar Panel Specifications:5.5V/90MA
Output Voltage:5.0V ±0.5V
Output Current:300-600MA
Charging Time for mobile phone:About 120minutes
Charging Time from computer or AC adapter to internal battery:About 3 hours
Charging Time from sunshine to internal battery:about 10-15hours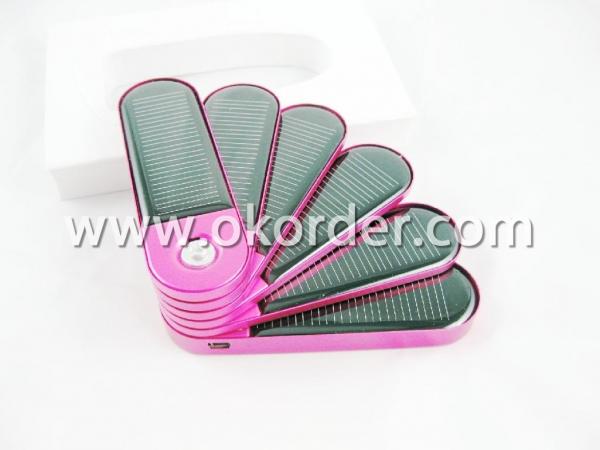 Solar Portable Charger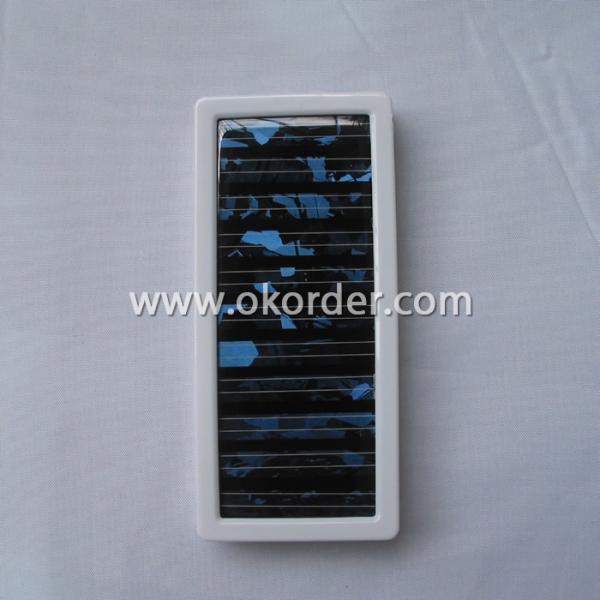 Solar Portable Charger
Packaging&Delivery of Solar Portable Charger
Packaging: Wooden box or Customized
Delivery: Depends on the quantity or Customized
Notice of Solar Portable Charger
1. 1. Do not use the sharp objects scratching the surface of the photovoltaic panel.
2. 2. In order to maintain it on recharging states at any time, please make the photovoltaic panel upward to the sunlight or direct light when placing the product.
3. 3. Please do use the original power adaptor for charging, and do not use other different power adaptors.
4. 4. Please place the charger under dry environment.
5. 5. When the short-circuit protection happened, and the charger has already stop working normally, please pull the cable out, the charger will automatically restored in 10 seconds, and it is ok to be used again.
Q:

Yes, solar chargers can charge Bluetooth headphones as long as the headphones are compatible with the charger's output and charging requirements.
Q:

Yes, solar chargers can be used for charging electric golf carts with multiple batteries. However, it is important to ensure that the solar charger's wattage and voltage output are compatible with the golf cart's battery system. Additionally, the size of the solar panel should be adequate to generate enough power to effectively charge all the batteries.
Q:

Solar charger panels are generally quite durable as they are designed to withstand various weather conditions and are made with sturdy materials. However, their durability can vary depending on the quality and brand of the panel. It is important to choose panels with a good warranty and reputable manufacturer to ensure their longevity.
Q:

Yes, solar chargers can be used for charging smartwatches. Smartwatches typically have a USB port for charging, and solar chargers often come with USB outputs, allowing them to charge a variety of devices, including smartwatches. However, it is important to check the compatibility and power requirements of your specific smartwatch before using a solar charger.
Q:

Yes, solar chargers can be used to charge MP3 players. MP3 players generally have a USB port that can be connected to a solar charger, allowing them to be charged using solar energy.
Q:

Yes, you can use a solar charger to charge your portable TV as long as the charger provides the required voltage and amperage output compatible with your TV's battery or charging port.
Q:Is the electric car solar charger easy to use?

The use of high - efficiency crystalline silicon solar cells to ensure that the solar panels in the peak period can also provide sufficient power.
Q:

No, solar chargers cannot charge electric clothes dryers as they require a much higher voltage and power output than what solar chargers can provide. Electric clothes dryers typically run on 240 volts, while solar chargers typically provide outputs in the range of 5 to 20 volts, which is insufficient for powering a dryer.
Q:

Solar chargers can be used to charge a wide range of devices, including smartphones, tablets, digital cameras, portable speakers, power banks, GPS devices, and even some larger devices like laptops and small appliances.
Q:

Yes, solar chargers can charge electric dehumidifiers as long as the dehumidifier is designed to be charged using a DC power source and the solar charger provides the necessary voltage and current requirements.
CNBM Solar is an innovative high-tech enterprise which aims to provide consumers with unprecedented amazing experience by the applying limit of electronic technology. At present,our company devotes itself to recearching, developing, manufacturing and global popularization of monile power supplies, chargers and solar elctronic products. We have a strong team with the experts mastering the core technology of top electronic consumption products.
1. Manufacturer Overview

Location
Shenzhen, China
Year Established
2002
Annual Output Value
Above US$ 2 Million
Main Markets
Mid East; South East Asia; South America; North America
Company Certifications
CE; FC; RoHS
2. Manufacturer Certificates

a) Certification Name
Range
Reference
Validity Period
3. Manufacturer Capability

a)Trade Capacity
Nearest Port
Shenzhen
Export Percentage
20% - 30%
No.of Employees in Trade Department
50-100 People
Language Spoken:
English; Chinese
b)Factory Information
Factory Size:
Above 5,000 Square meter
No. of Production Lines
2
Contract Manufacturing
OEM Service Offered; Design Service Offered
Product Price Range
Average
Hot Searches
Related keywords