Solar Portable Charger S004
Loading Port:

Shenzhen
Payment Terms:

TT or LC
Min Order Qty:

500 pc
Supply Capability:

1-100000/month pc/month
OKorder Service Pledge
Quality Product
Order Online Tracking
Timely Delivery
OKorder Financial Service
Credit Rating
Credit Services
Credit Purchasing
---
Add to My Favorites
---
Introduction of Solar Portable Charger
When put the solar charger under the light, the photovoltaic solar panel will automatically convert the light into electrical energy for reserving energy. As to the different solar charging efficiency is caused by corresponding different intensity of light, what we need to do is just place the product under the light, and the solar indicators will be working, that means the product is on working status, also we can judge the battery capacity by check the indicator's status, it will tell us the statues of the product's battery capacity.
Parameters of Solar Portable Charger
Color:Black,White,Red,Green
Weight: 60g
Capacity: 1200MAH 2200MAH 3000MAH
Size: 113*62*12.5mm
With the Monocrystalline Silicon efficiency rate of solar energy over16%
Solar Panel Specifications: 5.5V/90MA
Charger Built-in high capacity rechargeable battery: 1200MAH 2200MAH 3000MAH
Output Current: 300-600MA
Charging Time for mobile phone:About 120 minutes
Charging Time from the Computer or Adaptor:About 5 hours
Charging Time from sunshine to internal battery: 5-15hours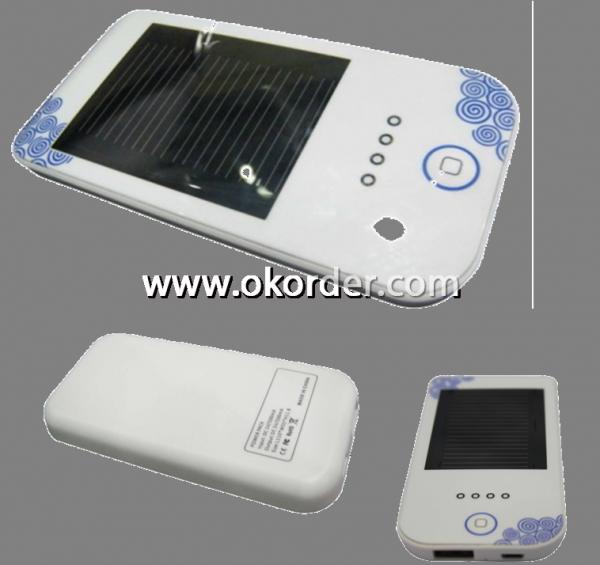 Solar Portable Charger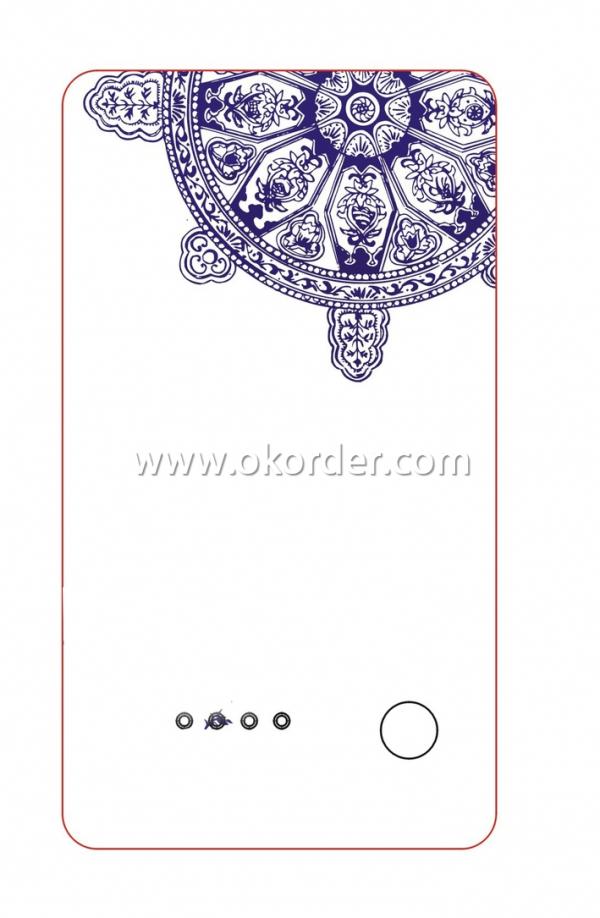 Solar Portable Charger
Packaging & Delivery of Solar Portable Charger
Packaging: Wooden box or Customized
Delivery :Depends on the quantity or Customized
Notice of Solar Portable Charger
1. 1. Do not use the sharp objects scratching the surface of the photovoltaic panel.
2. 2. In order to maintain it on recharging states at any time, please make the photovoltaic panel upward to the sunlight or direct light when placing the product.
3. 3. Please do use the original power adaptor for charging, and do not use other different power adaptors.
4. 4. Please place the charger under dry environment.
5. 5. When the short-circuit protection happened, and the charger has already stop working normally, please pull the cable out, the charger will automatically restored in 10 seconds, and it is ok to be used again.
Q:

Yes, solar chargers are suitable for sailboats. They provide a reliable source of renewable energy that can effectively charge batteries and power various electronic devices on board. Additionally, solar chargers are lightweight, easy to install, and require minimal maintenance, making them an ideal choice for sailboats where space and energy efficiency are crucial.
Q:

Yes, solar chargers can still work in cloudy weather, although their efficiency may be reduced. While direct sunlight is optimal for solar chargers, they can still generate some power from diffused or indirect sunlight. However, the charging speed will be slower compared to bright and sunny conditions.
Q:

Yes, solar chargers can be used to charge portable radios. Most portable radios have a rechargeable battery that can be charged using solar power. Solar chargers are designed to convert sunlight into electricity, which can then be used to charge various electronic devices, including portable radios. However, it is important to ensure compatibility between the solar charger and the radio's charging requirements before use.
Q:

Solar chargers are not compatible with all handheld gaming device models. The compatibility of solar chargers depends on the specific charging port and voltage requirements of each gaming device. It is essential to check the compatibility of the solar charger with your handheld gaming device model before purchasing.
Q:

No, solar chargers cannot charge heating pads as heating pads require a substantial amount of energy to generate heat, which is beyond the capabilities of solar chargers.
Q:

No, you cannot directly use a solar charger to charge your electric vehicle. However, you can use solar panels to generate electricity and then use that electricity to charge your electric vehicle by connecting it to a charging station or using an inverter to convert the DC power from the solar panels to the AC power needed for charging your vehicle.
Q:

Yes, solar chargers can charge medical devices as long as they are compatible with the device's charging requirements and have sufficient power output.
Q:

Yes, you can use a solar charger to charge your portable baby carrier as long as the charger's output is compatible with the carrier's input requirements. However, it is important to ensure that the solar charger provides sufficient power and voltage for effective charging.
Q:

Yes, solar chargers do have size limitations. The size of a solar charger depends on the size and number of solar panels it has, which determines its power output. Larger solar panels can generate more electricity, but they also require more space. Therefore, the size of a solar charger is limited by the available surface area to accommodate the solar panels.
Q:

Yes, solar chargers are suitable for beach or poolside use as they harness energy from the sun to charge electronic devices without the need for an electrical outlet. They are portable, durable, and can withstand exposure to water and sand, making them ideal for outdoor use.
CNBM Solar is an innovative high-tech enterprise which aims to provide consumers with unprecedented amazing experience by the applying limit of electronic technology. At present,our company devotes itself to recearching, developing, manufacturing and global popularization of monile power supplies, chargers and solar elctronic products. We have a strong team with the experts mastering the core technology of top electronic consumption products.
1. Manufacturer Overview

Location
Shenzhen, China
Year Established
2002
Annual Output Value
Above US$ 2 Million
Main Markets
Mid East; South East Asia; South America; North America
Company Certifications
CE; FC; RoHS
2. Manufacturer Certificates

a) Certification Name
Range
Reference
Validity Period
3. Manufacturer Capability

a)Trade Capacity
Nearest Port
Shenzhen
Export Percentage
20% - 30%
No.of Employees in Trade Department
50-100 People
Language Spoken:
English; Chinese
b)Factory Information
Factory Size:
Above 5,000 Square meter
No. of Production Lines
2
Contract Manufacturing
OEM Service Offered; Design Service Offered
Product Price Range
Average
Hot Searches
Related keywords