Solar Mobile Phone Charger
Loading Port:

China Main Port
Payment Terms:

TT OR LC
Min Order Qty:

-
Supply Capability:

-
OKorder Service Pledge
Quality Product
Order Online Tracking
Timely Delivery
OKorder Financial Service
Credit Rating
Credit Services
Credit Purchasing
---
Add to My Favorites
---
Place of Origin:

Brand Name:

Model Number:

Dimension:

Weight:

Capacity:

Outport:

Input:

Socket Type:

Material:

commodity:

Solar panel(mono-crystalline):

Protection 1:

Protection 2:

Protection 3:

Support devices:

Charger port:

Recycling times:

Certificates:
| | |
| --- | --- |
| Packaging Detail: | Portable Solar Charger: Size: 160*76*12mm Weight: 300g Material:Aluminium Qty/Carton:30pcs G.W/Carton:11kgs Carton Meas:40*39*14CM |
| Delivery Detail: | Portable Solar Charger sample:3days, mp:15-30days |
Solar Mobile phone Charger on Aliexpress,the hottest Portable Solar Charger with dual USB, mobile phone solar charger for iPad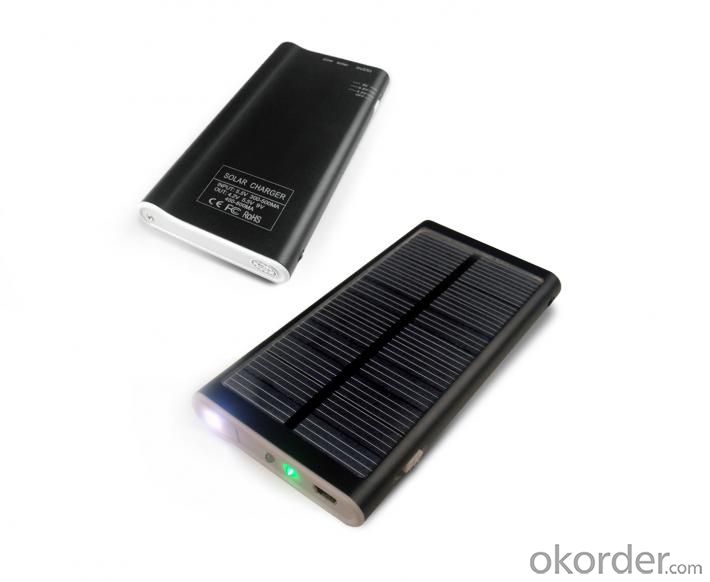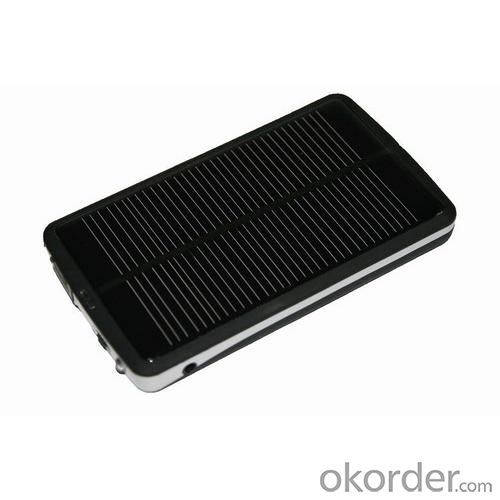 Q:

The lifespan of solar charger batteries can vary depending on various factors such as the quality of the battery, usage patterns, and maintenance. On average, solar charger batteries can last anywhere from 2 to 5 years before they start to degrade in performance. However, with proper care and regular maintenance, it is possible to extend their lifespan beyond this range.
Q:

Yes, solar chargers can charge portable scanners.
Q:

No, solar chargers are not typically compatible with all portable dehumidifier models. The compatibility depends on the specific model and its power requirements. It is important to check the specifications and requirements of both the dehumidifier and the solar charger to ensure compatibility.
Q:

Solar chargers are less efficient in cloudy weather compared to sunny conditions. Cloud cover reduces the amount of sunlight reaching the solar cells, resulting in a decrease in charging capacity. However, modern solar chargers are designed to still generate some electricity even in cloudy weather, although at a lower rate.
Q:

Yes, a solar charger can charge a laptop. However, the charging capability and speed may vary depending on the wattage and efficiency of the solar charger, as well as the power requirements of the laptop.
Q:

Yes, there are different types of solar chargers available. Some common types include portable solar chargers, which are compact and can be easily carried around, and solar chargers for specific devices like smartphones or laptops. There are also larger solar chargers designed for camping or outdoor activities, as well as solar panels that can be mounted on rooftops to power entire homes or buildings.
Q:

Yes, solar chargers can usually charge portable electric toothbrushes as long as the toothbrush is compatible with USB charging. Portable electric toothbrushes typically have a built-in rechargeable battery that can be charged using a USB cable, which can be connected to a solar charger with a USB output.
Q:

Yes, solar chargers can charge portable Bluetooth headphones as long as the charger has sufficient power output and the headphones are compatible with the charging method of the solar charger.
Q:

Yes, solar chargers can charge satellite phones. Satellite phones typically require a low amount of power to charge, making them compatible with most solar chargers. However, it is important to ensure that the solar charger has the appropriate voltage and output capabilities to charge the specific satellite phone model.
Q:

Yes, solar chargers can be used for charging power banks. Solar chargers are designed to convert solar energy into electrical energy, which can then be used to charge various devices including power banks. This makes solar chargers a convenient and environmentally-friendly option for charging power banks, especially in outdoor or off-grid settings where access to traditional power sources may be limited.
1. Manufacturer Overview

Location
Year Established
Annual Output Value
Main Markets
Company Certifications
2. Manufacturer Certificates

a) Certification Name
Range
Reference
Validity Period
3. Manufacturer Capability

a)Trade Capacity
Nearest Port
Export Percentage
No.of Employees in Trade Department
Language Spoken:
b)Factory Information
Factory Size:
No. of Production Lines
Contract Manufacturing
Product Price Range
Hot Searches
Related keywords