SOLAR PANEL 260w,SOLAR PANEL FOR SALE,SOLAR PANEL PRICE FOR HIGH EFFICIENCY
Loading Port:

Shanghai
Payment Terms:

TT OR LC
Min Order Qty:

2600 watt
Supply Capability:

26000 watt/month
OKorder Service Pledge
Quality Product
Order Online Tracking
Timely Delivery
OKorder Financial Service
Credit Rating
Credit Services
Credit Purchasing
---
Add to My Favorites
---
Item specifice
Material:
Monocrystalline Silicon
Max. Power(W):
260
Number of Cells(pieces):
60
---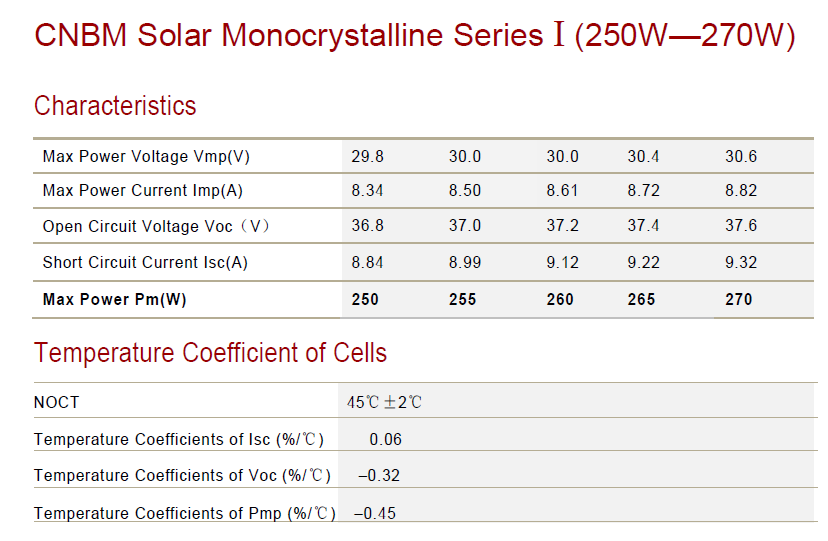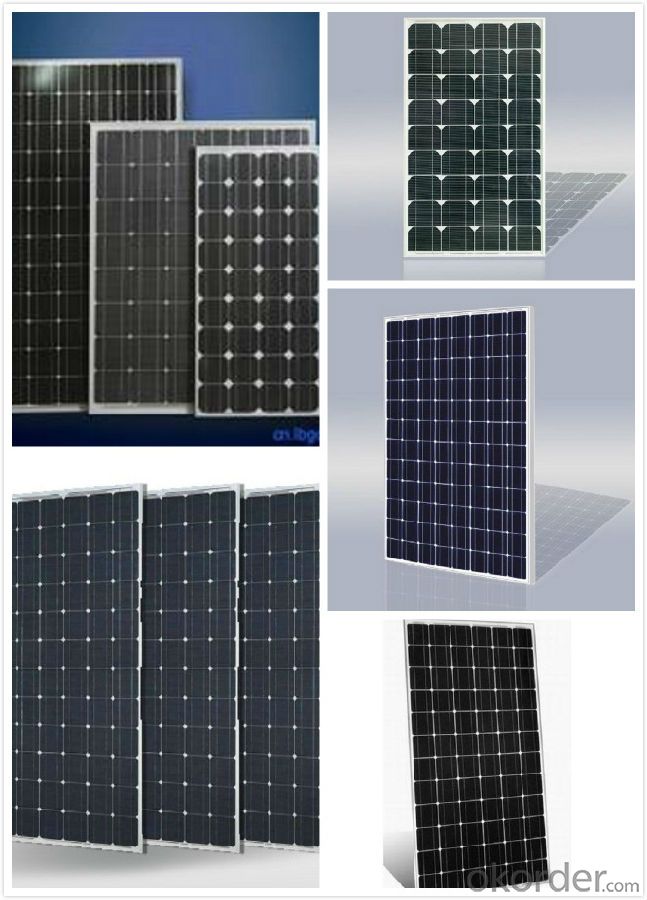 Rated maximum power (Pmax) 260W
Open circuit voltage (vOC) 37.30
Short circuit current (Isc) 8.78
Maximum power voltage (Vmp) 30.10
Maximum power current (Imp) 8.31
Cell efficiency (%) 17.50%
Max system voltage (VDC) 1000V DC
Temperature coefficient of Vm -0.241%/K
Temperature coefficient of Im +0.033%/k
Temperature coefficient of power -0.37%/K
Maximum Series Fuse Rating 15A
Solar cell and configuratiou 60pcs(6*10)in series,156*156mm monocrystalline
Junction box IP65,1000VDC,TUV certified;6 pcs Schottky By-pass diodes
Cable type & CONNECTOR 4m㎡,TUV certificated,0.9m length;MC4
Encapsulation low iron tempered glass,3.2mm thickness,light transmission above 91%;TPT and fast cure EVA
Farame clear anodized aluminum alloy,50/45mm thickness,silver
Dimension (l*W*H) 1640*990*50mm/45mm
Weight 20KG/19KG
Heavy mechanical load salient features 540Pa (ACCORDING TO ICE61215)
Hail impact test lce ball dianeter 25mm,23m/s
Operating temperature -40℃~+85 ℃
Standard test conditions: STC:AM=1.5,1000W/m2,cells temperature 25℃
Power tolerance:±3% (can be provided 0~±3%)
GENERAL INFORMATION
The installation of PV modules requires a great degree of skill and should only be performed by a qualified licensed professional, including licensed contractors and licensed electricians. Please be aware that there is a serious risk of various types of injury occurring during the installation including the risk of electric shock. All CUSTOMER modules are equipped with a permanently attached junction terminal box that will accept variety of wiring applications or with a special cable assembly for ease of installation, and they do not require assembly.
Solar panel working process
In addition to being the ultimate source of all life on earth, the sun is an infinitely renewable, completely pollution-free source of electricity. Instead of burning fossil fuels dug up from the ground in a big power plant – a very 19th century, industrial age approach, when you think about it – solar panels convert sunlight directly into electricity, with no harmful emissions.
The basic unit of a solar panel is a solar cell, which usually consists of one or two layers of silicon-based semiconductor wafers. When struck by the photons in sunlight, the solar cell generates an electrical charge due to the "photovoltaic effect" – which is a pretty good name, since it produces voltage from photons. The flow of these electrons moves in a steady electrical current from one side of the cell to the other.
Q:

Yes, solar panels can be used in areas with high levels of wildlife activity. With proper planning and installation, solar panels can coexist with wildlife without causing harm. Techniques such as considering panel placement, using wildlife-friendly designs, and incorporating protective measures can help minimize any potential negative impacts on wildlife.
Q:

Solar panels can have a positive impact on a property's long-term financial viability due to various factors. Firstly, solar panels can significantly reduce or eliminate electricity bills, leading to long-term savings on energy costs. Additionally, with the potential to generate excess electricity, property owners can sell the surplus back to the grid, generating additional income. Moreover, solar panels can increase the value of a property, as they are considered a desirable and environmentally-friendly feature. Lastly, with the growing adoption of renewable energy, properties with solar panels are likely to attract more potential buyers or tenants, enhancing the property's marketability and ensuring long-term financial stability.
Q:if u buy solar panels and never take em out of the box for like thirty years will they still work good thirty years after you bought them

I'm answering for conventional silicon solar panels, the only kind I really know. The panels are basically semiconductor, wire, glass, and aluminum housing. The last three, everyone knows have long lifetimes if not exposed to the elements. As for the semiconductor part, the degradation is generally due to exposure to the sun. And even so, some solar panels from the 70's are still working today. Usually, what does them in is failure of a connection due to vibration, degradation of the plastic due to heat, sun, or water exposure, or accidents. The question of how useful the panels would be after 30 years is different, though. I have Germanium transistors from 50 years ago - they're still good, but their specs are really lame by modern standards. And suppose you had a PC from 25 years ago. Original cost, $4000, no hard disk, only runs DOS off a 5 /4 floppy disk. It works great, but except as a curiosity, is it useful? The batteries that most people use to store solar energy are lead-acid. The technology has not changed much in 30 years. If you had such batteries in storage, that had *never* been activated (that it, they were dry, no acid had been added yet), I would not be surprised if they would be fine after that period of time. If the batteries were activated, no, they would not keep. But maybe battery breakthroughs are coming with other chemistries, so those batteries would seem clunky and useless 30 years from now.
Q:i have a calculator with a solar panel what could i power with it? like could i hook it up to a psp even though it will take forever to charge? and how would i do this?

All stable suggestions, yet you like 2 AA cells to keep the skill from the image voltaic panel to coach at ineffective night. The calculator probable has 2 or 3 rechargeable button cells. I somewhat have chanced on that non rechargeable Energizer or Duracell alkaline AA cells artwork sensible in those exterior/exterior LED lighting fixtures furniture furniture, so as which you would be waiting to recharge between short heating classes with an incandescent or a LED a lot longer. it is going to take distinctive days to recharge a pair of rundown AA with one calculator panel, so as which you will desire to decide utilising 2 or extra beneficial panels (in sequence if the calculator in simple words has one button cellular). 2 photograph voltaic panels in sequence from exterior LED lighting fixtures furniture furniture, could desire to recharge your AA cells in some hours of staggering photograph voltaic. I somewhat have 2 exterior lighting fixtures furniture furniture I keep charged via putting them the incorrect way up (without the stake and, defuser globe) on appropriate of CFL bulbs, one in each and every of that's 0 watts = forty watt equivalent. Neil
Q:My project needs to build a thermal solar panel that would be used as a demonstrational rig. The dimensions i am allowed do not allow me to use a normal thermal solar panel so i have decided to use the heat exchanger from the back of a fridge. Although this is possible to use what equation would i use to prove the power of the sun would actually heat up the water. More importantly when the rig is demonstrated to students, they will need to be able to determine if the raise in temperature given by the thermometers is what should be given. Variables of the rig will include: Angle of the panel, Light intensity, Direction of panel, and more importantly the flow rate of the water travelling through the pipes. What equation includes those variables (change in temperature, flow rate) and would allow me to incorporate the angle of the panel. The light source would be a lamp so i would also need to know how much of the energy from the lamp is actually being used by the panel?

solar panels don't store energy, they only generate it. If you want to store energy you need a battery bank of some kind to get you through the night and anytime the sun isn't shining. If you have a little extra in the budget you might look at a geothermal system for your home's heating and cooling needs. They're highly efficient systems and you can supplement however you like. Whatever you do, though I hope you have a good building envelope in place already. Solar panels are cool, but if you have a leaky house, you're still not getting the best out of your panels. Do the more mundane stuff first. Insulation, windows, and weather-tight doors.
Q:By best I mean safest places. If I were to install them on my roof am I risking due to damage from weathering? Such as rain or snow. I don't get very high winds around here, nor any natural disasters such as hurricanes or tornadoes. Does anyone have solar panels that have been durable for a long time? Is it worth the investment?

Solar panels have to be installed so that they face the equator, so they would have to point south in the U.S.. There are panels designed for exterior mounting and panels designed to go behind glass walls, I've even seen some that are made to replace roof shingles. You'll have to determine if they are worth it or not. Most companies that manufacture the panels rate the output based on the area in which you live. If you live in the north, payback is usually over 20 years, closer to the equator the payoff is quicker, but still a while. The question of worth is relative: are you trying to save money or help save the world? Any alternative to hydro carbon is great for the environment, but most are still very expensive.
Q:Around this time here in Georgia we will begin to get some big storms with high winds. I have a solar panel on a mount that isn't all that sturdy and could be knocked over with any winds pretty much above 5mph. I can't put anything in the ground to do this. I used to have it mounted to the roof of a playground for the most sunlight, but because of the angle of the sun and the tree leaves, I have to have it on a quot;portablemount so I can move it throughout the day, and I can tell you one thing is certain, and that's that it isn't the most sturdy thing ever. I'll have it a little better next weekend but it'll still be able to easily blow in the wind. Should I just hang the panel along the wall during a storm then reconnect it to its base once it's over?I'm pretty good with wood, so any wood creations to help out with the thing would greatly help. Just please keep it on a low budget.

You have to make the decision weather you want it portable or stationary. If you want stationary I would make some good brackets for them / search for cheap ones on OKorder. I'd have to see them to be able to offer any better suggestions. It's always hard to decide so you'll have to take notes and do research.
Q:

Yes, solar panels can be used in areas with frequent lightning storms. However, it is important to install proper lightning protection measures to ensure the safety of the solar panel system. This may include grounding the panels and using surge protectors or lightning arresters to divert the electrical charge from lightning strikes.
Q:I've heard that solar panels have back-up batteries for when it is cloudy or rainy that day.. is this true?

Yes, they work but if it's real rainy they won't work as well. I don't know much about Solar Panels but I do have them in my home, and they work amazing! Once in a while if it's pouring rain, they won't work AS well but still work! I If you really want a good answer, the company I used was actually very helpful and knowledgeable. I'm sure they wouldn't mind to answer some q's! If your interested -- 866-276-7222
Q:Pretty much, can solar panel's support the entire houses electrical needs generally, because I know sometimes the owner's can sell unused electricity back, any ideas or any ideas on how much the average home uses in kWh

it depens where you live(north or south)how many solar panel you have,what grade solar panels,how many rechargeable batteries etc.
1. Manufacturer Overview

Location
Year Established
Annual Output Value
Main Markets
Company Certifications
2. Manufacturer Certificates

a) Certification Name
Range
Reference
Validity Period
3. Manufacturer Capability

a)Trade Capacity
Nearest Port
Export Percentage
No.of Employees in Trade Department
Language Spoken:
b)Factory Information
Factory Size:
No. of Production Lines
Contract Manufacturing
Product Price Range
Hot Searches
Related keywords