OKorder Service Pledge
Quality Product
Order Online Tracking
Timely Delivery
OKorder Financial Service
Credit Rating
Credit Services
Credit Purchasing
---
Add to My Favorites
---
Mutifunctional Harbour Portal Crane
Yufei Heavy Industries Group

Quick details

Feature: Portal Crane
Rated Loading Capacity: 40t
Span: 11.5m
Model Number: MQ4035-S
After-sales Service Provided:
Engineers available to service machinery overseas
————————————————————————
Condition: New
Max. Lifting Load: 40t
Place of Origin: China (Mainland)
Certification: ISO and CE
Portal: crane
————————————————————————
Application: Widely
Max. Lifting Height: 35m
Brand Name: ZAONEE-XINDA
Warranty: 2years
———————————————————————

Packaging & Delivery
Packaging Detail: Electricals are packed by high quality plywood box,beams and others are packed by plastic woven cloth.
Delivery Detail: Within 180 days after receiving the deposit.
———————————————————————
Specifications

Heavy equipment harbour portal crane
*ISO and CE Standard
*High Working Efficiency
*Reasonable Price

MQ4035-S harbour portal crane

MQ4035-S type harbour portal crane is the mobile full rotation, four-link Arm, live on the re-balancing lever, cylindrical body of the door frame, container, hook, grab operation of multi-purpose portal crane.

This harbour portal crane uses AC frequency control, PLC control, and fitted with intelligent all English "state monitoring system".

This kind of harbour portal crane is an ideal machine for a comprehensive multi-cargo port terminal. Look beautiful, safe and reliable, advanced performance, easy maintenance, durable, can be widely used in inland and coastal port for loading and unloading tasks.
The most important parameter is the lifting capacity and working radius.

Parameters of MQ4035-S Portal Crane

Lifting Capacity

Hook/Grab Operations

40t(Hook)

16t(Grab)

Max. Wind Speed at Work

20m/s

Working Radius

Min/Max

11m/35m

11m/35m

Max. Wind Speed of Non-working

55m/s

Lifting Range

Above/Under

28m/16m

18m/16m

Max. Wheel Base

220kN

Sector Speed

Hoist Speed

30m/min

50m/min

Max. Tail Swing Radius

8.14m

Derricking Speed

30m/min

50m/min

Max. Hight

53.492m

Slewing Speed

1.0r/min

Slewing Bearing

132.50.3550

Traveling Speed

26m/min

Lifting Rope

18×7-30-1700-Ⅰ-

Sector-level and Electric Motors

Hoist Motor

M8

YZP355M1-8×2

Traveling Wheel

Number of Traveling Wheel

40

Derricking Motor

M7

YZP280S-8×1

Number of Driving Wheel

24

Slewing Motor

M7

YZR250M2-8×2

Diameter

Φ550mm

Traveling Motor

M4

YZR160M2-6×8

Track Models

P50

Motor

A8

499kW

Power

AC380V 50Hz

Wheel Base/ Track

11.5m/10.5m

Total Mass

441t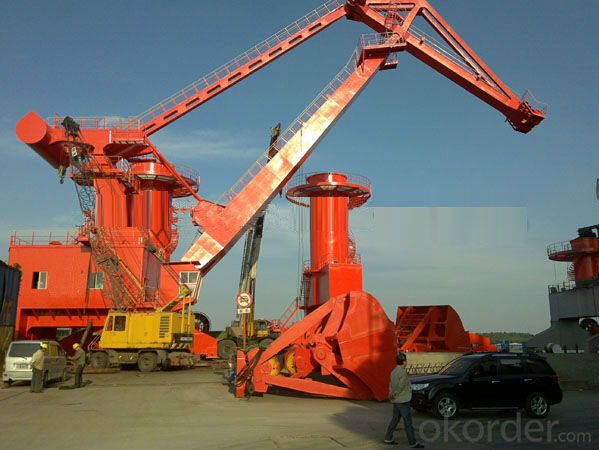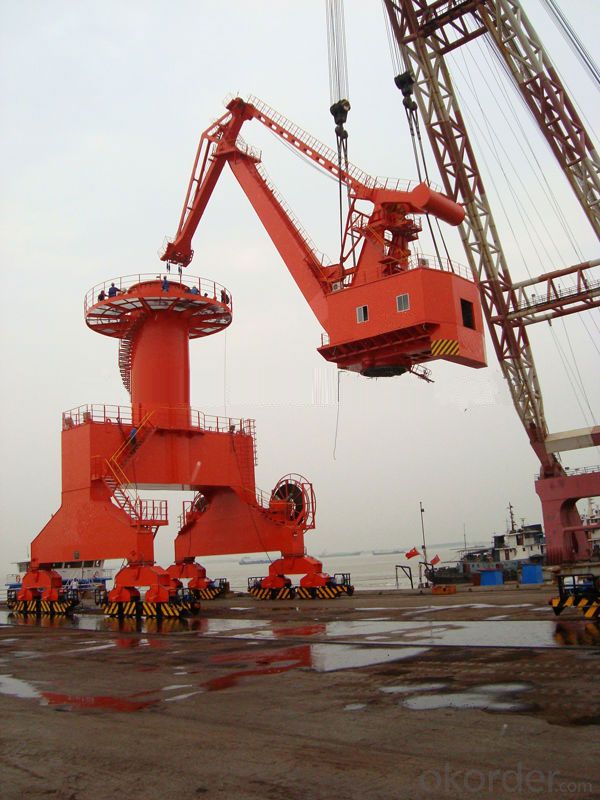 Note: This is one type of our portal cranes. We are a leading company in this industry and can manufacture many kinds of portal cranes for seaport. We also can manufacture according to your drawings. Please feel free to contact me for further information.


1. Manufacturer Overview

Location
Year Established
Annual Output Value
Main Markets
Company Certifications
2. Manufacturer Certificates

a) Certification Name
Range
Reference
Validity Period
3. Manufacturer Capability

a)Trade Capacity
Nearest Port
Export Percentage
No.of Employees in Trade Department
Language Spoken:
b)Factory Information
Factory Size:
No. of Production Lines
Contract Manufacturing
Product Price Range