High-Pressure Laminates for Decorative HPL Formica Sheet
Loading Port:

China main port
Payment Terms:

TT OR LC
Min Order Qty:

1000 m²
Supply Capability:

300000 m²/month
Inquire Now
Customer Service
OKorder Service Pledge
Quality Product
Order Online Tracking
Timely Delivery
OKorder Financial Service
Credit Rating
Credit Services
Credit Purchasing
---
Add to My Favorites
---
1.Description of HPL:
Fireproof board, fireproofing veneer) also known as fireproof board, formerly known as layer is a thermosetting resin impregnated paper, high pressure decorative veneer, English abbreviation for HPL, surface decoration with refractory building materials a, rich surface color, decorative pattern and special and convenient processing. It is widely used in interior decoration on the surface of the material
HPL are high quality decoration material , which are widely applied to furniture,kitchen cabinet,cupboard, countertop, window, door skin, wall lining, partition, ship lining ,ceiling, lift lining, shop fitting,shelving, etc .
Fireproof board / refractory plate is base paper after melamine resin and phenolic resin processing, main physical properties is unfolded by the characteristics of the resins. After the melamine resin thermosetting moulding have luster good, good transparency, high surface hardness, wear-resisting, withstand high temperatures, impact resistance, surface pores small is not easy to be contaminated, chemical resistance, water resistance, resistance to solvent, flame resistance and other excellent performance, mechanical strength, electrical insulation, resistance to arc good and is not easy to aging. Phenolic resin thermoset molding after heat and hard performance. Two kinds of resin combination, fireproof board / refractory plate contains both the performance.
2.Feature of HPL:
1) Finishied via impregnating the decorative paper and kraft paper in melamine,drying and high temperature and presure
2) Outstanding resistance to abrasion,high tempreature,dirty,shocking,cigarette ignition and open flame
3) Exceptional mould proof performance ,has very wide application and very big market potential
4) Decorative surface material for both indoor and outdoor use
5) Widely used in surface decoration of rooms, offices, compartments, partitions, kitchens, sideboards, furniture and laboratory table tops
6) wear-resistant, fire-resistant, anti-static, chemical resistant
7) Acid resistance and alkali resistance
8) Abrasive resistance
9) Amazing colors and rich in colors. High glossy and matte is available.
10) Easy to clean
11) Healthniness and environment protection
12) Easy be cut, easy be edge-covered in machine
13) Fireproofing
a) Abrasion-resistant, scratch-resistant, ray-resistant (depigmentation-resistant),
stain-resistant, impact-resistant and heat-resistant
b) Waterproof
c) Easy to be processed, without oil paint and waxing
d) Easy to be washed and cleaned
e) For interior decoration, suitable for kitchens, cabinets, teapoys, table boards,windowsills, ben doors and interior wall panels
f ) Any our standard HPL can be made into postforming HPL, anti-static HPL, anti fungus HPL and fire-resistant HPL
g) We also guarantee that under the temperature of 150 - 200°C, the postforming HPL's radii can reach 8mm.
3.Images of HPL: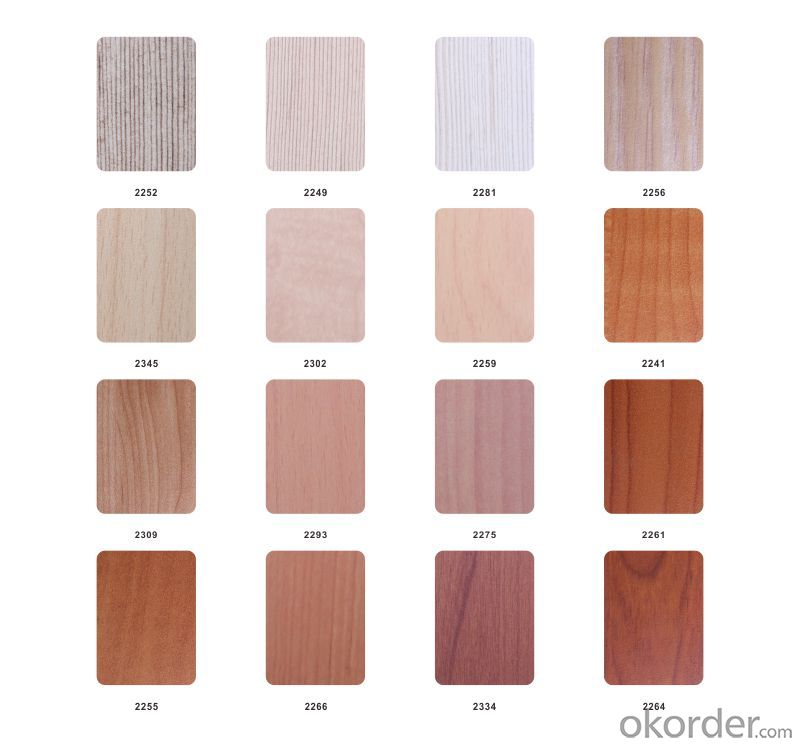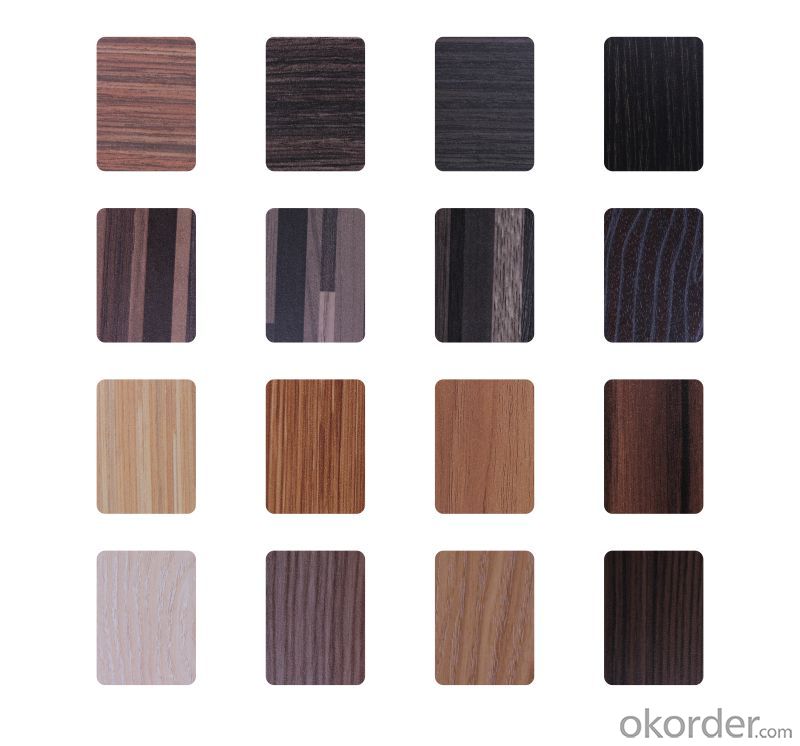 4.Specifications of HPL:
1. size
1220mmx2440mm 1220mmx3050mm 1310mmx2440mm 1310mm x3050mm
2. thickness
Standard HPL: 0.5mm~1.0mm.
Post-forming HPL: 0.5mm~0.6mm.
Metallic HPL: 0.7mm~1.0mm
Compact: 1.0mm~12mm.
3. color
Solid/plain color, fantastic color, wood grain color, metal, wooden veneer or customized color
4. surface finishing Glossy, Matt, Texture and some other special surfaces.
5. packing Wooden case for HPL/ wooden Pallet for Compact Laminate
0.5mm: LOAD: 14 cases per 20ft container, 600pcsX14cases=8400PCS
WEIGHT: 2.2KGX8400PCS+80kgX14cases=19.60TON
0.6mm: LOAD: 14 cases per 20ft container, 500pcsX14cases=7000 PCS
WEIGHT: 2.7KGX7000PCS+80kgX14cases=20.02TON
0.7mm: LOAD: 14 cases per 20ft container, 450pcsX14cases=6300 PCS
WEIGHT: 3.1KGX6300PCS+80kgX14cases=20.65TON
0.8mm: LOAD: 14cases per 20ft container, 400pcsX14cases =5600 PCS
WEIGHT: 3.6KGX5600PCS+80kgX14cases=21.28TON
5.FAQ
1. What kind of certificate do you have?
ISO9001, CE, UL,CARB, CNAS
2. What color can you produce?
Solid color wood grain color or according to customs' requirements.
3. How about the samples?
For the samples, it will be prepared ASAP.
4. Do you charge for the Samples?
According to our company policy, we will charge you the express fee in the first time but the sample will be free. While we start our business, we will reimburse the money for you
5. Can you produce according to customer's design?
Sure, we are professional manufacturer, OEM are welcome. While the beginning you need to pay the moulded open fees and Orders meet the minimum ordering quantity of special products
Q:What are the materials for the kitchen ceiling that meet the fire protection requirements?

There are now aluminum slab plate this material fire performance is relatively high. Waterproof gypsum board is also possible. Because all of these two materials all the accessories are made of green steel at the end of the end of the service, and these are not difficult to burn the material. These two materials in the fire are in line with the requirements of the waterproof. Many of the big public places are using this material.
Q:What is the meaning of the plastic raw material fire rating HB?

HB level is not the meaning of fire.
Q:Decoration materials fire rating

Class A: incombustible Building materials: almost no burning material. A1 level: non-combustible, can not afford to fire A2 level: non-combustible, to measure smoke, to qualified. B1 level: flame retardant building materials: flame retardant materials have a better flame retardant effect. It is in the air in case of fire or in the role of high temperature difficult to fire, it is not easy to spread, and when the fire destroyed after the fire immediately stop. B2 grade: flammable building materials: combustible materials have a certain role in flame retardant. In the air in case of fire or under high temperature will immediately fire burning, easy to lead to the spread of fire, such as wooden pillars, wooden truss, wooden beams, wooden stairs and so on. B3 level: flammable Building materials: no any flame retardant effect, easy to burn, fire risk is great.
Q:Height greater than 60m residential building construction, when the use of B1-class insulation material, every few layers to set the level of fire isolation belt?

Now the external wall insulation materials are required to reach A level, see "Gong [2017] 65"
Q:Glass curtain wall and floor between the gap how to deal with, seeking expert solution?

5mm galvanized iron clad bag> 100mm thick rock wool close to the curtain wall glass, reserved 2-3mm gap, weathering rubber seal, so as to avoid thermal expansion and contraction of glass broken, the treatment of the upper available Wooden feet to do the skirting, the outside can be painted stone or aluminum plate to do decoration. The purpose of the curtain wall is to prevent the fire from going up after the disaster and then the noise. Outside the side if the curtain wall glass transparent, then in the galvanized steel outside the surface brush decorative fluorocarbon paint.
Q:Fire doors with fire insulation materials which?

Fire doors with fire insulation materials fire doors made of steel materials, door frames, door frames and door panels, doors if filled material, then fill the human body non-toxic harmless fire insulation materials, and with fire hardware accessories With a certain fire resistance of the door. Fire doors general technical conditions of the standard This standard specifies the wood fire door product classification, size specifications, technical requirements, test methods, inspection rules, logo packaging, transportation and storage. This standard applies to the use of wood or wood products for the door frame, door frame, door panel fire door. Emergency and statistical functions, the system can automatically display on the computer specified cardholder's physical location, easy to contact in time. Fire and other emergencies, the electronic fire door will automatically open, easy to escape, the entrance can also be automatically opened; when the illegal out of time, will automatically alarm.
Q:Basement ceiling extrusion board insulation material fire rating What are the requirements? What are the requirements of fire acceptance?

Use the extruded plate on it
Q:Is it necessary to provide a fireproofing material for decoration works? Such as the use of the hanging plate.

This is a fire-proof panel production plant inspection report can be recommended to use the quality of the grand Huayuan fire-retardant board the country's first full-bodied Hong Kong Kuang Fan Songs with the Ministry of products that the national test A1 qualified
Q:What is fireproof material? Fireproof material and insulation materials, refractory material is the same thing?

Fireproof material is inorganic board, insulation material is organic board. Fireproof material can also be insulated, but no insulation material is good.
Q:A1 grade external wall insulation materials which

At present, only rock wool, glass wool, ceramic fiber, foam glass, inorganic insulation mortar, a1 grade materials generally should not contain organic materials.
1. Manufacturer Overview

Location
Year Established
Annual Output Value
Main Markets
Company Certifications
2. Manufacturer Certificates

a) Certification Name
Range
Reference
Validity Period
3. Manufacturer Capability

a)Trade Capacity
Nearest Port
Export Percentage
No.of Employees in Trade Department
Language Spoken:
b)Factory Information
Factory Size:
No. of Production Lines
Contract Manufacturing
Product Price Range
Hot Searches
Related keywords