High Back Leather Executive Office Chair
Structure of Office Chair Description:
Specification : High Back ,high density sponse ,PU leather , tilting mechainism ,Aluminum Alloy Base,nylon castor ,chrome steel armrest with solid wood cover .
Color : Select from our color sample .
Unit CBM: 0.12
20'GP:230pcs
40'GP:450pcs
40'HQ:560pcs
High quality hardware & accessories, good brand slider, hinge, lock, and handle.
OEM and ODM is welcome, color can be available.
Personality design and attentive service.
Good reputation and timely delivery
Main Feature of Office Chair: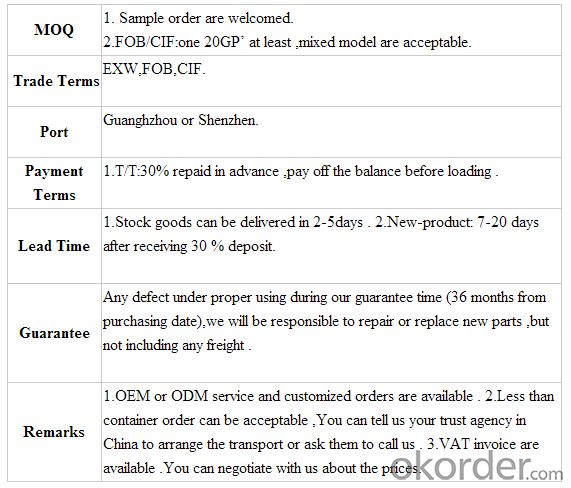 More Photo for Office Chair: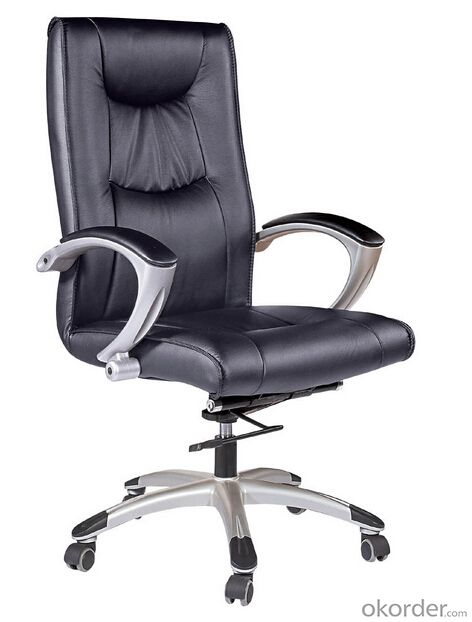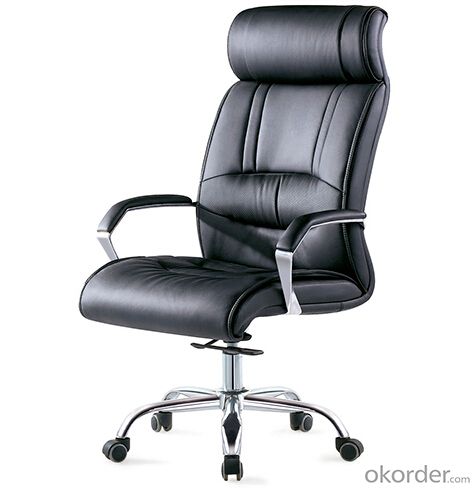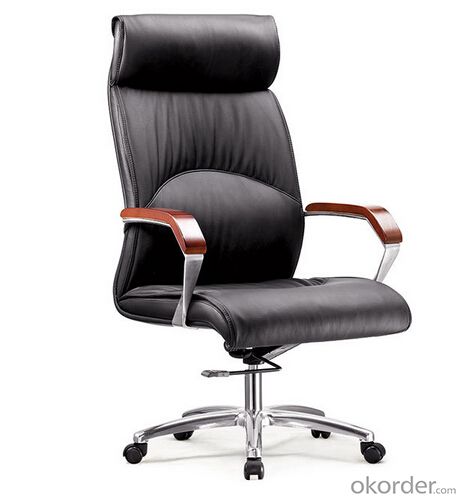 Office Chair Packaging deails: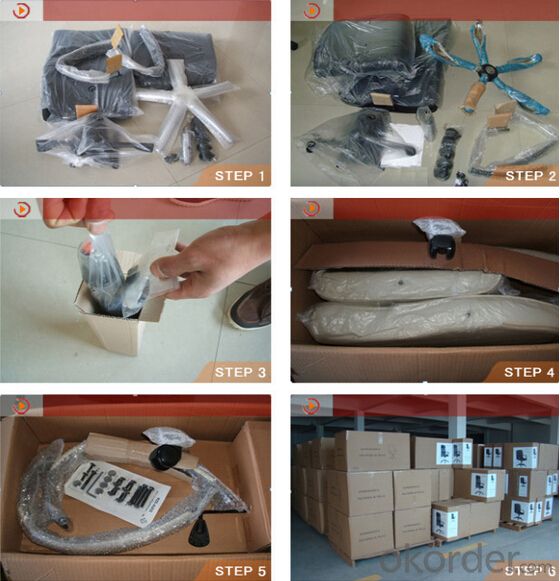 FAQ:
MOQ: Small order can be accepted.
Payment terms: T/T in advance (30% deposit before production, 70% balance before shipment)
Quality: high quality and trustworthy QC staff, strict quality control in all process
Customer'design: Customer's design and logos are welcome
Packing: we could accept special packing according to customer's requirements
Loading seaport: Guangzhou or shenzhen
Worker: we have 80 professional workers who have more than 5 years experience in furniture production
The advantage of our products.
1. 1-2 years warranty for outside material, 5 years for inside.
2. All of our products reaches European standard. Regular customer like: carrefour, wal-mart, etc.
3. Material choice and color choice available.
4. Customer'design: Customer's design and logos are welcome
5. MOQ: Small order can be accepted.
We have strict quality control department to ensure all the goods to be right & correct delivery to customers.
We are a real factory and approved by legal authority with 1 year guaranty on products to reduce the risk for the buyer who unconfident to do international purchasing.
All of our products are environmentally friendly meet the international standard.
Q:Can someone recommend a good chair to buy for someone who works at a desk all day and wants good support and a wheely chair) and websites would be useful :)

If you have the money you have best these chairs are second to none because they design and engineered by about 30 some specialist in the different fields. These are the chairs Hospitals use and Worker Comp. boards demand workers have in were repeat stress injury cases happen. They are unbelievable to sit in. I have $600 chair and it doesn't come near a SteelCase for comfort. They are worth every cent. Take a look at the Leap Work Lounge one could almost live in that chair.
Q:I am currently a freshman in high school. I am third chair clarinet in band overall. This is pretty good, and I am expected to do well. The only thing is, I'm not expected to get first chair until my senior year because the 2nd chair is a sophomore (the first chair is moving soon so he's not an issue) and she's expected to get first chair each year. While I do realize being third chair as a freshman is quite good, I don't want to wait until I'm a senior to make first chair. I know that next year there will be a freshman who is quite good (she's in eighth grade and already knows her scales 3 octaves) and may pose as competition. However I don't want to have to think that she is competition. I want to be able to know each time that I will be first chair. I want the sophomore above me to not always expect to be first chair. So my question is, what can I do to ensure that I am first chair? For our auditions we have sight-reading and scales with tone being taken into account considerably.

Nothing has caused me to do that since I watched The Wizard of Oz back in 1940.
Q:In the commercials for power wheel chairs, it asked if you have fallen in the past month. And if you answered yes to this question I need this chair. My friend kicked my knee and made me fall. Do I need this chair?

You do not need this chair. If you use it, you will be dependent on it for a very long time. If you want to be healthy like a normal person you should train your legs to hold you up. Those commercials just want your money. Example: Have you sneezed in the past two years? If you did, you need this pill! That was a bit exaggerated but believe me, people that sell those chairs would do anything to make others buy them. Also, you didn't fall because of exhaustion or leg failure. You fell because someone kicked you.
Q:I work from home as a web and graphic designer, and am in my office chair about 11 hours a day.I'm going to buy a new chair and am looking for something very modern / sleek / and as comfortable as possible.I'm considering either the Humanscale's Freedom chair or Herman Miller's Aeron Chair.Can someone make a recommendation as to which one of these two are best and why?

Why Herman Miller? I have found the chairs from Global are comfortable and they test the chairs well. I have had a couple of them over the years. The ones that were bought for me and came from other places are not as comfortable. One of the chairs was so complicated that it came with a driver disk!
Q:It is going to be lounging chair, for T.V. or something, though I am going to glue pieces of styrofoam together, then carve it out...with my *** grove, and maybe a cup holder or something...Though I have questions....1. I know styrofoam is not always going to be the strongest thing, so what should I use to re-enforce the strenght of this chair? Wood, or some sort of plaster?(Did I mention that I wanted to cover it with some sort of hardening agent?)2. What types of insulation should I use? (I was thinking of something that is comfy, though does not have much resestance...like it would embrace the but, not push it back. Possibly foam with an over coating of fluff...or something.)3. Outer fabric, What feels comfortable? Fake leather? or something?...4. What is a cool accesory to a chair(i.e. cup holder, Compass)You don't have to answer all the questions, you can answer one....Though I want some ideas or something...

The fact that most people call it a chair! but if you want we can open a new web site and send messages to people all over the world not to call it a chair anymore. we could even ask the goverment to step in saying that the word chair is very rude and it would be politcally incorrect to use that word ever again. But i can guarentee that someone somewhere would still call it a chair. Thats what makes it a chair!!!
Q:Okay, so I need to buy a portable chair for my field day on for a week from now. I don't know what to get. D:I kinda need to know whatever I need is called.Thankies in advance.

Go to any wal-mart ,sporting goods store or the like and get a folding chair for about 10 bucks.like the guy said above they come in a case
Q:what is the difference between a papasan, moon, and sphere chair?

the version is which variety it is getting used or which time it became utilized in. A hardcore tournament in many situations became linked with the hardcore call, and customarily in contact alot of hardware getting used. severe regulations is the comparable style of tournament, yet is used to talk over with the hot ECW variety. The no DQ or No Holds Barred usually in contact it beginning out as a wrestling tournament, with the occaissional weapon being further in, mutually as a highway combat usually starts off with each and every of the weapons being thrown into the ring on the beginning up. Yeah, they are each and every of the comparable, yet resourceful feels that by using giving it new names it by some potential distinguishes them from one yet another. the classic ladder tournament truly basically used ladders as weapons, nevertheless different weapons could be opccaisionally used. TLC became further in by way of fact the unique opposition each and every had their own favorite weapon: Dudleys with the tables, Hardys with the ladders, and side Christian with the chairs. back, it is basically a version on the ladder tournament.
Q:Hi so today my band teacher assigned us our place in the band and I got second chair for flutes. It's that good or bad? I wanted to get first chair but I guess I wasn't playing my best. :P so is second chair considered good or bad? Will I get anything like special from it? Or should I work my way to first chair since in my school we can challenge the chair above us. I want a opinion so I can make up my mind.Oh and if it helps, the other first chair (we have two groups for flutes) guy is kind of annoying and he always distracts the people around him. I know I should I have a good relationship with others but I dislike him

Second chair is better than third - or tenth - and NOT being first gives you an added inspiration to WORK. Also - the first chair flute often does not want to play piccolo - so that opportunity is offered to the second chair player! YOU have done well - and all this is part of your learning. So work hear, learn ALL your scales and arpeggios, work on sight-reading ( often used as a tie-breaker in competitions) and do your best. That fact that you CARE about this is a good thing.
Q:besides the green one (from maple island) and the blue one u can buy from lith....which other chairs can you get? (without using real life money to buy them)? and how do you get them too? thanks :]

There are plenty chairs to get But they cost Mesos Blue/Yellow/Pink Seal Cushions are sold at the Fm 80-100m i believe There is also Palm Beach Tree Chair that is around 5-8m Others such as Big Blue Chair are obtainable doing quests. Hope That Helped
Q:I found this picture in a home-type magazine. I absolutely adore the chair in the corner. Unfortunately, I have no clue what type of chair it is. (I read the magazine in Barnes Noble but didn't have the time to purchase it, and no, I do not remember the magazines name)If you know what the chair is called, please link a photo of it (it doesn't have to be exactly the same chair, but it has to look a LOT like it.)If you've seen it in a magazine (it is near the back, and is not a big picture and it may or may not be an advertisement. This picture is actually cut off, the whole thing also shows another chair and a painting. I think.) and you know the name of the magazine, please tell me.

It is very hard to see, but the other pieces in the room are all period reproductions The desk looks Empire or Louis 16; the sofa has chippendale/Queen Anne legs (what I can see of it). If the chair has carving around the frame it is most lilkely a Bergere chair.
1. Manufacturer Overview

Location
Year Established
Annual Output Value
Main Markets
Company Certifications
2. Manufacturer Certificates

a) Certification Name
Range
Reference
Validity Period
3. Manufacturer Capability

a)Trade Capacity
Nearest Port
Export Percentage
No.of Employees in Trade Department
Language Spoken:
b)Factory Information
Factory Size:
No. of Production Lines
Contract Manufacturing
Product Price Range