Description:
Graphite electrode is made from the domestic first petroleum coke and widely used in the electric arc furnaces for production of alloy steels, metal and other nonmetallic materials, etc.
The graphite electrodes include regular power, high power, super high power, ultra high power and square electrode.
The range of diameters covers from 200mm to 700mm.
Our products own the following characteristics: low electric resistance, good electric and thermal conductivity, high oxidation resistance, greater resistance to thermal and mechanicalshock, high mechanical strength, high machining accuracy.
Graphite Electrodes Features:
RP HP UHP Graphite Electrode
1.Dia:40-600mm or1.6"-24"
2.Length:250-2400mm or10"-96"
3.Nipples:3TPI,4TPI
4.ISO9001:2008
Graphite Electrodes Application:
An increasing proportion of global steel is made using electric arc furnaces, and the electric arc furnace itself is getting more efficient and making more steel per tonne of electrode
Graphite Electrodes Specifications
Do you know our material of the graphite electrode?
The regular power graphite electrode is made from petroleum coke with a little pitch, which meets the state standards YB/T4088-2000
The high power graphite electrode is made form 70% petroleum coke and 30% imported needle coke, which meets the state standards YB/T4089-2000
Technical data:

Note: The consumption of Electric Arc Furnace(EAF) is about 3-5kg per ton steel. The Ladle Furnace(LF) is about 1kg per ton steel. The converter with Ladle Furnace(LF) is about 0.5kg per ton steel.
FAQs:
Q1 What's the transport method?
A1 FCL delivery goods with wooden pallet; If LCL delivery, must with wooden case; Sometimes need open top, flat rack or bulk cargo.
Q2 What's the required payment term?
A2 Generally 30% TT as the prepayment, 70% TT before delivery. If need, 100% Irrevocable Letter of Credit or negotiation.
Q3 Which country are our products exported to?
A3 Apart from entire Chinese market, the US, Russia, Japan, Korea, Australia and some Southeast Asian Nations.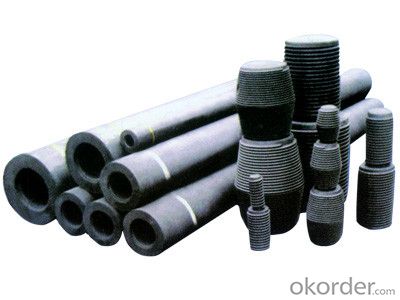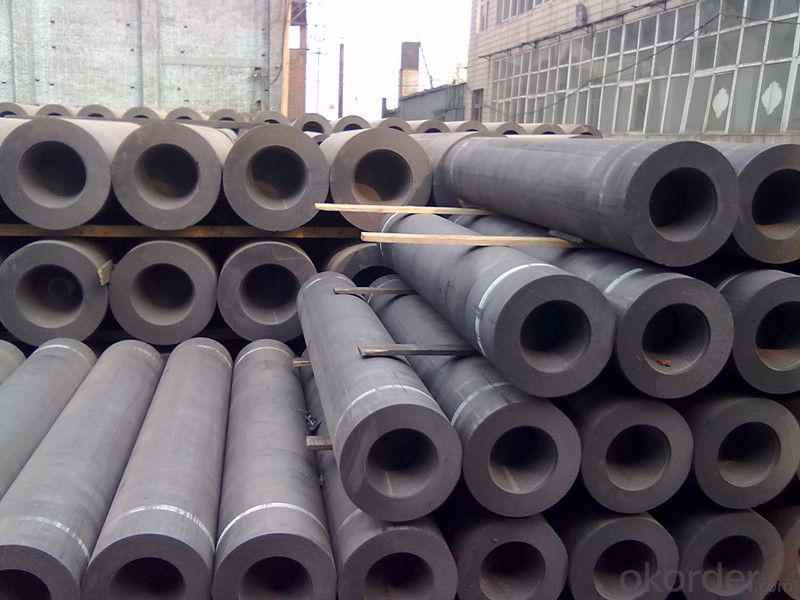 Q:The production of one ton of steel required graphite electrode

The consumption of graphite electrode in steelmaking in arc furnace, according to the different material, different specifications of graphite electrode used (normal power graphite electrode, high power graphite electrode, ultra high power graphite electrode) have relations.
Q:How to improve the efficiency of graphite electrode milling, please tell me

The technical development of the high-speed machining center lays the foundation for improving the milling efficiency and quality of the graphite electrode, especially for the milling of the small electrode with complicated shape and thin wall. In the EDM mold processing, the graphite electrode needs to be processed by the high-speed machining center (HSM), so the demand for HSM machine tools is also increasing. But for some time, because of the technological developments in hard steel processing, it seems possible to make graphite electrodes an obsolete technology.
Q:The difference between graphite electrode and graphite rod

The two materials are different.Graphite electrode is mainly in the petroleum coke and needle coke, coal tar pitch as binder, calcination, mixing, kneading, pressing, baking and graphitization, and made the processing machine, is a conductor in an electric arc furnace to form arc release electricity for heating and melting of the charge, according to the quality index level, can is divided into ordinary power, high power and ultra high power.
Q:How do graphitized electrodes differentiate between high power and low power?

Compared with other materials of graphite anode plate has high temperature resistance, good electrical and thermal conductivity, easy machining, good chemical stability, acid and alkali resistance, low ash content; for electrolytic solution, preparation of chlorine, caustic soda, salt alkali electrolytic solution preparation; application such as graphite anode plate can be used as conductive anode electrolytic salt solution preparation of caustic soda. Graphite anode plate can be used as conductive anode in electroplating industry. It is an ideal material for electroplating. It can make electroplating products have the advantages of smoothness, delicacy, wear resistance, corrosion resistance, high brightness and not easy to change color.
Q:Why should supercapacitors use graphite as electrode material?

There are some similarities between the supercapacitor and the lithium-ion battery technology...... Typing and super capacitor is divided into three kinds: organic (carbon based, including now speculation is very powerful, Shi Moxi) principle is potential polarization of electrolyte, electrolyte and the positive and negative ion conductive material on the electron positron forming an electric double layer, high porous carbon materials.
Q:Will the concentration of electrolytic sodium sulfite be increased with graphite as electrode?

No, sodium sulfite reacts with the oxygen produced.
Q:MITSUBISHI machine graphite electrode processing, how does not accumulate carbon?

The three is difficult cold start, is sparking difficult, not easy car, and finally the combustion chamber carbon Yan will cause a heavy cylinder knock, low speed and acceleration noise, causing damage to the piston and crankshaft, causing the engine temperature which can seriously affect the automobile safety. Emission standards exceeded, not only through the annual inspection, but also directly aggravate the pollution of the environment
Q:Do electroplating experiments, graphite as an electrode, graphite how to pre process to ensure that the coating will not fall, resulting in increased color of the solution

Both of these will be a little bit absorbed, when plating, the anode and anode inside the syrup will run on the negative pole,
Q:What does graphite electrode GSK mean?

Graphite is made of high-strength graphite, it is a kind of graphite grade specification.
Q:What are the structures of pyrolytic graphite electrodes? What are their properties and applications? We hope that some details will not be found

The graphite part is called pyrolytic graphite. Stronger than ordinary graphite, strong oxidation resistance.
1. Manufacturer Overview

Location
Year Established
Annual Output Value
Main Markets
Company Certifications
2. Manufacturer Certificates

a) Certification Name
Range
Reference
Validity Period
3. Manufacturer Capability

a)Trade Capacity
Nearest Port
Export Percentage
No.of Employees in Trade Department
Language Spoken:
b)Factory Information
Factory Size:
No. of Production Lines
Contract Manufacturing
Product Price Range