FRP Tanks for Water Treatment with Great Quality/FRP Soft Water Tank On Hot Sales /Fiber Glass Reinforced Plastic Vessels DN7000
Loading Port:

China Main Port
Payment Terms:

TT or LC
Min Order Qty:

-
Supply Capability:

-
Inquire Now
Customer Service
OKorder Service Pledge
Quality Product
Order Online Tracking
Timely Delivery
OKorder Financial Service
Credit Rating
Credit Services
Credit Purchasing
---
Add to My Favorites
---
Introduction
In the FRP .with high tensile strength, the fiberglass plays the role of reinforcement whiles the wear-resistance and pressure –resistance synthetic resin is used for bonding the fiber as the basic materials. Putting together, they commonly play the role of being in finished form and load carrier.
Feature
The wall structure of the FRP pipe is normally consisting of two parts:
Structure layer: make the continuous glass fiber woven of which is cross winded according to the design angle as the reinforcing frame. Make the synthetic resin as the bonding basic materials. Among them, the weight of fiberglass occupied about 65-70% weight of resin about 30-35%. In order to strengthen the structural stiffness, the resin and silicon sand paste could be added in the middle layer of fiberglass filament winding layer.
Specification
u 2.5" Precision injected threads opening available in 8"~16" diameter tanks
u 4" precision injected threads opening available in 18"~36" diameter tanks
u 6" Flange opening available in 42"~80" diameter tanks
u 8"~18" diameter tanks available top opening only
u 21"~80" diameter tanks available top and bottom opening
u Tripod bases available in sizes of 21"~80" diameter tanks
u Optional side opening is available
Materials
u The liner layer is PE (polyethylene) materials for 8"~36" diameter tanks
u The liner layer is FRP (fiber reinforced plastic) for 42"~80" diameter tanks
Working condition
u Operating pressure: 0.6Mpa (100psi)
u Bursting Pressure: 1.8Mpa (300psi)
u Testing pressure: 0.9Mpa (150psi)
u Working temperature: below 50 centigrade
Application
Pre RO, Ion Exchange, Water softener, water filtration, House hold water filtration, Food and beverage, water storage
Opening
u 2.5"~4" UN threads ABS opening;
u 6" Flange FRP;
u other customized manway and side flange
Advantage
u Good corrosion resistance
u High mechanical strength at low specific gravity
u Good resistance to weathering
u Light weight
u Good insulating qualities
u Provide less maintenance & repairs down time
u Easy installation
FAQ
1. Do You Arrange Shipment For The Machines?
Yes, dear esteemed customers, for FOB or CIF price, we will arrange shipment for you. For EXW price, clients need to arrange shipment by themselves or their agents.
2. What's the guarantee, in case the water tank breaks down?
The water tank has one year s guarantee. If it breaks down, generally speaking, our technician will figure out what the problem may be, according to client s feedback. Parts will be replaced for free if the problems are caused by quality fault.
3. How about the documents after shipment?
After shipment, we ll send all original documents to you by DHL, including Packing List.Commercial Invoice, B/L, and other certificates as required by clients.
PRODUCTION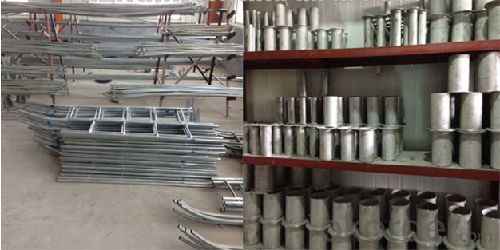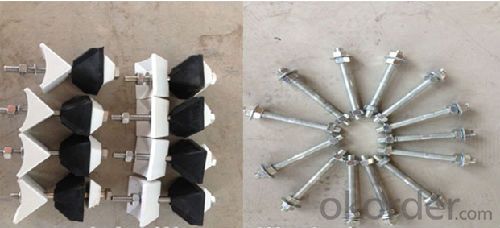 FACTORY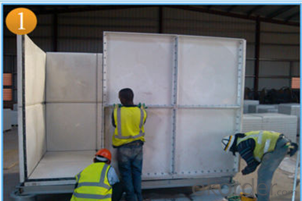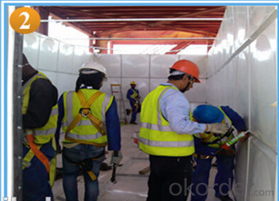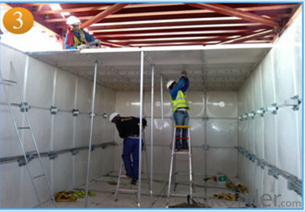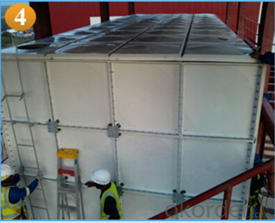 PACAKGE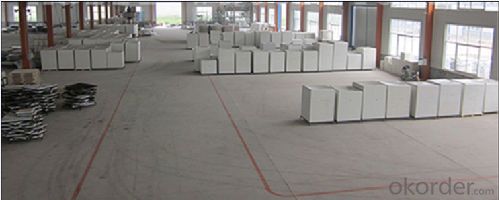 Q:What are the manufacturers of glass fibre reinforced plastic storage tanks in Guangdong?

They have always adhered to the concept of technological innovation, service and caring, bringing the company to a whole new height. Their business philosophy has become an object of imitation for many companies.
Q:How can FRP tanks be installed on concrete foundations? Do you need a connection?

Without connecting the tank bottom to the flat concrete base, it is better to put on 20 cm of fine sand.
Q:Finished acceptance of FRP tank

The last procedure for acceptance, acceptance of glass steel tank products should be strictly in accordance with the JC/T587: "fiber wound reinforced plastics tanks" related standards, should be the main inspection standard, glass steel tank surface is smooth, no impurities, no fiber exposed, no visible visual crack, no scratches, white and layered; the outer surface should be smooth, no fiber exposed, no air bubbles and serious uneven color.
Q:What should we pay attention to when installing FRP tank for hydrochloric acid?

When the liquid inlet of the hydrochloric acid tank is higher than the bottom of the tank, the inlet shall be bent towards the tank wall so that the liquid enters the tank wall and reduces the impact on the bottom. If the liquid level of the hydrochloric acid tank can not be controlled, the overflow port shall be installed on the hydrochloric acid tank to prevent the spillage of liquid and cause unnecessary harm.
Q:Difference between glass fiber reinforced plastic and insulating board

Insulating board, also called insulating rubber pad, insulating pad, insulating gasket, insulating blanket. Insulation pads are widely used in substations, power plants, power distribution houses, test rooms and outdoor live work.
Q:How much is a 20 cubic meter of steel storage tank?

If it is stored water, not invoiced about 30 yuan a kilogram, glass fiber reinforced plastic density of about 1.1. Count yourself.
Q:Glass fibre reinforced plastic water storage tank

Hinder the strong bond between resin and glass fiber, thus affecting the strength of glass fiber reinforced plastic products. The vacuum curing method can make the low molecular substance volatilize more completely, and make the glass fiber reinforced plastic product more compact. Therefore, the strength of the container can be increased.
Q:What kind of material can be used to store the dilute hydrochloric acid containing toluene?

What kind of material can be used to store the dilute hydrochloric acid containing toluene?
Q:How long is the normal service life of FRP cans? How long will it take if I use it in harsh conditions?

The quality of the resin will directly affect the service life of your product, and the specific environmental factors need to be analyzed in detail. Suggest you contact specific supplier, put forward your requirement, just can provide the product that you need according to your requirement
Q:How much can glass steel cans do?

Water glass steel tank of the outer winding layer is lined with glass fiber, PE/FRP, maximum test pressure is 150PSI, the maximum working pressure is 100PSI, the working temperature is 1-49 degrees, the maximum degree of vacuum is 5 "Hg (127mm Hg).
1. Manufacturer Overview

Location
Year Established
Annual Output Value
Main Markets
Company Certifications
2. Manufacturer Certificates

a) Certification Name
Range
Reference
Validity Period
3. Manufacturer Capability

a)Trade Capacity
Nearest Port
Export Percentage
No.of Employees in Trade Department
Language Spoken:
b)Factory Information
Factory Size:
No. of Production Lines
Contract Manufacturing
Product Price Range