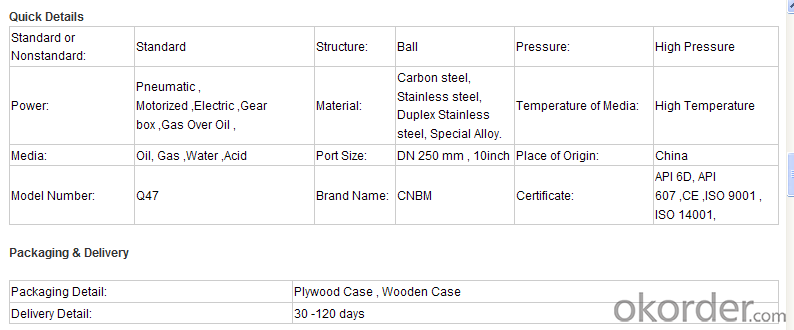 Specifications
Ball valve
Side Entry Design, Top Entry Design.
Bolted Body Or Fully Welded Body.
Full Bore Or Reduced Bore
Size: 2"- 48", DN 50-1200mm
Pressure: 150 -2500LB, PN 10-400
Material: Carbon steel, Duplex /Stainless Steel, Special Alloy.
Ball Valve
Design Feature:
Side Entry Design, Top Entry Design.

Bolted Body Or Fully Welded Body.

Full Bore Or Reduced Bore.

Flanged End Or Welding End.

Double Block and Bleed.

Locking Device.

Single Piston Effect, Double Piston Effect.

Automatic Internal Relief of Body Pressure.

Emergency Sealant Injection System.

Fire Safe Design. Antistatic Device.

Anti-Blowout Stem Design.

Body Vent Device.

Stem Extension for Underground Service.
Product Range:
Size: NPS 2"~ 48" , DN 50-1200

Pressure Rating: Class 150 -2500 LB , PN 10~400

Design standard : API 6D , EN13942

Face To Face Dimension : API 6D , EN 558-1, EN 12982

Connecting Dimensions: ASME B16.5, ASME B16.47, ASME B 16.25, EN 1092-1, and EN 12627.

End Connection: Flange, BW.

Body Materials: Carbon steel, Stainless Steel, Duplex Stainless Steel, Special Alloy.

Medium: Natural Gas, Oil, Steam. Water