QD50/20t EOT Double-girder Bridge Crane
Loading Port:

China Main Port
Payment Terms:

TT OR LC
Min Order Qty:

-
Supply Capability:

-
Inquire Now
Customer Service
OKorder Service Pledge
Quality Product
Order Online Tracking
Timely Delivery
OKorder Financial Service
Credit Rating
Credit Services
Credit Purchasing
---
Add to My Favorites
---
QD Series EOT Double-girder EOT Crane, which adopts internationally renowned brand gearbox and a series of new manufacturing technology, owns many advantages as follows: light weight, less dimension of bridge cross-section, less limiting size, low wheel pressure, simple maintenance, low energy consumption, safe and reliable, long service life etc. FINEHOPE has successfully developed QD5t-QD800t(5t-800t)various sized bridge cranes to satisfy the multiple demands of clients.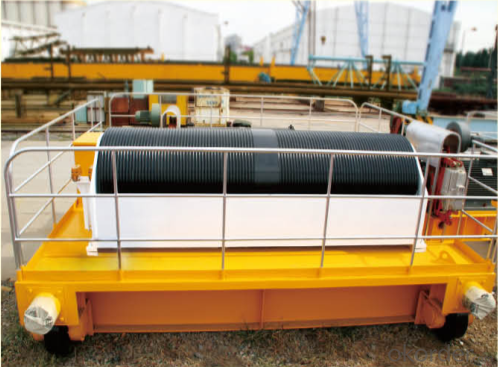 The crane travel is equipped with two hoisting mechanisms. Both of the main and aux. hoisting mechanisms adopt internationally renowned brand gearbox. The gearbox owns the advantages such as less occupying space, impact structure, easy maintenance, less weight, high reliability, stable transmission, big output torque, low noise etc.
Instead of traditional transmission bearing, coupling and out-mounted brake, "Three-in-one" mechanism has been adopted by the cross travel and long travel, which enable the crane with impact structure, high reliability and easy maintenance.
The speed controller has various forms as frequency control∕cascade control∕eddy-current control for option; three kinds of operation modes: cabinet, wired remote and wireless remote are selectable according to the customer's requirements, meanwhile, specific type crane such as the double-machine linkage control or girder strengthen etc. can be tailored for clients.

1. Manufacturer Overview

Location
Year Established
Annual Output Value
Main Markets
Company Certifications
2. Manufacturer Certificates

a) Certification Name
Range
Reference
Validity Period
3. Manufacturer Capability

a)Trade Capacity
Nearest Port
Export Percentage
No.of Employees in Trade Department
Language Spoken:
b)Factory Information
Factory Size:
No. of Production Lines
Contract Manufacturing
Product Price Range