High Performance Hollow glass bead is a kind of multi-functional inorganic non-metallic material with hollow and inert gas in micron level. The utility model has the advantages of light weight, high strength, low thermal conductivity, good dispersion, fluidity and stability, and low oil absorption, insulation, self-lubrication, sound insulation, fire resistance, non-absorbent, corrosion resistance and other excellent performance, widely used in aerospace, oil exploration, deep-sea exploration, electronic communications, civil blasting, traffic light and other fields, known as the"King of composite materials", the 21st century"Space-age materials.
Model

Para.

15P500

20P1000

25P1500

32P3500

38P5500

46P8000

60P12000

M45

(g/cm³) True Density

0.15±0.02

0.20±0.02

0.25±0.02

0.32±0.02

0.38±0.02

0.46±0.02

0.60±0.03

0.45±0.02

Crush Strength

MPa

3.5

7

10

24

38

55

83

110

PSI

500

1000

1500

3500

5500

8000

12000

16000

D50(μm)

Particle Size

50-60

45-55

40-50

35-45

35-45

35-45

25-35

20-24

PH

7~9

(%)Flotation

≥99

(℃)Softening temperature

≥600
Aerospace and aerospace:
Low-density ablation materials made of hollow glass beads are important advanced thermal protection materials in manned space flight and re-entry and re-entry technology. The material can also be used in other aircraft with high enthalpy, low heat flux and long-term service conditions to reduce the specific gravity of the material, heat insulation, product deformation is not easy, good dimensional stability.

Oil Exploration:
Can be added to drilling fluid, cement slurry. Hollow glass beads are inorganic non-metallic oxides with weak alkalinity and stable properties, which can ensure the chemical stability of drilling fluid, in the process of drilling can reduce friction, can greatly improve drilling speed. The prepared cementing slurry has good fluidity and is easy to mix and pump; inorganic composition, high temperature and pressure resistance make the mud stable; effective control of water loss rate, prevent pollution; low slurry density, high compressive strength.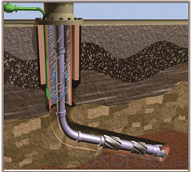 Deep-sea exploration:
Can be added to solid buoyancy materials, zero buoyancy cables, etc. . The hollow glass bead has the characteristics of high strength and low density. It can not only increase buoyancy by reducing the density of the composite foam, but also increase the strength of the composite by dispersing the stress and bearing the load. In 2020, the chinese-developed 10,000-meter (10,000-meter) manned submersible endeavour, using high-performance hollow glass beads, successfully explored the deepest Challenger Deep of the Mariana Trench, opened up a new history of marine scientific research.

Electronic Communications:
Can be used as a low-density, low-dielectric fillers, electronic sealant, electronic substrate and heat sink plate and other materials play a light, light, low dielectric effect. Can also be used in 5G equipment and components of composite materials, such as: 5G base station and radome, 5G mobile phone frame and backplane, Internet of things equipment. Compared with other material additives, it is beneficial to reduce the power loss and communication interference in the process of signal transmission.

Adhesive field:
The hollow glass beads can replace the fillers (talc powder, heavy calcium carbonate, etc.) in the adhesive by adjusting the adhesive formulation system, thus maintaining the mechanical properties of the adhesive and reducing its density, the adhesive has the characteristics of light weight and low heat conduction, and improves wear resistance and fluidity. Can be used in epoxy, polyurethane, silicone, acrylic, synthetic rubber and other adhesives.

The field of coatings
The vitrified surface of glass bead is more resistant to chemical corrosion, reflecting light, and the coating has anti-corrosion, anti-ultraviolet, anti-yellowing effect. The tightly arranged hollow glass beads contain rarefied gas and have low thermal conductivity, which can give the coating a better effect of heat insulation and better resistance to cold and heat shrinkage, thus enhancing the elasticity of the coating, greatly reduce the coating due to thermal expansion and contraction caused by cracking and shedding.

Plastics and rubber:
Hollow glass bead can not only reduce the density of the matrix, but also improve the stiffness, strength, dimensional stability and insulation of the matrix. Can be used in polymer composites, automotive interior, electrical components, consumer goods and sporting goods, synthetic foam blocks, lightweight shoes and so on.

Transportation:
As a functional lightweight filler, it can be used in modified plastics and SMC/BMC composites, which can give a series of excellent properties, such as: reducing specific gravity, improving material processing properties, reducing shrinkage and warpage; Improve material rigidity, improve heat insulation and noise reduction performance, reduce resin consumption, reduce VOC, improve flame retardancy, reduce smoke and so on.

Civilian bombing area:
The hollow glass microsphere is a kind of thin-walled and closed microsphere, which contains a certain amount of gas and has the advantages of low density, low thermal conductivity, low oil absorption, controllable particle size and chemical composition, etc. , therefore, it is very suitable to be used as sensitizer of emulsion explosive. It has the characteristics of using less explosive and improving detonation performance, prolonging storage life and storage stability of emulsion explosive.

1. Manufacturer Overview

Location
Year Established
Annual Output Value
Main Markets
Company Certifications
2. Manufacturer Certificates

a) Certification Name
Range
Reference
Validity Period
3. Manufacturer Capability

a)Trade Capacity
Nearest Port
Export Percentage
No.of Employees in Trade Department
Language Spoken:
b)Factory Information
Factory Size:
No. of Production Lines
Contract Manufacturing
Product Price Range