Aluminum Folding Table and Chair Camping Kitchen Work Top Table and Benches
Price:

US $35.21

/ LOT
Loading Port:

NINGBO
Delivery Time:

15 days after your payment
Quantity:
Shipping:

Freight Cost Calculator
Add to Cart
Place Order
OKorder Service Pledge
Quality Product
Order Online Tracking
Timely Delivery
OKorder Financial Service
Credit Rating
Credit Services
Credit Purchasing
---
Add to My Favorites
---
Item specifice
Material:
Cold Rolled Steel
Style:
Modern
Usage:
Outdoor & Garden
Color:
White
Structure:
Folded
Customized:
Customized
Height Adjustable:
Adjustable
---
The aluminum folding picnic table is ideal for a variety of leisure applications such as camping, caravanning, picnics, parties, BBQ's and outdoor activities; going for a picnic or when you just need some extra table space in the garden. The height of the table can also be adjusted from 1000px to 1750px to suit your needs.
The table and benches are made out of a weather resistant light weight MDF with a strong aluminum frame.
The table and benches are light and easy to carry/transport. They are easy to open and fold down so you can store it away easily and have it up and running in no time for those special occasions.
Description:
Type: Aluminum Folding Table with Chair
Material: Aluminum
Table Dimensions: 90 x 60 x 70CM
Chair Dimensions: 87 x 25 x 40CM
Chair Capacity: 80Kg
Table Capacity: 30Kg
Weight:10Kg
Package Size:12*92*34CM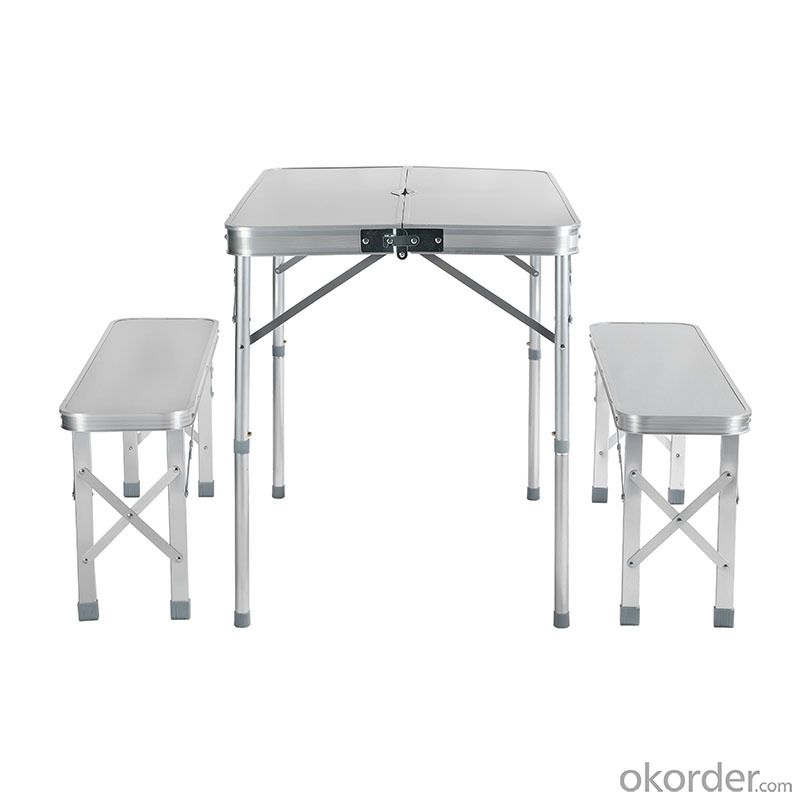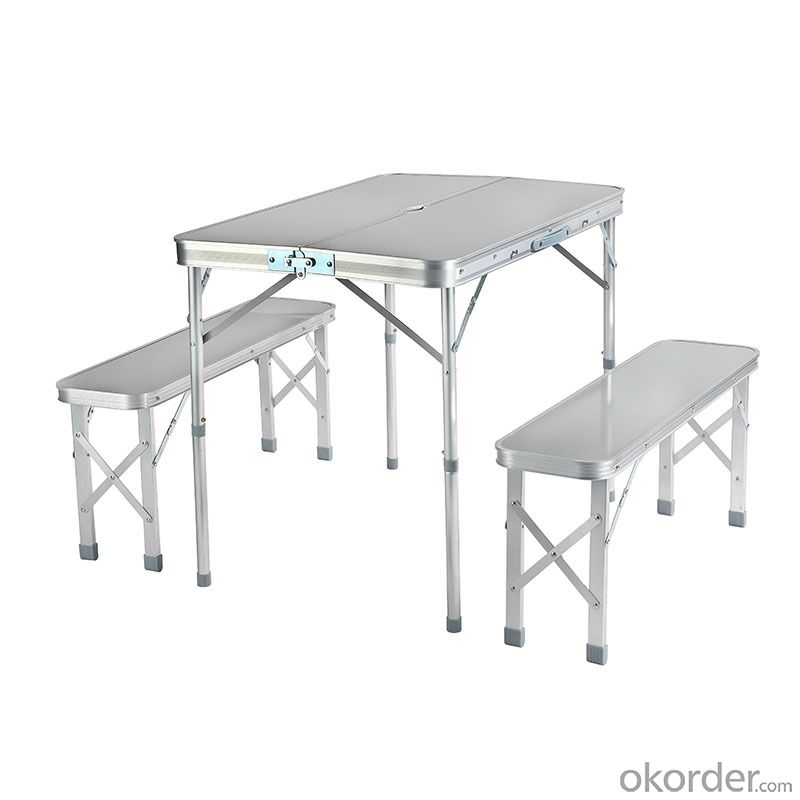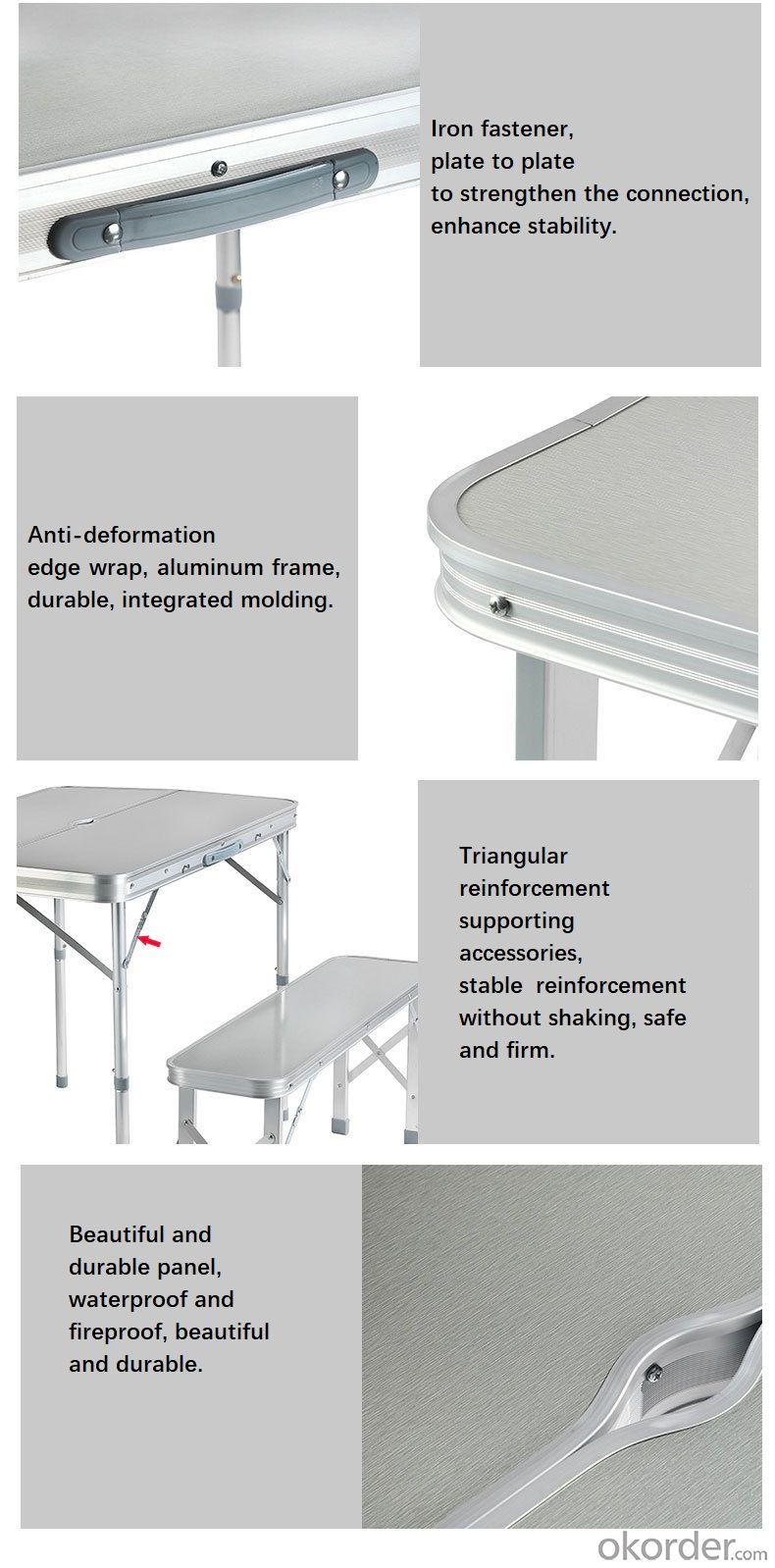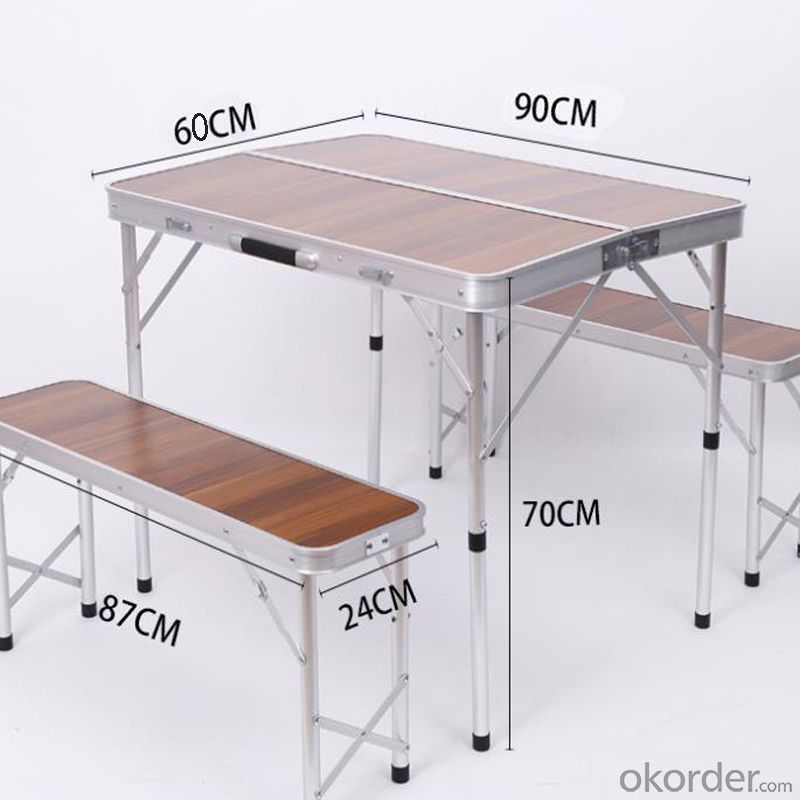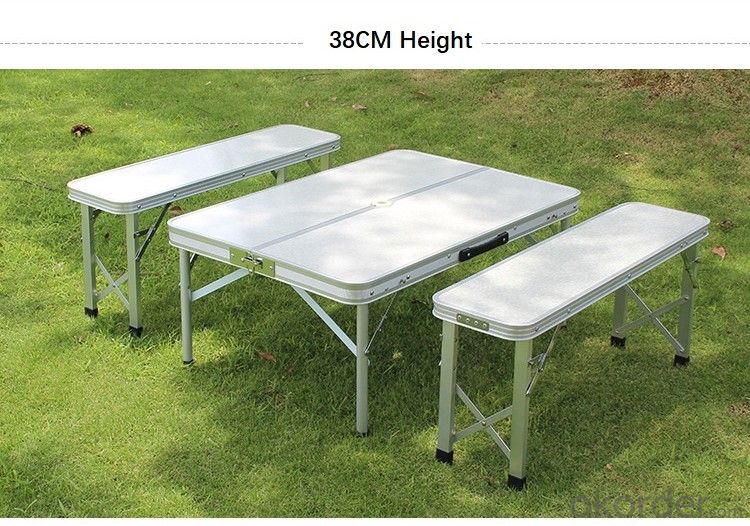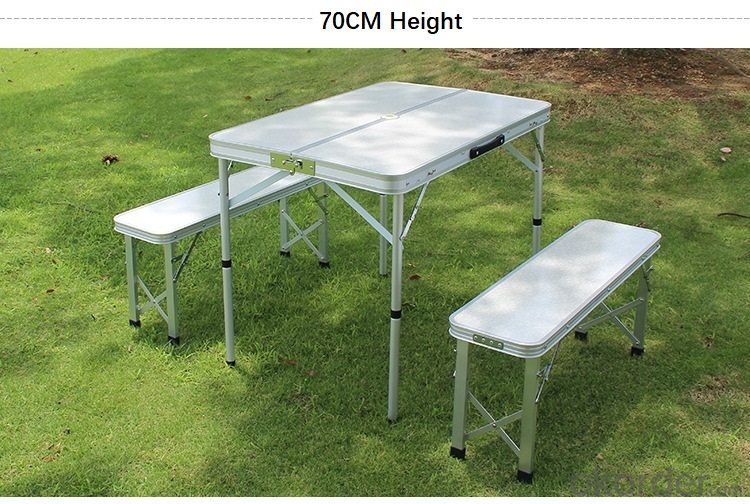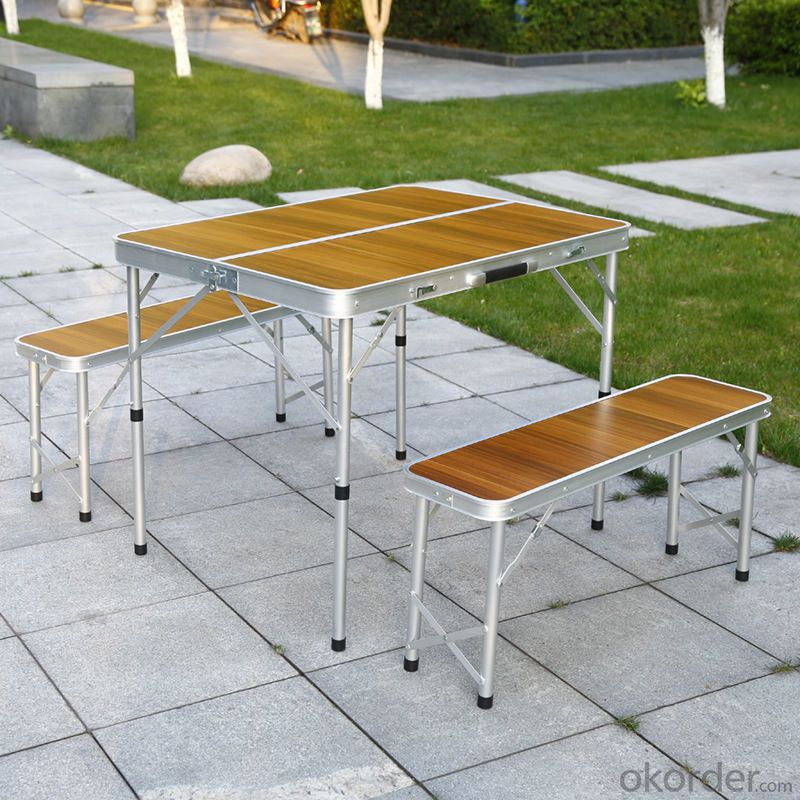 Q:Is the table iron track good or the wood track good?

It's good for metal slide, because it is wearable and smooth. In your case, I recommend the use of high grade damping rails. It can improve your daily feeling. You can pay attention to the trade terms "riding a horse"".
Q:How to buy table, table purchase methods introduced

What kind of table is good - the table should be square or round
Q:What style is the furniture with metallic lacquer color?

In many styles will appear metallic paint color furniture, generally used a little more, should be European style
Q:Is it easy to rust with metal furniture?

First of all, metal furniture looks more modern and fashionable. And not easy to rust, because your furniture is used indoors, more and outdoors, but usually pay more attention to wipe, wipe with dry cloth.
Q:Wooden furniture and metal furniture which is more cost-effective?

Metal material selection, wall tube thickness, welding process can affect the furniture life. Not necessarily which is good, depends on the choice of good or bad products.
Q:How to choose the shape of the dining table?

In this age of good food, the table is becoming more important. The table restaurant has been the protagonist of the old table, usually rectangular, people take show place in the family level. In today's age of style, modern tables no longer limit the choice of people with rules.
Q:How to maintain metal furniture?

Metal furniture should not be irradiated in the sun, or it is easy to paint off its surface color, so when the sun is strong, we must find ways to shelter it.
Q:To buy a table made of elm, do not know this material should be how to identify it?

The elm furniture durable, the use of manual brush paint, varnish, tasteless environmental pollution; elm furniture required elm wood lumber cycle in more than fifty years, high density, hard wood, natural texture and beautiful. But the general ash, pine, cherry wood timber is only 3 to 5 years, production time is short, short of wood fiber, wood is weak, the deformation of love. In addition, elm texture understanding clear, smooth surface planing, the chord surface pattern is beautiful, have a similar "chicken wing wood" the pattern. The plastic wood, carved lacquer, grinding can produce exquisite lacquer crafts. A little elm furniture without metal materials. Can elm furniture with strict structure, adopts the tenon structure from ancient times to the left, make furniture, and more reliable. But the elm furniture are generally very expensive, still thousands, so we must pay attention to the selection of the time:
Q:Will marble be a good dinner table?

Marble table surface is not easy to be contaminated with dust, not prone to scratches, and physical properties are relatively stable;
Q:Marble table and toughened glass table that good

Each has its advantages and disadvantages! Most of the market is black tempered glass, almost a fingerprint collector, a little bit of dust, and a few years did not sweep the same; natural marble table is more expensive, look at your budget bar! Personal advice, rich or marble table is good?.
1. Manufacturer Overview

Location
Year Established
Annual Output Value
Main Markets
Company Certifications
2. Manufacturer Certificates

a) Certification Name
Range
Reference
Validity Period
3. Manufacturer Capability

a)Trade Capacity
Nearest Port
Export Percentage
No.of Employees in Trade Department
Language Spoken:
b)Factory Information
Factory Size:
No. of Production Lines
Contract Manufacturing
Product Price Range