XCMG Truck Crane QY100K
Loading Port:

China Main Port
Payment Terms:

TT or L/C
Min Order Qty:

1 set
Supply Capability:

100 Sets Per Month set/month
Inquire Now
Customer Service
OKorder Service Pledge
Quality Product
Order Online Tracking
Timely Delivery
OKorder Financial Service
Credit Rating
Credit Services
Credit Purchasing
---
Add to My Favorites
---
The features of QY100K are as follows:
1. XCMG QY100K Truck Crane Compact structure, reasonable arrangement, wide outrigger span, and 360º operation of the boom.
2. Six-axle off-road carrier equipped with imported Cummins engine and automatic transmission, max. grade-ability of 40%; maneuverable steering system, good pass-ability, min. turning diameter of 24m.
3. XCMG QY100K Truck Crane Lifting operation is controlled by integrated PLC for construction machinery. Control signals and operating performance chart of parts can be set and adjusted with digit. Working safety, reliability and efficiency are improved greatly.
4. Electric control outriggers leveled by button, and accelerator speed-up button improve working efficiency greatly.
5. XCMG QY100K Truck CraneFive-section boom of oviform boom profile, special blocks and aligning devices and imported high-tension steel plates, minimize the boom weight, make boom telescope smoothly and align accurately and improve the lifting capacity greatly.
6. Euro2 engine for construction machinery equipped on superstructure smooth running, lower noise, powerful output and suitable for continuous work of long time.
7. XCMG QY100K Truck CraneSelf-erecting counterbalances—can be variously combined to meet various working requirements. Various combination of counterweight improves the lifting capacity of mid-extended boom. Movable control box facilitate operation of counterweight.
8. Hydraulic system is a constant power and variable displacement system of cost energy and high efficiency. Combined with PLC, it can adjust flow and pressure of the system according to the change of load automatically, control speed precisely and sensitively.
9. XCMG QY100K Truck CraneComfortable operator's cab with integrated front and roof windows, air-conditioning, roller blinds, adjustable operator's seat, noise and heat insulation. It can be tilted backwards 20°.
10. Optional automatic lubricating device. During operation, it will lubricate main positions automatically according to the preset time interval.
11. XCMG QY100K Truck Crane Other optional parts such as jib, single top, anti-ultraviolet rays glazing, and radio-cassette player in operator's cab are available.
Details of Truck Crane QY100K:
Dimension

Unit

QY100K-I

Overall length, width, height

mm

15600×3000×3850

Wheel base

mm

1420+2420+1800+1420+1505

Weight

 

 

Total weight in travel

kg

54900 58000

Axle load

 

 

Axle 1

kg

7500 7500

Axle 2

kg

7500 7500

Axle 3

kg

8300 10000

Axle 4

kg

12000 12500

Axle 5

kg

12000 12500

Axle 6

kg

7600 8000

Power

 

 

Engine rated power

kW/(r/min)

360/1800 (306/1900)

Engine rated torque

N.m/(r/min)

2200/1300 (2010/1200)

Engine rated speed

r/min

1800 (1900)

Min. ground clearance

mm

310

Travel

 

 

Approach angle

°

20

Departure angle

°

14

Braking distance (at 30km/h)

m

≤10

Max. grade ability

%

40

Min. turning diameter

m

24

Fuel consumption for 100km

L

70

Main performance

Max. rated total lifting capacity

m

100

Min. rated working radius

 

3

Turning radius at turntable tail

 

 

Counterweight

mm

4200

Aux. winch

mm

4590

Max. lifting torque

 

3450

Base boom

kN.m

3450(4m×88t)

Fully extended boom

kN.m

1950(24m×7.1t)

Fully extended boom+ jib

kN.m

1230(19.2m×6t)

Outrigger span (full extension)

 

 

Longitudinal

m

7.56

Lateral

m

7.6

Lifting height

 

 

Base boom

m

13.5

Fully extended boom

m

50.9

Fully extended boom+ jib

m

70.4

Boom length

m

13.5

Fully extended boom

m

51

Fully extended boom+ jib

m

51+18.1+4

Working speed

 

 

Jib setting angle

°

0、15、30

Boom luffing time

s

75

Boom

 

 

Boom telescoping time

 

 

Full extension

s

160

Max. swing speed

r/min

2

Outrigger extension/retraction time

 

 

Outrigger beam in extension/retraction

s

25/15

Outrigger jack in extension/retraction

s

45/25

Lifting speed (single rope, layer 4)

 

 

Main winch

m/min

105

Aux. winch

m/min

104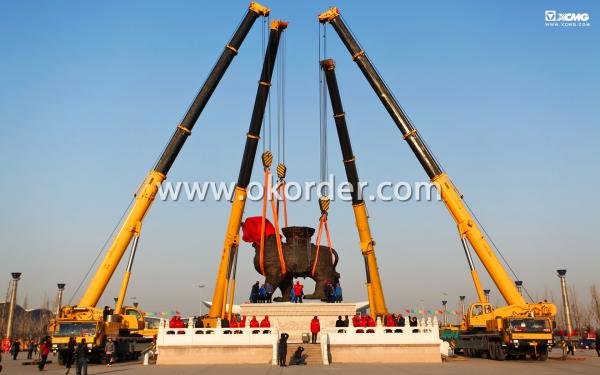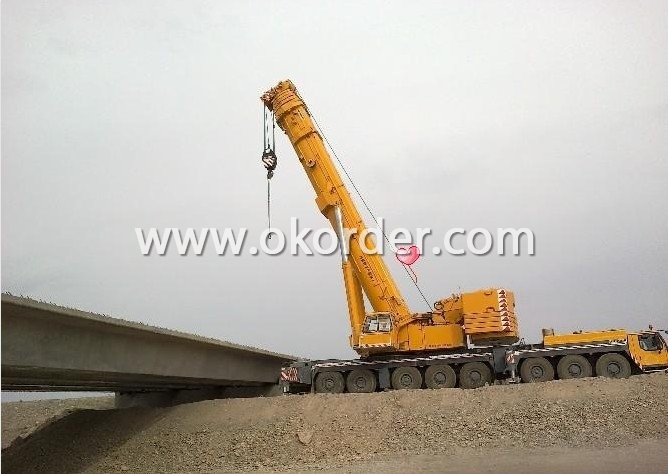 Q:What are the characteristics of the development of truck cranes in China?

China's production of car cranes are mostly less than 50 tons of small tonnage of the crane, large tonnage production is very small, and, with the development of society, flexible large-scale lifting machinery demand is growing,
Q:What are the classification of mobile cranes?

The truck crane uses a different cab in the running state and the hoisting operation state, respectively.
Q:What about the Reza car cranes?

Crane products in line with national testing standards, but also the use of German test testing standards, the crane's driving performance, operating performance and structural strength and other aspects of the test were tested, the product quality of the German manufacturing level.
Q:What is the difference between a truck crane and an all-terrain crane?

Ordinary crane tonnage small transitions difficult ground requirements Daquan ground cranes to facilitate the transfer from the weight of Oita and over the super-lifting mode of lifting tonnage in more than a few hundred tons or even more than tons of wind turbine for the installation and removal of the whole
Q:What are the daily maintenance of the truck crane?

Purchasing the Ministry of Commerce Organize the process, the equipment management department and the equipment manufacturer or agent to sign the "purchase order" (key and important equipment before the purchase order should be approved by the general manager), the purchase order should specify the specifications of the equipment to be purchased, the basic
Q:What is the role of the truck crane legs?

and increase the contact area with the ground, reduce the pressure if not such a crane in the lifting of the weight when it is easy to puncture,
Q:What is the development trend of truck cranes in China?

Larger tonnage of new products to meet the needs of the market. The only way to get nutrients and vitality from the market to survive, survive in development, grow in development
Q:How does the car crane handle?

Car crane operating permit (qualification certificate) at the beginning, middle and senior, in the local labor and social security departments, once owned, life-long, national general, no annual review; 2, car crane job card (certificate) regardless of grade,
Q:How many car cranes are there?

A truck crane is usually a crane that is modified on a car chassis.
Q:What is the principle and purpose of the rotary joint of the truck crane center?

Is the rapid flow of water through the propeller will be converted into mechanical energy to promote its high-speed operation of the generator power generation
UNDER THE WIN-WIN CONCEPT, CNBM GROUP AND TADANO FACTORY IN CHINA HAVE BUILT LONG-TERM STRTEGIC PARTNERSHIP IN THE MOBILE .CRANE BUSINESS AREA. AS THE LEADER CORPORATION OF BUILDING MATERIALS AND MACHINERY IN CHINA, CNBM COULD GET VIP TECHNICAL AND PRICE SUPPORT FROM TADANO IN CHINA. IN ORDER TO IMPROVE BOTH PARTIES COMPETITION STRENGTH, THERE ARE FREQUENT COMMUNICAITON BETWEEN US.
1. Manufacturer Overview

Location
Beijing,China
Year Established
2003
Annual Output Value
Below US$1 Million
Main Markets
Mid East;Western Europe;North America
Company Certifications
无
2. Manufacturer Certificates

a) Certification Name
Range
Reference
Validity Period
3. Manufacturer Capability

a)Trade Capacity
Nearest Port
Xingang
Export Percentage
81% - 90%
No.of Employees in Trade Department
20 People
Language Spoken:
English;Chinese;Japanese
b)Factory Information
Factory Size:
Above 120,000 square meters
No. of Production Lines
Above 3
Contract Manufacturing
Design Service Offered
Product Price Range
Average