Stainless Steel Diamond Rod Sharpener for Knives 8''
Simple Introduction of Rod Sharpener:
Size:8''
Material:Stainless steel/ABS plastic
Weight:210g
Package:blister card
Usage:Kitchen Knife Sharpening
Features of Rod Sharpener:
1.High-performance stainless steel ensure effective sharpening results.
2.Super hard ceramic rods for durable use.
3.Soft handle design for comfortable and nice appearance.
Product Show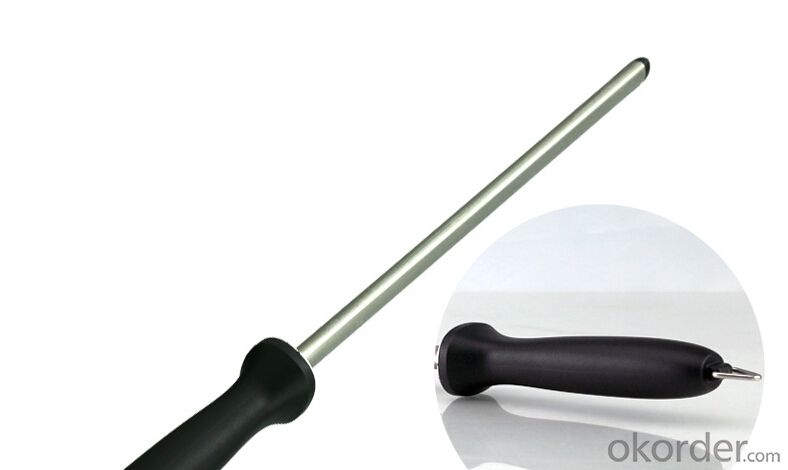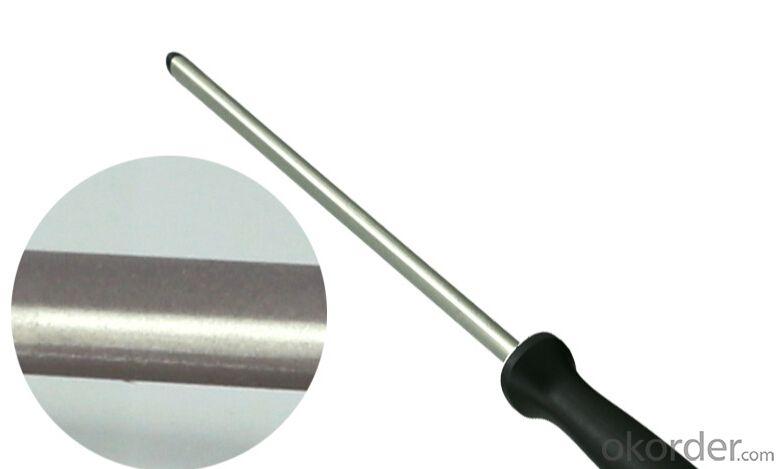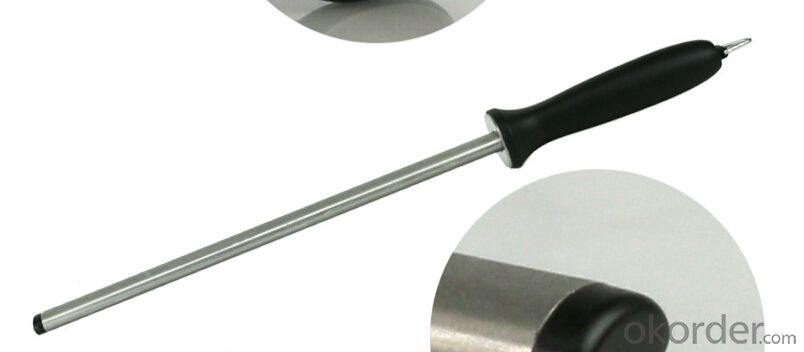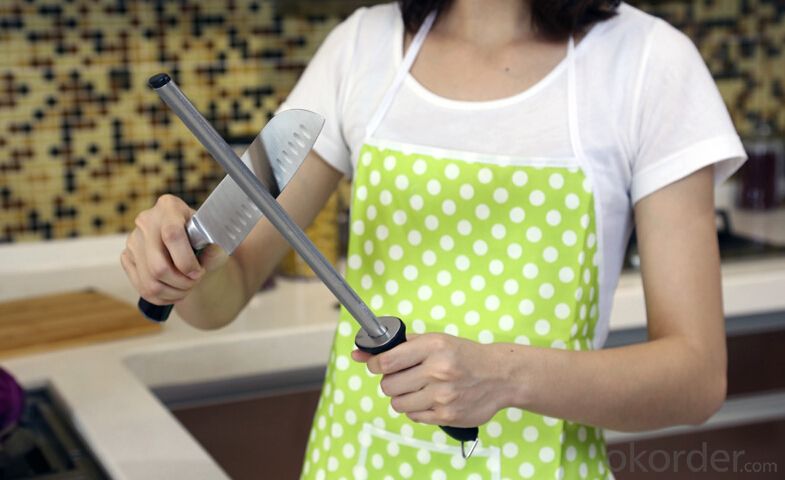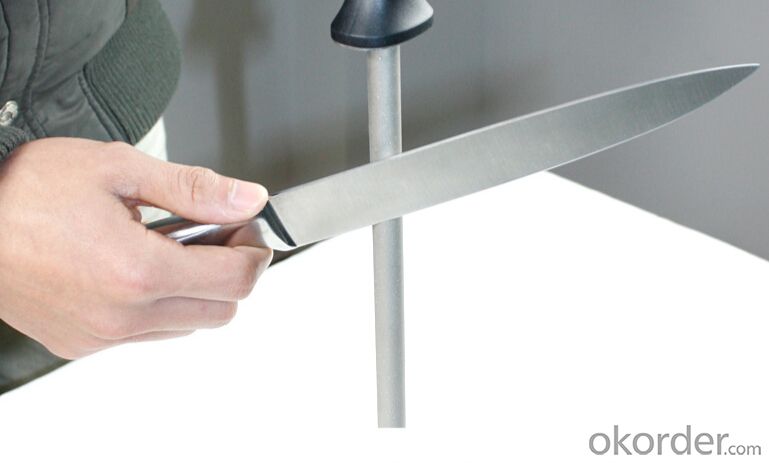 Using Instruction of Rod Sharpener:
1. Place the plastic tip on the end of the sharpening rod on a solid surface. Apply lightly downward pressure to avoid slipping during use.
2. Place heel of your blade at the top of sharpening rod at preferred 20 degree angle. Sharpen the knife from heel to tip and repeat 2-3times, then turn to the other side of the knife until blade sharp,
General speaking, use it once a week to keep your blade sharp.
3. Clean the knife with water or wiper and dry it after use; Clean the knife sharpener with non-abrasive brush.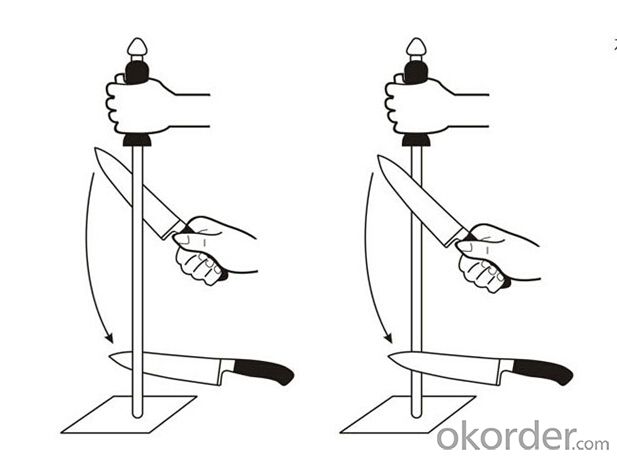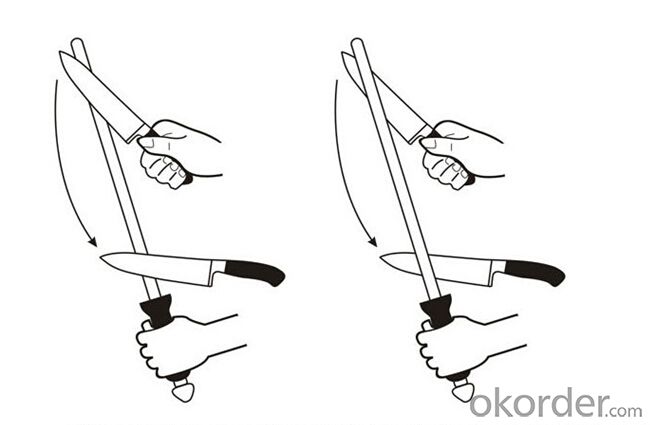 Cautions:
1.keep stable when sharpening.
2.To prevent falling from height when using.
3.Please put the knife sharpener and knife beyond the reach of children to avoid any accidents.
Q:If there is no counter near the mill, you can grind it?

Can be used sharpening stone, grinding time to use a little peanut oil or other oil can not use water! Force to light, knife and stone surface is about 45 degrees, a few light grinding on it. The sharpened edge is very smooth and sharp.
Q:Is the kitchen knife a single blade? Can the sharpener be worn?

Bores and unilateral edge is not the same thing, of course, can grind a knife sharpener
Q:Enrich the knife sharpener?

The sharpener is characterized by use of the traditional single knife to double knife, sharpening method, angle changed efficiency, cutting the most blunt no more than half a minute, and make it very sharp, its efficiency is really incomparable, the knife sharpener is material with special material processing refined, long service life, simple operation and cheap, it is an indispensable good helper housewife. Compared with the traditional knife sharpener, modern sharpener has the advantages of high speed, simple operation, easy to carry, beautiful appearance and so on. In addition, the knife does not need to add water and oil and other liquids. Very safe and sanitary to use. There are many kinds of types is the sharpener necessary sharpener modern kitchen supplies, a fixed angle, there are flat and rodlike; grinding material, high performance ceramics, diamond hard alloy and stone; the product is different, the price difference is large. So how to choose their own sharpener and satisfactory? We can discuss from several aspects, for reference for everyone to choose: first, knives or tools and material hardness: if your tool or tool steel for the better or higher hardness, diamond knife sharpener, high performance ceramic sharpener and stone three optional; if your tool and tool material is also hard alloy material than steel, the choice of high performance ceramic diamond knife sharpener, sharpener, especially recommended is diamond sharpener (such as grinding ceramic knife or hard alloy cutting tools, diamond sharpener is the only choice). Second, single edge tool or double...
Q:Can a Zwilling knife be sharpened by another sharpener?

Can be self grinding, blade angle to the original angle. I am self grinding, the effect is good, with the purpose of 3000 ruby stone.
Q:With a fixed angle knife also used to use the kind of Zwilling two grooves directly on the top of the mill?

Easy to buy oil as long as the use of sewing machine oil can be, then you do not have to sharpen the knife, said the two are not suitable for grinding Samurai sword.
Q:Which kind of brand is good

It is the ten largest sharpener good brand ah now after all is a brand of the society like those brands it is difficult to ensure the quality of the ten big brands have ten big brand sharpener which gives a suggestion to the landlord ah China ten brand net buy on the query of the latest row list of ah multi contrast might be the answer you want in the well worth the try Oh because I always find the answer you want, recommend to you, trustworthy oh I believe that your choice will be helpful
Q:Do you have a knife sharpener? Is there any good sharpener?

Easy to use ah, since his knife, I think a lot of knife.But it takes a little bit of interest.Interested, you can buy a fixed angle grinder, grinding time is about 10 minutes, you can determine their own angle, sharpness, durability.
Q:How do you use the sharpener? How to use

If you do not know how to use, you can look at Baidu, Fumin knife sharpener factory how to use the staff will teach you! I hope I can help you
Q:Sharpener good, advantages, disadvantages

Professional knife grinder, grinding tools, grinding speed, blade shape beautiful, sharp. However, the professional knife more expensive.
Q:What is the better effect of sharpening and sharpening for the knife

Knife effect is good, but life is not longThe grindstone is durable
1. Manufacturer Overview

Location
Year Established
Annual Output Value
Main Markets
Company Certifications
2. Manufacturer Certificates

a) Certification Name
Range
Reference
Validity Period
3. Manufacturer Capability

a)Trade Capacity
Nearest Port
Export Percentage
No.of Employees in Trade Department
Language Spoken:
b)Factory Information
Factory Size:
No. of Production Lines
Contract Manufacturing
Product Price Range