Description:
PAC( Polyaluminium Chloride) is high efficient, cheap and nontoxic inorganic high molecular compound.
The solid is yellow powder. It is easily soluble in water. In the hydrolytic process, it is accompanied with the chemical
processes such as electrochemisty, coagulation, absorption and precipitation. The product has the features including wide applicable range of pH value, large granule and quick speed in sedimentation. It is widely applied for treating the
drinking water, industrial water and daily sewage etc, , ,
Specifications
1.PAC for water treatment
2good activenese, good fiterability.
3. treated water salinity.
4. remove heavy metals and radioa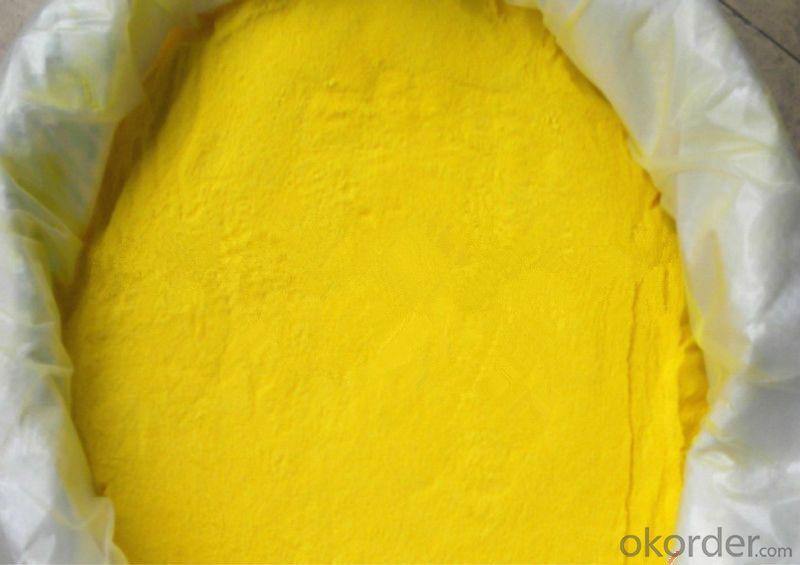 Application:
Polyaluminium Chloride PAC is mainly used as the flocculating agent for the treatment of drinking water and industrial waste
water(such as oil waste water, printing and dyeing water and pulping waste water), and it is also applied in the treatment of
high toxicity heavy metal and F-containing waste water; Morever, it is also widely applied in precise casting, paper-making,
tanning and other industries.
Main characteristics:
1. The flocculation body takes shape quickly, good activenese, good fiterability.
2. PAC is suitable for wide adaptability, pH value, used widly.
3. PAC treated water salinity.
4. PAC can remove heavy metals and radioactive substances in water pollution.
Item: PAC

Specification

Appearance

Yellow powder

Yellow powder

Alumina AL2O3 %

30

35

Alkalinity %

40-90

40-95

Water insolubles %

0.5

0.3

PH(1% water Solution)

3.5-5.0

3.5-5.0

As(m/m) %

≤ 0.0002

Pb(m/m) %

≤ 0.001

Cd(m/m) %

≤ 0.0002

Hg(m/m) %

≤ 0.00001

Cr6+(m/m) %

≤ 0.0005