PLA/PA Wood Veneer Face Plywood Thick Board
Loading Port:

Lianyungang
Payment Terms:

TT or LC
Min Order Qty:

1000 pc
Supply Capability:

500000 pc/month
Inquire Now
Customer Service
OKorder Service Pledge
Quality Product
Order Online Tracking
Timely Delivery
OKorder Financial Service
Credit Rating
Credit Services
Credit Purchasing
---
Add to My Favorites
---
Product Description:
Redish hard wood veneer face plywood thick board

Specifications of PLA Face Plywood thick board
1.Face/back: Redish PLA veneer (hardwood veneer)

2.Core: poplar veneer

3.Grade: BB/CC,
4.Glue E2,E1,MR,WBP
5.Size(mm) 2440X1220,OR as request
Thickness(mm):6mm, 9mm,12mm,15mm,18mm,25mm
6.Moisture 8-12%
7.Thickness tolerance of 0.3mm thickness≤6mm; thickness more than 6mm: +/-0.5mm to 0.8mm
8.Quantity 20GP 8 pallets/22M3
40GP 16 pallets/42M3
40HC 18 pallets/53M3
9. Usage Adequate for making furniture or construction ,packing or industrial
10.Min Order 1x20ft container
11.Delivery time Within 20days after receiving deposit or Original L/C at sight
Packaging & Delivery

Packing For transportation of Ocean and Land, Inside Pallet is wrapped with 0.2mm plastic bag, Steel strip or PVC for strength, More than 2mm plywood sheet or hard paper covering all the sides left, right,top and bottom.
Delivery will be proceed with 15days after receiving deposit or Original L/C at sight.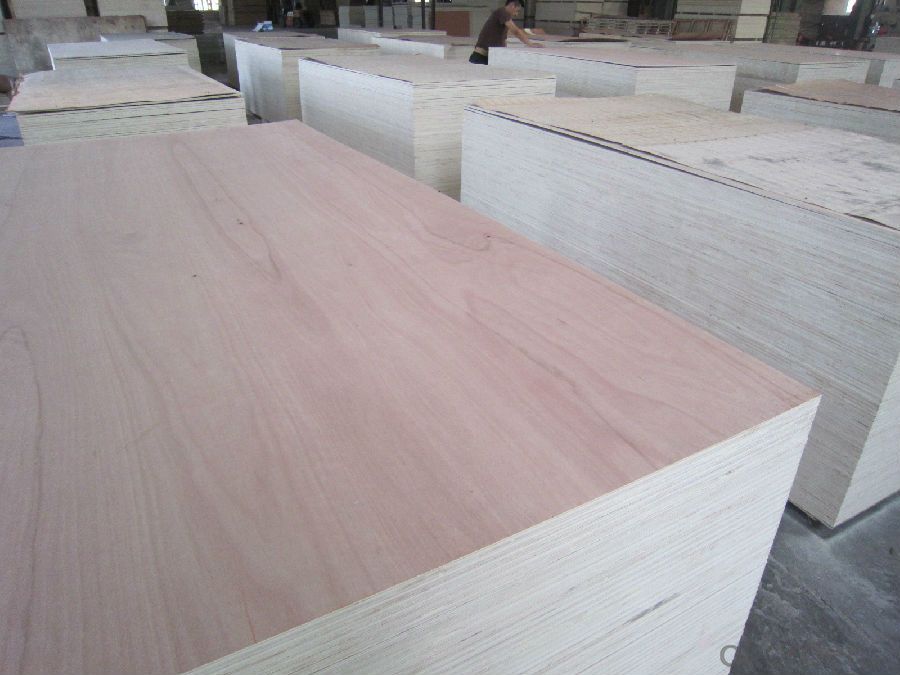 FAQ:
① why from okorder?
Okorder is a qualified supplier of all kinds of building matierials in China. All products have been showed in Okorder website are under well controlled by okorder QC team.
All products had been produced under a clear quality standard and the quality is consistence among the shipments.
Okorder has already setted up more than 20 warehouses in different markets to show the products. You are convenient to know the products from your local place and it will help you to make decision easyly.
②How to guarantee the quality of the products?
We have established a perfect quality management system,as for raw material and semi parts all are under strict quality test and we have a IQC system to control the purchases.
QC on site is very strict and all steps of process are measured per drawings. Before delivery, we set a OQC system to make sure each piece meet the standard of order.from design to delivery,
③How long can we receive the product after purchase?
Lead time depending on order quanity, The normal order can be deliveried with 3 weeks.
Q:Plywood is a common material for furniture?

Commonly used plywood type plywood, penta and so on. Plywood can improve timber utilization and is a major way to save wood
Q:Plywood in the material defects?

race of the parasitic plant marks of parasitic plants formed by the parasitic plants or rotten plants penetrate the wood and the formation of small groups of small channels
Q:The structure of the plywood at the same time meet two basic principles

the fiber direction and the table are parallel to the long core plate or the middle plate. When forming a slab, the panel and the backplate must face outward.
Q:According to the different composition of the glue, for the construction of plywood with the following types of glue

According to the environmental protection level, the glue used for plywood can be divided into E0 grade, E1 glue, E2 glue (and even E2 level are not reach the unqualified glue)
Q:What is the best way to fix multi-layer plywood?

The main tree species are: camphor, willow, poplar, eucalyptus and so on.
Q:What is the amount of construction works used for this plywood?

A class of plywood for weather resistance, resistance to boiling water plywood, which and he has a durable, high temperature, the advantages of steam treatment;
Q:What is a joinery board?

The center plate of the blockboard should have the same direction of grain and perpendicular to the texture of the core.
Q:For the plywood environmental advice?

E0 is the highest environmental rating. E1 grade glue to do the plywood can be used directly for the interior.
Q:Plywood quality requirements include appearance level, size, physical and mechanical properties of the three elements.

Appearance level, size, physical and mechanical properties of the three tests are qualified to determine the product is a qualified product, or judged to be unqualified. P
Q:Judging wood is the standard for plywood

If you have an old piece of furniture, it is time to polish or throw it away, then you can make a decision by identifying the wood sometimes.
1. Manufacturer Overview

Location
Year Established
Annual Output Value
Main Markets
Company Certifications
2. Manufacturer Certificates

a) Certification Name
Range
Reference
Validity Period
3. Manufacturer Capability

a)Trade Capacity
Nearest Port
Export Percentage
No.of Employees in Trade Department
Language Spoken:
b)Factory Information
Factory Size:
No. of Production Lines
Contract Manufacturing
Product Price Range
Hot Searches
Related keywords