200HC Mast Section for Tower Crane
Loading Port:

China Main Port
Payment Terms:

TT or L/C
Min Order Qty:

1 Set pc
Supply Capability:

1000 Sets Per Month pc/month
OKorder Service Pledge
Quality Product
Order Online Tracking
Timely Delivery
OKorder Financial Service
Credit Rating
Credit Services
Credit Purchasing
---
Add to My Favorites
---
Description of 200HC
1.We are state-owned company and well-funded;
2.State-level R&D department;
3.Competetive price and great quality;
4.Complete after-service system;
5.Experienced in the import&export business
We're specialized in tower crane parts, mast section. anchore frame, fixing angle, pin, bolt, various mech, assembly and spare parts, control box, resistance box and spare parts, drive room and spare parts, wire rope, pulley, cable etc
Specifications of 200HC
200HC Mast Section for Tower Crane
Size:4.14m*2.3m*2.3m
Weight: 2240kg(±10kg)
We supply different types of mast sections, anchorage collar and base frames for widely used tower crane models, with high performance and reasonable cost.
Packaging & Delivery:
Nude in containe
about 15-30 days after receiving T/T payment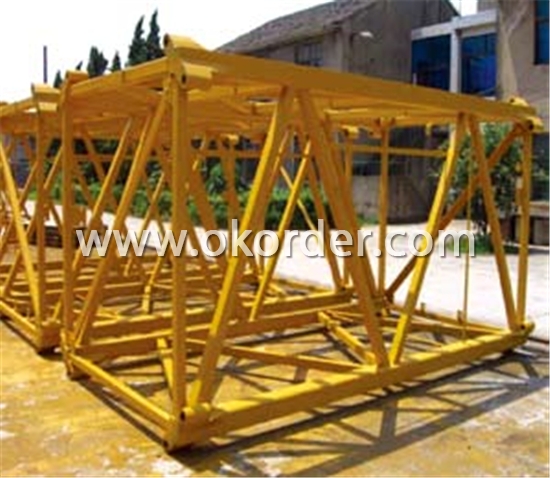 Q:Construction Engineering, moving equipment and stationary equipment, respectively

Such as separator, filter, oil filter, buffer, scrubber, absorption tower, drying tower, tower, gas cylinder, deaerator etc.. Storage equipment (code T). Such as various types of tanks, tanks and so on.
Q:What are the world famous mechanical equipment exhibition?

1, the German BMW Exhibition (BAUMA) sponsored by: Messe M nchen GmbH, held every three years, has held 30 sessions, the thirty-first will be in April 2016 11-17 in the German city of Munich exhibition centre. The German international engineering machinery, building materials machinery, mining machinery, construction vehicles and Equipment Expo is the world's largest and most influential international engineering machinery, building materials machinery, mining machinery industry exhibition, every three years regularly held in Munich in germany. The fair combines science and technology, trade, information and technical cooperation
Q:What is equipment manufacturing and machinery manufacturing? What's the difference between them?

The equipment manufacturing industry covers Yuan Jian practice (classification of thinking. The development of equipment manufacturing industry of electromechanical product development and innovation, 2001.5 (total seventieth)) that can mainly based on product knowledge content and technical difficulty, necessity supplemented by direct state control, equipment will be divided into five types, development principles and countermeasures accordingly considering the difference of equipment manufacturing industry.
Q:How do the welding parts in the welding drawings of the machine parts indicate the technical requirements of the drawings?

Therefore, the medium carbon steel has the most extensive application in the medium strength level. Besides being used as building material, it is widely used in the manufacture of various mechanical parts. Welding: 1 the preheating is conducive to reducing carbon steel heat affected zone is the most
Q:Where does Heilongjiang do the most construction machinery?

It is mainly used for national defense construction project, the construction of transportation, energy industry construction and production, mining and other industrial raw materials, construction and production, forestry and water conservancy construction, industrial and civil construction, city construction and environmental protection.
Q:What is a door rack for a construction site? How high is it generally?

Construction machinery network learned that the door scaffolding in our country production and use of time is not long, the scaffolding developed by the various research institutions, self-contained, and not common, varieties, specifications and diverse. Some factories copy foreign products and use the imperial size.
Q:How are buildings, installations and materials divided?

Provisions on the division of equipment and materials for engineering construction? [answer] the division of equipment and materials in engineering construction is directly related to the reasonable division of investment structure, budget preparation and calculation of construction output value. In order to reasonably determine the project cost, strengthen the investment in the process of construction and management, the equipment and materials in the engineering construction is unclear, especially the universal controversial common problems and put forward the principle of division of fifteen copies of "national unified installation project budget quota" of the equipment and materials are divided, the provinces, autonomous regions and municipalities directly under the central government and the relevant departments of the State Council, the Department should be combined with the local situation, formulate rules for its implementation, and report to the Ministry of construction for the record.
Q:What are the principles, performances and uses of the commonly used construction machinery equipment?

2.: Principle: loader loader work, powered by a flywheel of the diesel engine to the hydraulic torque converter, the torque converter will drive to the gearbox, and before and after the output flange of the gearbox, the power output of the gearbox after the transmission shaft are respectively transmitted to the front and back drive axle to drive the wheels forward. Performance: 1) Central articulated frame, turning radius is small, flexible and convenient operation in narrow space; 2) using hydraulic mechanical transmission, according to the size of the external resistance and automatic stepless speed change, which can make full use of engine power, and improve the maneuverability, simplifies the loader operation. Is to protect the transmission parts and engine; 3) adopts full hydraulic steering, power shift transmission, hydraulic or flexible manipulation, portable and flexible machine; 4) stable and reliable operation; wide use of low-pressure off-road tires, rear axle swing, with good cross-country performance and through the performance by 5); gas cap oil disc brake system and brake foot up, emergency braking system, the braking performance is safe and reliable; 6) with advanced structure and bright cab. The air conditioning system operates more comfortably. Uses: loaders are mainly used for shovel, loading, unloading, transport of soil and stone a kind of bulk materials, rock and hard soil can also be slightly shovel operations.
Q:What are the sub projects of a construction project?

Appendix B Construction Engineering Division (sub branch) engineering, sub project division, B.0.1 Construction Engineering Division (sub branch), engineering, sub projects can be divided into table B.0.1. Table B.0.1 division number of construction works, sub works and sub projects
Q:Where was the construction machinery conference held in 2015?

Co organizer: BMW (Chinese) Engineering Machinery Company Limited, Shandong Lingong Construction Machinery Co, Limited by Share Ltd, Shantui construction machinery Futian leiwo international heavy industry Limited by Share Ltd, Shandong Chang Linzhu Machinery Group Limited by Share Ltd, Shandong rhinos Engineering Machinery Company Limited, Beijing Tianshun Hydraulic Technology Co., Ltd. Ji'nan the Great Wall Andy Machinery Co. Ltd., Langfang Deji machinery Polytron Technologies Inc, Tai'an Dongyue Heavy Industry Co. Ltd.
1. Manufacturer Overview

Location
Year Established
Annual Output Value
Main Markets
Company Certifications
2. Manufacturer Certificates

a) Certification Name
Range
Reference
Validity Period
3. Manufacturer Capability

a)Trade Capacity
Nearest Port
Export Percentage
No.of Employees in Trade Department
Language Spoken:
b)Factory Information
Factory Size:
No. of Production Lines
Contract Manufacturing
Product Price Range
Hot Searches
Related keywords