100m length 85g Nylon PA66 Peel Ply high quality
Loading Port:

Shanghai
Payment Terms:

TT OR LC
Min Order Qty:

1000 roll
Supply Capability:

10000 roll/month
Inquire Now
Customer Service
OKorder Service Pledge
Quality Product
Order Online Tracking
Timely Delivery
OKorder Financial Service
Credit Rating
Credit Services
Credit Purchasing
---
Add to My Favorites
---
Product Description
| | |
| --- | --- |
| Material: | PA66 nylon fiber |
| Area Weight: | 85 g/m2 can be customized to 105g |
| Width: | 100cm (max 180cm) |
| Temperature resistant | 230℃ |
| Pattern: | plain weave |
| Thickness: | 0.16 mm |
| Color: | white+red stripe line |
| Density: | 17 X 17 counts/cm |
Peel Ply is a plain weave nylon fabric with red or blue stripe.
Under scoured and heat set process, the surface is very clean and the fabric is very strong which gives perfect release property, widely used in vacuum infusion process.

Application:
◆ Aerospace
◆ Wind power
◆ Marine
◆ fiberglass or carbon fiber vacuum infusion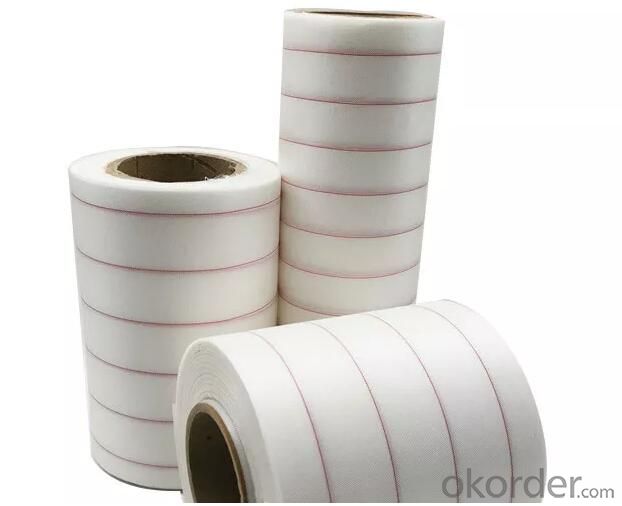 Q:What's the effect of blending? Why blending? How is blending defined?

It's two different kinds of textile fibers that are blended together. It can be chemical fiber and natural fiber, chemical fiber and chemical fiber can, natural fiber and natural fiber, as the technology matures, fabric composition change rapidly in the market now, we can see more than three kinds of fiber blended to achieve different effects.
Q:Satin fabric is not pure cotton?

It is certainly Satin cotton fabric in the boutique.Characteristics: because satin weave the fabric density is higher, so the fabric more solid.Cost: satin weave higher than similar products of plain, twill products cost.
Q:What are the advantages and disadvantages of polyester fiber?

Polyester is a kind of name, business household this to confuse the consumer's understanding, because polyester is a cheap, cheap fiber material.
Q:What are the women's fabrics?

Silk is a kind of silk fabric made of silk as raw material. Like cotton, it has many varieties and different personalities. It can be used to make all kinds of clothing, especially for women's clothing. It has the advantages of thin, soft, smooth, fit, breathable, brilliant color, rich luster, elegant, comfortable to wear. Its deficiency is easy to wrinkle, easy to suck, not strong enough, fast fading.
Q:What fabric is 90%polyester 10%elastane?

Polyester is polyester, elastane is spandex
Q:Features of wool fabrics

Blended fabric of wool and chemical fiber:Texture features between pure wool fabric and chemical fiber wool like fabric, and according to the proportion of blending and the degree of imitation wool processing, there is a corresponding difference.Wool blended with polyester fabric, lack luster soft feeling, feeling between the pure wool fabric and between polyester wool fabrics, crisp, drape, some body stiff, and with the increase of polyester content and obvious. Wrinkle resistance is better than pure wool fabric; wool and acrylic blended fabric has a good wool shape, full surface and soft texture. Wrinkle resistance is general, not enough drape; wool and nylon blended fabric, feel some hard board, crease resistance is better. Wool type is not as good as wool nitrile fabric; wool and viscose blend fabric, luster is dim, rebound is not good enough, easy to wrinkle. Worsted has a soft feel like cotton. Soft woolen powder, not crisp.
Q:What is the raw material is pitted material?

Ma material fiber length, fiber length longer than cotton several times, after the processing of hemp fiber degumming gloss good, white.
Q:The suit is good or Hunfang wool acrylic fabric?

Acrylic fiber can be blended with wool into wool, or woven into blankets, carpets, etc., and can also be blended with cotton, rayon and other synthetic fibers, woven into a variety of clothing and interior products. Polyacrylonitrile fiber processing can be pure bulk top spinning, or blended with viscose fiber and wool, get all kinds of coarse wool and fine wool cashmere "".
Q:Simmons mattress fabric is knitted brocade good or good ah what are the difference between

Brocade should be better. It is a kind of silk fabric. It is made of satin with patterns or patterns. It is more comfortable to wear. However, we should pay attention to distinguish between true and false. Brocade is made of pure silk and contains no synthetic fibers.
Q:What is PVC fabric?

PVC coated cloth has excellent waterproof mildew resistance, obviously, relative to other more waterproof canvas, soft, good tensile strength, high strength, relatively light; the use is very extensive, such as trade, grain, oil, wharf, tents, drilling tower clothing, railway road transport, warehousing, coal mine, open storage and canvas products.
1. Manufacturer Overview

Location
Year Established
Annual Output Value
Main Markets
Company Certifications
2. Manufacturer Certificates

a) Certification Name
Range
Reference
Validity Period
3. Manufacturer Capability

a)Trade Capacity
Nearest Port
Export Percentage
No.of Employees in Trade Department
Language Spoken:
b)Factory Information
Factory Size:
No. of Production Lines
Contract Manufacturing
Product Price Range