Solar Collectors for Water Heater, Pressurized Solar Collector
Loading Port:

China main port
Payment Terms:

TT OR LC
Min Order Qty:

5 set
Supply Capability:

10000 set/month
OKorder Service Pledge
Quality Product
Order Online Tracking
Timely Delivery
OKorder Financial Service
Credit Rating
Credit Services
Credit Purchasing
---
Add to My Favorites
---
Specification

| | |
| --- | --- |
| manifold (inner) | red copper |
| manifold (exterior) | aluminum alloy |
| glass tube dimensions | 58mm * 1800mm |
| daily efficiency | ≥55% |
| heat preservation | 72 hours |
| hail resistance | 25mm |
| max pressure | 7 bar |
| coating of vacuum tube | ALN/AIN-SS/CU |
| heat pipe | anti-freezing > -35 degree |
| certificate | Solar Keymark, EN12975,SRCC |
Serious Product
Models

L*W*H mm

Vacuum tube

Power output

Efficiency

Header mm

Frame

container loading 20FT/40HQ sets

Gross Weight kg

SHC-8

1917*910*133

58*1800*8pcs

939W

0.668

Φ35/1.0

AL alloy

185/445

27

SHC-10

1917*1130*133

58*1800*10pcs

1189W

159/385

33

SHC-12

1917*1350*133

58*1800*12pcs

1440W

149/358

40

SHC-15

1917*1680*133

58*1800*15pcs

1815W

120/290

49

SHC-18

1917*2010*133

58*1800*18pcs

2191W

100/242

59

SHC-20

1917*2230*133

58*1800*20pcs

2442W

87/210

66

SHC-22

1917*2450*133

58*1800*22pcs

2692W

83/202

72

SHC-24

1917*2670*133

58*1800*24pcs

2943W

77/188

79
Packaging & Delivery
Packaging Details:

Exporting Carton with big foaming protection
Packing size:
Heat pipe vacuum tube:
10pcs/ctn:197*34*425px
12pcs/ctn:197*28*600px
15pcs/ctn:197*34*600px
Manifold and bracket:
GSC15:/18/20:200*40450px
GSC22:200*16*500px
GSC25:205*16*20
GSC30:241*16*500px

Delivery Detail:

In 10-15 days
Loading Quantity
| | | | |
| --- | --- | --- | --- |
| Model | Tube | Tube Q.T.Y | Loading Q.T.Y/40HQ |
| GSC15 | 58*1800mm | 15pcs | 315sets |
| GSC18 | 58*1800mm | 18pcs | 265sets |
| GSC20 | 58*1800mm | 20pcs | 248sets |
| GSC22 | 58*1800mm | 22pcs | 225sets |
| GSC25 | 58*1800mm | 25pcs | 200sets |
| GSC30 | 58*1800mm | 30pcs | 168sets |
Details of solar collector: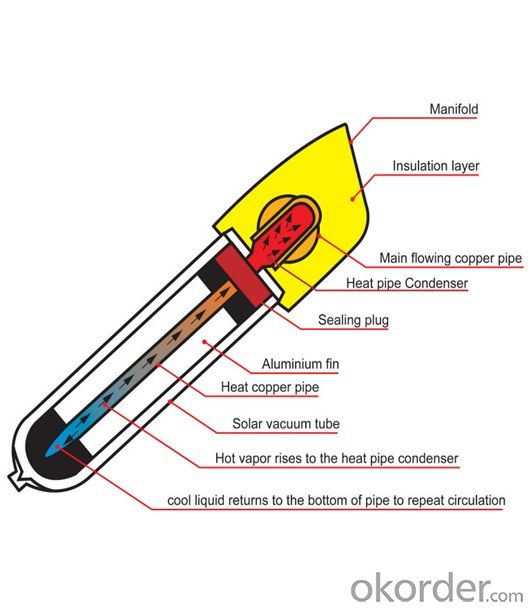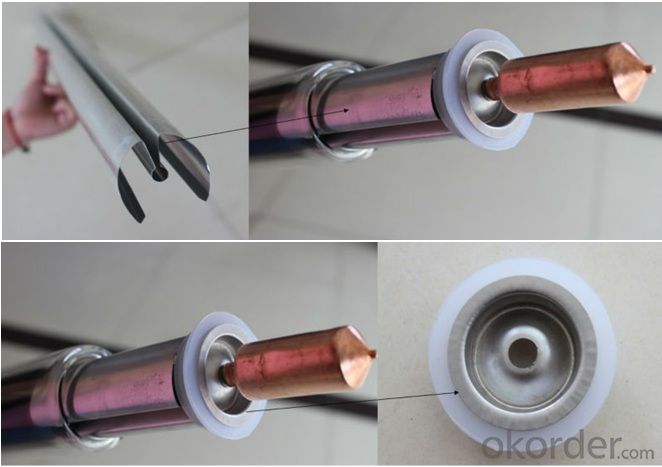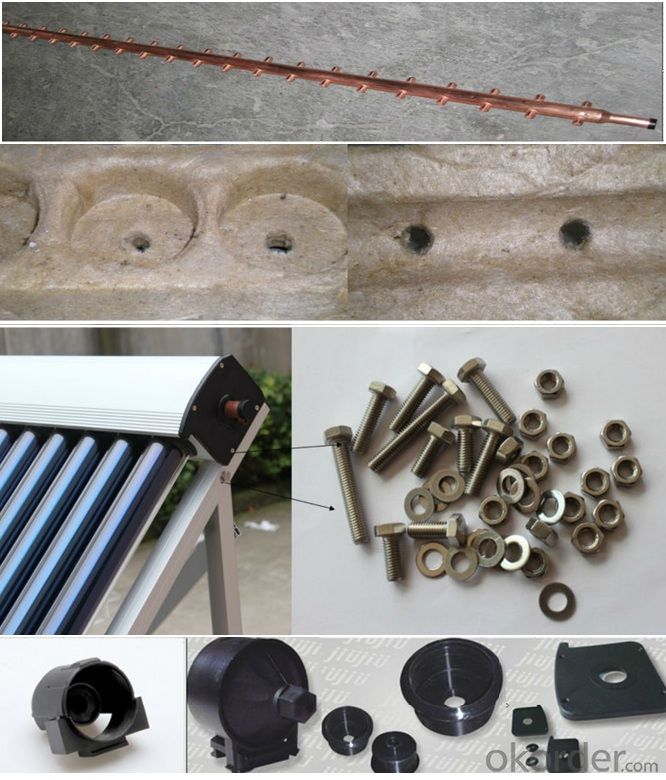 Q:

Yes, solar collectors can be used in airplanes. In fact, some aircraft are already equipped with solar panels to generate power for various systems onboard, such as lighting or auxiliary power. These solar panels help reduce reliance on traditional fuel sources and contribute to a more sustainable and eco-friendly aviation industry.
Q:

Yes, solar collectors can be used in disaster relief efforts. They can provide a reliable and renewable source of energy to power various equipment and devices essential for rescue and recovery operations. Solar collectors can be used to generate electricity for charging communication devices, medical equipment, lighting, and even water purification systems, helping to enhance the efficiency and sustainability of relief efforts in disaster-stricken areas.
Q:

The warranty period for a solar collector can vary depending on the manufacturer and model. Generally, it ranges from 5 to 10 years, but some high-quality collectors may offer warranties of up to 25 years. It's always important to review the specific warranty terms and conditions provided by the manufacturer to understand the coverage and duration for the solar collector.
Q:

Yes, there are limitations to the size of a solar collector system. The available space, budget constraints, and the energy needs of the property are some factors that can limit the size of the system. Additionally, local regulations and permits may impose restrictions on the maximum size of solar collector systems.
Q:

Yes, solar collectors can definitely be used in educational institutions. They are a great way to demonstrate and teach students about clean and renewable energy sources. Installing solar collectors in educational institutions can provide hands-on learning opportunities, showcase environmental sustainability, and reduce energy costs. Additionally, it can inspire and educate students about the importance of utilizing renewable energy and encourage them to consider careers in the field.
Q:

Yes, solar collectors can be used for heating residential communities. Solar thermal systems, such as solar water heaters or solar air heaters, can harness the sun's energy to provide heat for residential buildings. These collectors absorb sunlight and convert it into usable heat, which can be utilized for space heating or water heating in residential communities. By using solar collectors, residents can reduce their reliance on traditional heating methods, save energy, and lower their carbon footprint.
Q:

Yes, solar collectors can be used for heating event venues and convention centers. Solar thermal systems can capture and convert sunlight into heat energy, which can then be used for space heating and hot water needs in large venues. This renewable energy source is sustainable, cost-effective, and can significantly reduce the carbon footprint of such facilities.
Q:

Yes, solar collectors can be used for drying lumber or wood products. Solar collectors can provide a source of heat energy that can be used to dry wood by circulating warm air or using solar panels to convert sunlight into electricity for heating. This natural and sustainable method of drying lumber can be cost-effective and environmentally friendly.
Q:

A direct solar collector absorbs solar radiation and converts it into heat energy directly, while an indirect solar collector uses a heat transfer fluid to absorb solar radiation and then transfers that heat to another medium for utilization.
Q:

Yes, solar collectors can be used for heating tennis courts. Solar thermal technology can be used to capture and convert the sun's energy into heat, which can then be distributed to warm the surface of tennis courts. This can provide a cost-effective and environmentally friendly solution for maintaining optimal playing conditions in outdoor tennis courts.
1. Manufacturer Overview

Location
Year Established
Annual Output Value
Main Markets
Company Certifications
2. Manufacturer Certificates

a) Certification Name
Range
Reference
Validity Period
3. Manufacturer Capability

a)Trade Capacity
Nearest Port
Export Percentage
No.of Employees in Trade Department
Language Spoken:
b)Factory Information
Factory Size:
No. of Production Lines
Contract Manufacturing
Product Price Range
Hot Searches
Related keywords