XTQ series truck unloading platform is truck bulk material unloading device that integrates electric and hydraulic control, and is widely used for bulk materials like grain, forage, cement and coke. The equipment improves production efficiency, saves unloading cost, and creates good economic benefit for the user.
Our company starts to design and produce truck unloading platform since 1990's, and now is the largest manufacturer of that in China, that has the largest market share in China. Our company is the only drafter of national standard of truck unloading platform GB/T 21489-2008 [Bulk Grain Truck Unloading Device". The product is exported to various countries and areas such as Japan, Vietnam, Malaysia, Thailand and India.
Truck unloading platform is suitable for automatic unloading of bulk materials like grain, forage, cement and coke, and can be used in industries of chemical, metallurgy, mining, port and coal.
Truck unloading platform mainly consists of dumping platform, wheel blocking mechanism, main hydraulic oil cylinder, wheel stopper, hydraulic control system, and electric control system.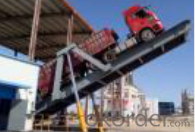 Our company also produces load cell, strain gauge, weighing indicator and scales such as truck scale, platform scale and hopper scale.
Q:The wear-resisting parts in the broken machine are mainly the direct contact with the material

The production plants of anti-wear materials are found all over the country, so that it is better to take the nearest, or increase the freight and increase the cost. It's not realistic to buy things at a low price. Where are you, the specific manufacturer can search on the Internet.
Q:The principle of material handling

Adaptive principle (flexibility principle) : adopt methods and devices that can adapt to various kinds of work and applications, unless it is a device that must be used for a particular purpose. Reduce the principle of self-importance: reduce the ratio of air to heavy load. Principle of utilization: the optimal utilization rate of planning and carrying equipment and manpower. Maintenance principle: plan all the maintenance and maintenance of all moving equipment. Obsolete principle: replace outdated methods and equipment when there are more efficient means of handling and equipment. Control (control) principle: use material handling activities to improve control of production, inventory and order processing. The principle of production ability: use the handling equipment to improve the production capacity.
Q:The material needs to be transported, it is easy to produce dust.

In general can be used in coal chemical industry material, and can control the dust conveying equipment are: the tube chain conveyor, screw conveyor, continuous chain bucket conveyor, bucket elevator, belt conveyor belt cover, scraper conveyor, and pneumatic conveying system and so on. If there is a technical problem, we are willing to answer for you and invite you to visit the user!
Q:What is a forklift? Forklifts are special equipment

Project code: N2 See the general administration of quality inspection (aqsiq) for the announcement of the "special equipment catalogue" in 2014 Definition of special motor vehicle in field (factory) : Special motor vehicles, in the field (factory) is refers to besides the road traffic, agricultural vehicles in the plant, scenic spots, only used in certain area such as amusement places of special motor vehicles.
Q:What is the proof of working in mechanical design?

The mechanical engineer qualification exam outline (trial) is the Chinese mechanical engineering society, the ministry of education test center for mechanical engineering and technical personnel in our country one of technical qualification certification exam standards documents. It is a mechanical engineer declarant qualification to participate in "comprehensive qualities and skills" the basis of a review test for reference, is to write "mechanical engineer qualification examination instruction" and so on the basis of learning materials, is carried out around the student counseling on the basis of, is the basis of a qualification examination proposition. This outline is divided into four parts: Ⅰ. Basic requirements, Ⅱ. Exam content, Ⅲ. Regulations and instructions, Ⅳ. Sample questions example. Basic requirements part aims to show that as a qualified mechanical engineer, should actively adapt to the world manufacturing industry globalization, informationization, greening and the trend of the development of the service, strive to improve their own comprehensive quality, become a good professional ethics and innovation concept, master machinery manufacturing technology, understand the economic and management knowledge as well as the relevant international rules of a new generation of mechanical engineering and technical personnel.
Q:What is the relevant content of the flow of materials, storage and usage

What is the relevant content of the flow of materials, storage and usage? Material flow, in lean as "one-piece flow," the core idea is how to make the material in the production process is in a state of flow, however it is very difficult, a more realistic approach is to ensure that in the process of circulation between the products is the least (quantity). The real meaning of storage is what you really need at the scene. Using a process is the sequence of steps to complete a task
Q:Why should we emphasize unitization and standardization in material handling

Reducing the degree of climate impact, ensuring normal work, accelerating the flow of goods and improving efficiency. 1) logistics base module The logistics base modulus is the minimum size of the standard size of the logistics system. In basic module size was determined, the size of the various specific standards, should be based on basic module size, select the integer times to the prescribed standards for size, foundation modulus size is determined, just a standard size in multiple choice, it can be used as a standard of other size.
Q:What is the rational and scientific classification of logistics facilities and equipment

You can look at this book In the 21st century, the teaching materials of high vocational high vocational logistics Book this center around the logistics facilities and equipment, introduced the logistics packaging, warehouse, storage, transportation, loading and unloading handling, container unitization, port logistics, distribution processing, automatic sorting, information platform, modern logistics equipment management such as logistics facilities and equipment of theoretical knowledge and practical content. If you don't like reading, you can also check the website of the home logistics equipment.
Q:Talk about how to cut the cost of moving materials.

Cost direct costs and indirect costs. Direct costs are inputs and manpower.I hope my answer will help you
Q:The development of material handling

The material handling equipment manufacturing industry provides various kinds of modern transportation equipment for the national economy, major construction projects and national defense security. Basic formed a comprehensive product range, good technical system and large enterprise groups, become an independent industry, machinery industry in the service of national economy in all walks of life, including for the second and the third industry provides a huge number, a great variety of products, can independently or with foreign cooperation for national key project to provide large lifting transportation machinery and complete sets of equipment system, and have a certain amount of exports. In 2011, there were 1,580 enterprises in the manufacturing industry of material handling equipment in China (RMB 20 million), and more than 400 000 employees. The industry realized sales revenue of 4723.47 billion yuan, with an industrial output value of 4712.23 billion yuan, with a total profit of 34.50 billion yuan, with an average annual compound growth rate of over 20%. With the expanding of the scale of production, improve degree of automation, material handling equipment manufacturing industry is more and more widely used in the process of modern production, function more and more big.
1. Manufacturer Overview

Location
Year Established
Annual Output Value
Main Markets
Company Certifications
2. Manufacturer Certificates

a) Certification Name
Range
Reference
Validity Period
3. Manufacturer Capability

a)Trade Capacity
Nearest Port
Export Percentage
No.of Employees in Trade Department
Language Spoken:
b)Factory Information
Factory Size:
No. of Production Lines
Contract Manufacturing
Product Price Range