Battery Solar Wind Power System High Temperature 2V 1000AH
Loading Port:

Shanghai
Payment Terms:

TT OR LC
Min Order Qty:

10 pc
Supply Capability:

1000 pc/month
OKorder Service Pledge
Quality Product
Order Online Tracking
Timely Delivery
OKorder Financial Service
Credit Rating
Credit Services
Credit Purchasing
---
Add to My Favorites
---
Range summary

313K Series batteries are designed for high-temperature environment and new energy such as wind energy, photovoltaic energy storage system. With high temperature resistance, long life, safety and reliability characteristics, 313K series is widely used in telecommunications, electric power, energy storage, and it ideal for cycle or hybrid system in harsh, high temperature environment.
The 313K series batteries are ensured the quality with NARADA's QA system according to the ISO9001&ISO14001 standard.

Features and Benefits
1. Patented anti-corrosion grid technology
2. Optimized active material for high temperature conditions
3. Unique high temperature case material with HDT in excess of 124oC
4. Increased internal compression for improved cycling endurance
5. Oxygen catalyst to reduce float currents and extend cycling capability
6. Containers & lids UL94 V-0 rated
7. Advanced negative plate protection system
8. Wide operating temperature range:-40oC to +80oC
9. Normal operating temperature is 35oC
10. Excellent deep cycling capability systems
11. Suitable for continuous operation at temperatures in excess of 35oC
12. Reduced system operating costs 25% electricity power saving
13. Up to 100% air conditioner maintenance saving
14. Up to 100% condensing agent saving
15. 30% CO2 gas emission reduce
16. Less than 1 year payback period depend on environment
Compliant standards
1. IEC60896-21/22
2. IEC61427
3. BS6290 part 4
4. Telcordia SR4228
5. Eurobat guide
6. UL
7. Manufactured under system ISO9001(TUV) and ISO14001
Battery installation compliant with:
1. EN 50272-2 or local equivalents
Main applications
1. Hybrid telecom remote base stations
2. Renewable energy wind & solar sites
3. Grid frequency leveling systems
4. All back-up applications where grid reliability is poor
5. All extreme environment off-grid
Products characteristics:
1. Recommended float charge voltage for 2V battery: 2.24Vpc at 35oC(95oF), 2.27Vpc at 25oC(77oF)
2. Self discharge rate :<5% per month at 35oC(95oF)
3. Design life: 15 years at 35oC (95oF)
4. VRLA high temperature battery, no water addition required
Technical Data: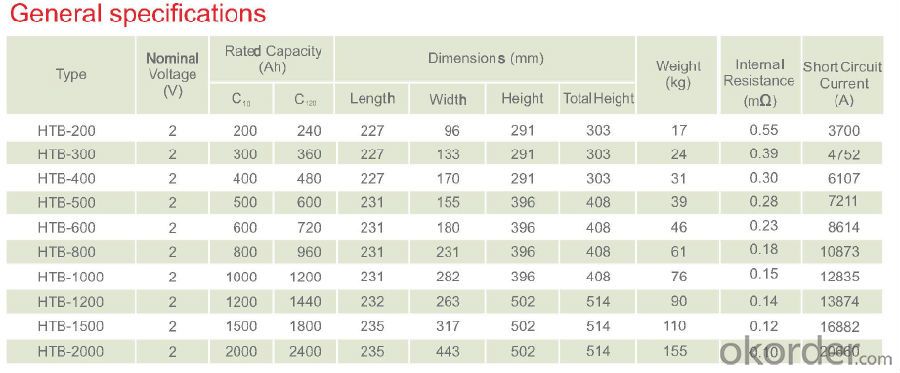 Q:What kind of battery is divided into?

Maintenance-free battery due to its own structure on the advantages of electrolyte consumption is very small, in the life of the basic need not add distilled water. It also has a shock, high temperature, small size, self-discharge characteristics of the general life is generally ordinary Twice the battery. There are two kinds of maintenance-free batteries on the market.
Q:Lead-acid battery how to maintain?

Open the rubber cap, exposing the exhaust raft, you can see the battery inside, some of the battery exhaust cutting can be unscrewed.
Q:How does battery activation work?

Always keep the battery surface clean. Found that the surface of dust and acid, it should be timely wipe, wipe can be wiped with soda water wipes wipe again, after rinse with water.
Q:Battery 200ah / 104 what does that mean?

2V battery capacity (from 200AH-3000AH have) long design, good stability, the price is also expensive; 12V battery capacity is generally the largest 250AH, design life as 2V, price economy, high current discharge better.
Q:How does the battery increase the voltage?

The so-called battery is the storage of chemical energy, if necessary, the release of electrical energy of an electrical chemical equipment.
Q:What battery does the van use?

The battery is mainly composed of tube positive plate, negative plate, electrolyte, separator, battery compartment, battery cover, pole, injection liquid cover and so on. The electrode of the exhaust type battery is made of lead and lead oxide, and the electrolyte is an aqueous solution of sulfuric acid. The main advantage is the voltage stability, the price is cheap; the disadvantage is lower than the energy (that is, per kilogram of battery storage power), short life and routine maintenance frequently. Old ordinary battery life of about 2 years, and the need to regularly check the height of the electrolyte and add distilled water. However, with the development of science and technology, lead-acid battery life becomes longer and maintenance is also more simple.
Q:How to determine the battery is good or bad?

Observe the battery electrolyte is turbid, turbidity that the battery positive plate softening. Observe the bottom of the battery whether there is sediment, if the plate off the battery capacity has been inadequate. Hand hit the battery two electrode piles If you hear an empty voice that pole pile and plate break. With a thick wire short-circuit positive and negative pile observation of the battery filling holes, such as the discovery of a bubble appears that the interval has been damaged.
Q:How to repair the battery?

To the battery in accordance with the 0.1C current discharge, record the discharge time. Its discharge current multiplied by the number of hours of time, is the battery repair capacity. If the Chongqing battery capacity to reach the nominal capacity of more than 70%, the end of the repair.
Q:What are the advantages of maintenance-free batteries?

The advantage of a maintenance-free battery is that the service life is twice as long as the dry battery! And in the use of the process without maintenance! The voltage is also relatively stable.
Q:Maintenance-free battery how to detect it?

When using a maintenance-free battery, it is easy to think that maintenance-free is the idea that no maintenance is required. Maintenance-free Although maintenance costs and times can be reduced, but for the appearance of the clean-up is essential, so that "maintenance-free" more point to the battery inside.
1. Manufacturer Overview

Location
Year Established
Annual Output Value
Main Markets
Company Certifications
2. Manufacturer Certificates

a) Certification Name
Range
Reference
Validity Period
3. Manufacturer Capability

a)Trade Capacity
Nearest Port
Export Percentage
No.of Employees in Trade Department
Language Spoken:
b)Factory Information
Factory Size:
No. of Production Lines
Contract Manufacturing
Product Price Range
Hot Searches
Related keywords