General Description 200Watts led planting grow light
1. 200W LED grow light can replace the 600w-800w HPS , over 80% energy saving .
2. Base on the 3W LED chip.
3. Over 50000 hours .
4. Our common light ratio :8:1 , 7:2 , 7:1:1 with the mixture of red , blue , orange ,yellow and white lights , or customized as your requests
5. Blue LEDs can easily be added to enhance vegetative growth , red LEDs are good for promoting the fruiting and flowering stage , our suggestions on the wavelength are red (620-630nm) , red(640-660nm) , blue (450- 460nm) , blue (460-470 nm) , You can choose the wavelength and color ratio which is most suitable for your plant growth
6. Built-in cooling system (thermostatically controlled fans ) solve the heat dissipation excellently
7. Built-in power supply, CE approved, No setup required, just simpler and safer plugs directly into AC85V-264V, no reflector & ballast needed.
8. Ideal for all phases of plant growth, and works well with any indoor garden, hydroponics or soil based.
9. The lighting area and the height are changeable according to different plants and environments ,the same as the parameter .
10. All the raw materials meet the environmental protection requirement without any heavy metals , such as HG .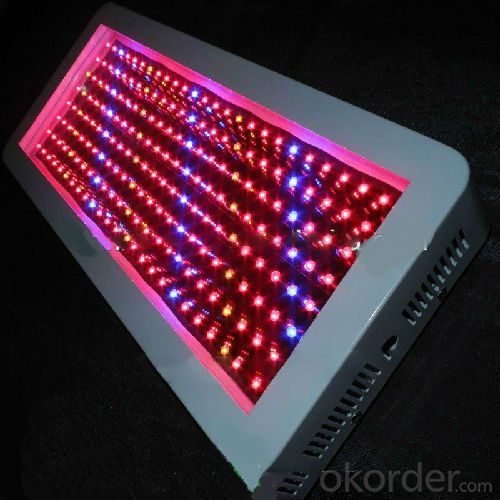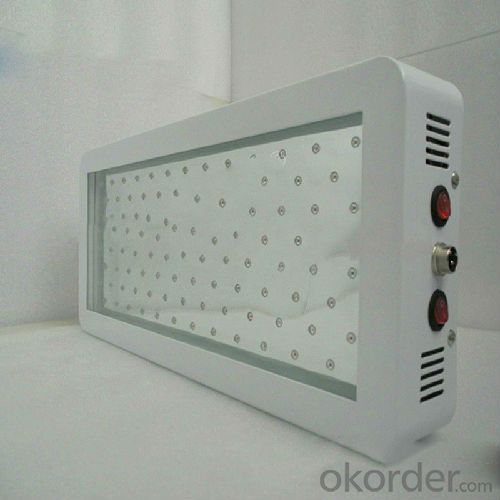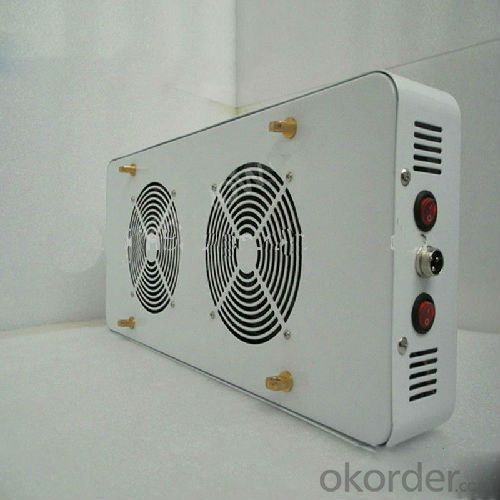 Specification
| | | | |
| --- | --- | --- | --- |
| Power | 200W | LED Type | Cree/Epistar/Epiled |
| LED Quantity | 200 ×1w or 100×3w | Lumens | 6800lm |
| Input Voltage | AC85-264V | LED Beam Angle | 90°, 120° |
| Operating Frequency | 50Hz/60Hz | Optical Lens | 15-30°, 60°,90° |
| Input Current | 350mA/550mA | LED Ratio | RB=8:1, RROBW=6:1:1:1:1 |
| Working Temperature | –20ºC to 60ºC | Product Size | 480*210*70mm |
| Suggest Lighting Time | 10-18 hours/day | Inner Box Size | 610*280*145mm |
| Duration of Service | 50,000 hours | Carton Size | 630*300*320mm |
| Supply Ability | 5,000 pc/month | Net Weight | 6.5 Kgs/pc |
Parameters
1. Power:200w
2. LED quantity:100 PCS LED*3W
3. Working voltage: 85~264V
4. Lumens flux: 7000lm
5. Working condition :-30°C~+55°C
6. Storage condition: -40 to 85°C
7. Height above the plant: 1~2.5m
8. Lighting time: 10 to 12 hours
9. Lifespan: 50,000 hours
10. No need ballast
11. Different length wires are available
LED grow lights features
*Long lifetime
Recommended useful lifetime of 50,000 hours for LED lights the equivalent of burning a light for 18 hours
a day, 365 days a year for seven years and seven months.
*Energy efficient
Save 70~85% on power over HID lighting, plus reduce or eliminate power consumption by extra blowers and
air conditioning systems.
*Better for plant growth
Plants can use nearly all of the light emitted from LED Lights. Only about 10% of the power used and about
35% of the light generated by metal halide lamps is useful for plant growth.
*Low heat output
LED lights produce very little heat. The temperature of our growing areas is controlled by normal residential
AC/heating and a ceiling fan. In most situations, no special ventilation or air conditioning is needed.
Economical Long life, low power consumption, high efficiency and cool operating temperatures
make LEDs a cost effective choice for your plants needs.
Customizing Options
SAMPLES are avaiable before order.
OEM & ODM service is also avaiable
Our R&D department and professional and technical personnel.
Packing & Delivery
Pakcing:
Standard packing or customized packing;
Cartons outside.
Delivery:
| | |
| --- | --- |
| Shipping Service | Estimated Delivery Time |
| DHL | 2-8 business days |
| FedEx | 3-8 business days |
| TNT | 2-10 business days |
| UPS | 1-7 business days |
| EMS | 6-14 business days |
| ePacket | 7-12 business days |
| China Post Air Mail | 7-15 business days |
| China Post SAL | 14-30 business days |
| Air freight | 3-10 business days |
| By Sea | 30-40 business days |
1. 3-5 business days for Sample Orders; 7-30 business days for Bulk Orders for Bulk Orders.
2. "Business days" means Monday-Friday, excluding holidays.
3. DHL and UPS cannot ship to military or P.O. boxes address
4. The Shipping Service above is for reference only, for any other questions, please feel free to contact us.
Q:How to choose LED courtyard street lamp?

The choice of different time frequency brightness lighting intelligent LED lamp, people travel in a busy time, LED lamp with high power, high brightness lighting; people travel in leisure time, automatically reduce the output power frequency LED power intelligent frequency LED lamp, LED lamp, low power operation, low brightness, save energy.
Q:Which brand is good for the patio lamp?

Check the lights solar controller and battery is lit, if not bright, then look at the connecting line controller and battery is not off, if the connection line is normal, the voltage with a multimeter to check the battery, if the battery voltage is normal, the controller, the replacement of a controller see is not normal use.
Q:nan

Led garden lamp in the industry, its service life is very good, even longer than the traditional courtyard lamp usage time, although the LED garden lamp and traditional courtyard lamp is connected to electricity, but the LED garden lamp has a good energy saving effect, and its size is small, easy to control the advantages of the courtyard lamp is easy to use.
Q:How about solar garden lights?

The characteristics of the LED lamp head itself, the unidirectional of light, no diffusion of light ensure the illumination efficiency.
Q:How many meters is the courtyard light?

The area courtyard lamp is generally between 2.5-3.5 meters high, the courtyard lamp style is different, mainly according to your district style to choose the courtyard lamp type.Also, what are the main functions of the courtyard lights, the lighting or the decoration?. Single head courtyard lights are normally lit with 150 watts of sodium light or 100 watts of energy. If it is decorative, you can use 65W warm light energy-saving lamps.
Q:What are the manufacturers of solar garden lamps?

You asked the manufacturer of good quality, in these areas will do very carefully. Huangchuan Limin Technology Co., ltd..In the garden, we should pay attention to the sense of ambiguity, strengthen the indoor and outdoor lighting, and enhance the results of scenery. Therefore, the lighting in the garden should have a sense of belonging, illusion, intimacy, interest and other differences of interest and differences of identity, as far as possible to reduce the popular LED courtyard lights, lighting floodlights. The style of application, scenery, lighting together to reach the isolated color, contrast, brightness high trance and clear collocation, saturation and light equipment, the invention of the atmosphere, LED garden lamp lighting style.
Q:Brand solar garden lamp which is good?

Depends on what brand does not shape, the market depends on the use of solar panels, monocrystalline monocrystalline silicon power generation panels, relatively look at the battery, storage battery to choose the brand, its main inverter selection of monocrystalline silicon, mainly to see the photoelectric conversion rate higher
Q:LED how much is the courtyard lamp W?

Maybe 10w~15W. Listen to what a friend of the lighting department said. It's for your reference only
Q:What are the types of LED garden light sources?

The system is composed of solar panel, bracket, lamp post, lamp holder, special bulb, accumulator, battery box and cage. The lamp cap is colorful, chic and elegant, and can be used for dressing and lighting in courtyards, parks, playgrounds and other places.
Q:What wire is used for the garden lamp?

According to the provisions of the "city road lighting design standards": the average illuminance uniformity of 20lx expressway, trunk road 0.4, the average illuminance uniformity of 15lx, 0.35, secondary roads average illuminance uniformity of 0.35 8lx, the average illuminance uniformity of 5lx branch, 0.3.
Our products are selling well in all cities and provinces around China, our products are also exported to clients in such countries and regions as South Korea, Europe and other countries and regions. We also welcome OEM and ODM orders. Whether selecting a current product from our catalogs or seeking engineering assistance for your application, you can talk to our customer service center about your sourcing requirements.
1. Manufacturer Overview

Location
Shenzhen,China
Year Established
1998
Annual Output Value
US$5 Million - US$10 Million
Main Markets
Domestic, South Korea, Europe
Company Certifications
2. Manufacturer Certificates

a) Certification Name
Range
Reference
Validity Period
3. Manufacturer Capability

a)Trade Capacity
Nearest Port
Shenzhen
Export Percentage
No.of Employees in Trade Department
201 - 300 People
Language Spoken:
English;Chinese
b)Factory Information
Factory Size:
10,000-30,000 square meters
No. of Production Lines
4
Contract Manufacturing
independent R&D; surport OEM and ODM
Product Price Range
Average