Quick Details
· Type: Raincoats
· Material: Polyester
· Place of Origin: China (Mainland)
· Brand Name: CNBM
· Model Number: CNBM RC-002
· type: raincoat
· material: waterproof material
· color: camouflage
· size: 210*150CM
· carton size: 46x32x675px
· N.W: 20KG
· G.W: 21kg
· 40HQ pcs: 24990
· price: PRICE IS BASED ON FOB TERM, CIF IS AVAILABLE ON REQUEST.
Packaging & Delivery
Packaging Details:

PR/CTN:20sets/ctn Carton size :46x32x675px G.W.:21KG N.W.:20KG

Delivery Detail:

30 days or depends on your order

Name

Rubberized Camouflage Rain Coat Polyester 100% Waterproof Men's Rain Suits

Material

Rubberized(polyester/PVC)

Color

green



Weight

1000G/SET

Size

210*150CM

Certification

CE EN388

Description

1.100%Water proof,high quality

2.Thickness: 0.18mm, other thickness also available .



3.Have much experirnce in safety pruducts

4.Can provide best price to custom

5.Have mass clients from all over the world.

Packing

1.One set per polybag,

2. Provide packing mode of sliding card

Quantity Per Carton

20 sets per carton or as your request

Carton Size(CM)

L*W*H: 46x32x27

Weight Of A Carton(kgs)

G.W.:21KG N.W.:20KG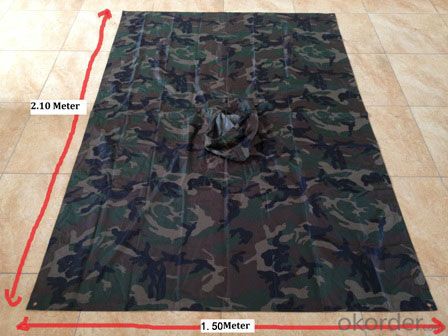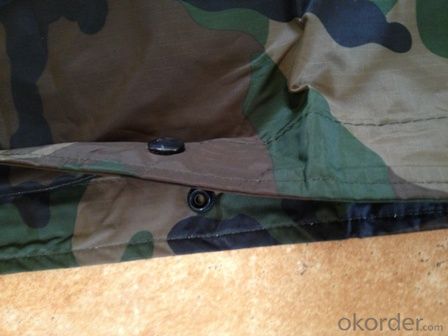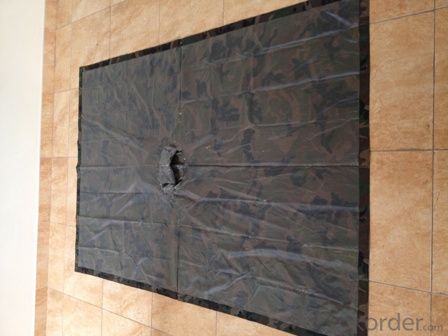 CNBM Group - China National Building Material group, No. 267 of Fortune 500 in 2014.
With Group's help on capital operation and all staff's efforts, we've been in furniture industry since 2009. Outdoor furniture is our Shining Part. Under the spirit of win-win, we provide customers worldwide with one-stop furniture purchasing service to make cost most-saved.
Feel freely to tell me your request.
Q:What kind of cloth do you use for your raincoat now?

Raincoat, generally refers to the rain cloth made of waterproof fabric
Q:What fly low; go out with raincoat

Swallows flying low to rain.The reason is: the swallows flying low because it is to eat worms.Bugs in low.When it is going to rain, the air humidity becomes larger, there are many small drops of water that we can't see.These drops of water will fly on the wings of insects when they fly, so that they can not bear the burden.
Q:The raincoat is Oxford cloth or polyester pongee cloth good

A packaging most will have a height to choose the raincoat size table, but the manufacturers on the market for manufacturing raincoat raincoat, dimensions are not the same, it is not recommended to consumers more than the size of a raincoat to buy different brands of raincoats, prone to error.
Q:The raincoat is broken

Adhesive face directly. Pour the noodles. After the glue must be affixed with self-adhesive paper. Or with 502 glue positioning. Epoxy resin adhesive epoxy resin AB glue is made of epoxy resin based two-component adhesive with high temperature resistance, high temperature resistance, mainly used in metal ceramic bonding. The working temperature of the working temperature is -50 to +180 DEG C, which can reach +250
Q:What is a good raincoat material

TPU is Thermoplastic Urethane, Chinese name for the thermoplastic polyurethane elastomer, TPU is composed of two diphenyl methane diisocyanate (MDI) or toluene diisocyanate (TDI) and other low molecular isocyanate molecules and polyols and Polyols (chain extender) polymer material co polymerized reaction. TPU has excellent characteristics of high tension, high tensile strength, toughness and aging resistance. CharacteristicHigh wear resistanceOil, water and mildew resistantGood recyclingCold resistance: TPU glass transition temperature is relatively low, at 35 degrees below zero still maintain good elasticity, flexibility and other physical propertiesWide hardness range
Q:What is the raincoat in the League of Heroes

Rabbi five days every day to pull an experience of nearly two times, but it is not easy to be hit if not insured, unless you are a king state can be checked, is the king of state, it is recommended to pull every day. Feather is also done every day, because each will reward 50L silver if you are lucky, one day pull, bad luck, hit, or insurance
Q:Why take a raincoat to Tibet

Tibet Platelayers is very much, but there are local garrison troops to help (some of the army is to protect the local section of a general situation, a few hours), can be solved; the rain gear, if you are hiking, hiking, biking, such as adventure travel, suggest you bring jackets, before departure rain, rain pants shoes.
Q:What kind of material used to make durable raincoat

A raincoat is a rain proof garment made of waterproof cloth. The application of waterproof cloth raincoat cloth, tarpaulin and plastic film etc.. Modern raincoat waterproof fabrics focus on permeability, commonly used such as special nylon and Gore-Tex, etc.. Breathable raincoat to wear in the rain when the heat dissipated from water vapor in the raincoat, increase comfort.
Q:Disposable PE raincoat production process which equipment?

Do you do deep processing? How could the linesman cut edge slots! Consider the side seam edge trimming. That is not called high frequency heat sealing machine should be called ultrasonic
Q:What about the peeling of the coat inside the raincoat? How to repair? What easy access to materials can be used?

With the glue on the degumming of the place on the line, and repair the glue of the bike is also OK, resin type of glue will do.
1. Manufacturer Overview

Location
Year Established
Annual Output Value
Main Markets
Company Certifications
2. Manufacturer Certificates

a) Certification Name
Range
Reference
Validity Period
3. Manufacturer Capability

a)Trade Capacity
Nearest Port
Export Percentage
No.of Employees in Trade Department
Language Spoken:
b)Factory Information
Factory Size:
No. of Production Lines
Contract Manufacturing
Product Price Range