Shade Sail 350g Shade Cloth with Grommets for Home and Garden
Loading Port:

China Main Port
Payment Terms:

TT or L/C
Min Order Qty:

2000 m²
Supply Capability:

5000000 m²/month
OKorder Service Pledge
Quality Product
Order Online Tracking
Timely Delivery
OKorder Financial Service
Credit Rating
Credit Services
Credit Purchasing
---
Add to My Favorites
---
Description of Shade Sail 350g Shade Cloth with Grommets for Home and Garden:
Shade sail is a perfect outdoor fabric. Designed to breathe, it allows cooling breezes to flow through, significantly reducing temperatures beneath. It prevents from tearing and fraying and ensures colors remain vivid for years.
Specifications of Shade Sail 350g Shade Cloth with Grommets for Home and Garden:
Material

base fabric

Fabric Weight

Uv. Content

HDPE

100gsm up to 350gsm

Standard weight: 130gsm, 140gsm, 210gsm, 230gsm , 300gsm, 320gsm, 350gsm

0.5%
Width: 1m, 2m, 3m, 4m, 5m, 6m,
Length: 5m, 10m, 30m, 50m, 100m
Color: Beige, Yellow, Green, Brown, or any colors.
Guarantee: 5years at least.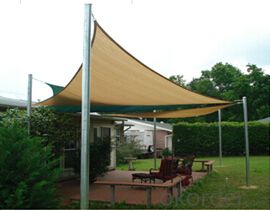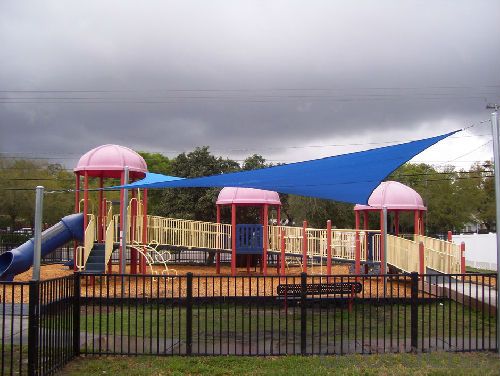 Applications of Shade Sail 350g Products:
- Keep you cooler and more comfortable in hot weather
- Ideal for areas shared by plants and people
Packing of Shade Sail 350g Shade Cloth with Grommets for Home and Garden:
In rolls or sheets in transparent plastic film bags with labels inside, and loosely loaded into the container or pallet.
Uses and Benefits of Shade Sail 350g Shade Cloth with Grommets for Home and Garden:
1) shade for outdoor work area
2) shade for livestock and poultry
3) greenhouse coverings
4) bird netting
5) keep moisture from evaporation
6) better ventilation than woven materials
7) resists chemical sprays
8) easy to installed
Introduction of CNBM
China National Building Materials (Group) Corporation (CNBM) is a state-owned enterprise in charge of administrative affairs in China building materials industry. Established in 1984, CNBM is a large group corporation of building materials with total assets of RMB 25 billion and a total staff of 30,000. Now CNBM owns more than 200 subsidiaries in and abroad the country, including wholly-owned corporations and joint ventures.
FAQ
1.What is Sun Shade net ?
It is weaved by High-density polyethylene (HDPE) UV stabilised tape filament, and it is good product to shade the plant. It is widely used in agriculture, and horticulture.
2.What is the feature ?
We always use 100% virgin material with UV, The life of using is at least 3~5years .
3.What is the Sunshade Nets used for ?
The Shade sails /Sun shade netting /sun shades could be used for agricultural outdoor canopy/garden canopy, Car Sun Shade /coffee shop and Kidgarden sun shelter/patio cover,green houses,patio gazebo,porch shades,patio awning,car shade,car sunshade etc.
Q:

Plastic nets provide support for vegetable gardens by acting as a trellis system, helping plants to grow upright and preventing them from sprawling on the ground. The nets can be stretched between stakes or poles to create a vertical framework, allowing plants like tomatoes, beans, peas, and cucumbers to climb and receive optimal sunlight and air circulation. This not only maximizes space but also helps prevent diseases, pests, and damage caused by contact with the soil.
Q:

Plastic nets provide support for ornamental plants by acting as a trellis or support structure. These nets are typically placed around the plants and allow them to grow vertically, preventing them from drooping or bending under their own weight. The mesh of the netting provides a framework for the plants to cling to, promoting upward growth and preventing damage caused by wind or heavy rain. Additionally, the plastic nets can be easily adjusted or moved as the plants grow, ensuring continuous support throughout their growth cycle.
Q:

Plastic nets generally perform well in wet conditions as they are resistant to water and do not absorb moisture. This allows them to maintain their strength and durability even when exposed to water or humidity for extended periods of time.
Q:

Plastic nets can have both positive and negative impacts on waste management. On one hand, plastic nets can be used for waste containment and transportation, making it easier to collect and dispose of waste in an efficient manner. They can also be used in waste sorting facilities to separate different types of waste. However, plastic nets can also contribute to the problem of plastic pollution if not properly managed. Improper disposal or degradation of plastic nets can lead to them ending up in our oceans and landfills, posing a threat to wildlife and ecosystems. Therefore, it is crucial to ensure proper recycling and disposal methods are in place to minimize the negative impact of plastic nets on waste management.
Q:

No, plastic nets are not suitable for use in bat houses. Bats can easily get entangled in plastic nets, which can cause harm or even death to them. It is better to use natural materials like wood or mesh that provide a safe and secure environment for bats.
Q:

Yes, plastic nets can be used for sports. They are commonly used in various sports like soccer, tennis, golf, and hockey to contain and retrieve balls or pucks. Plastic nets are durable, lightweight, and weather-resistant, making them suitable for outdoor and indoor sports activities.
Q:

Plastic nets are generally not suitable for packaging household appliances as they do not provide adequate protection and cushioning. Appliances are often heavy and fragile, requiring more robust packaging materials like foam or corrugated cardboard to ensure safe transportation and prevent damage.
Q:

Yes, plastic nets can be used for creating protective nets for pools. Plastic nets are durable, resistant to water and can effectively prevent debris, leaves, and other objects from entering the pool. Additionally, plastic nets are lightweight and easy to install, making them a practical choice for pool owners seeking a cost-effective and efficient solution for pool protection.
Q:

No, plastic nets do not have soundproofing properties.
Q:

Yes, plastic nets are generally resistant to chemicals used in agriculture. They are designed to withstand exposure to various agricultural chemicals, including fertilizers, herbicides, and pesticides. This resistance helps to protect the nets from degradation, ensuring their durability and effectiveness in agricultural applications.
We specialize in the manufacture of many series of knitting net, Such as shading net, fence net, leisure net, beach net, anti-insect net, anti-bird net, olive net,wind defend net for agriculture and horticulture, other series is trellisnet and trampoline net. The products has been exported to many areas and countries ,Such as the EuropeUnion ,America, Southeast of Asia, middle east, Japan etc and very popular with there people.
1. Manufacturer Overview

Location
Zhejiang, China
Year Established
2003
Annual Output Value
Below US$1 Million
Main Markets
50% CHINA , 50% OVERSEA
Company Certifications
ISO9001:2000
2. Manufacturer Certificates

a) Certification Name
Range
Reference
Validity Period
3. Manufacturer Capability

a)Trade Capacity
Nearest Port
Ningbo, China
Export Percentage
1% - 10%
No.of Employees in Trade Department
12
Language Spoken:
English; Chinese
b)Factory Information
Factory Size:
Above 100,000 square meters
No. of Production Lines
Above 30
Contract Manufacturing
OEM Service Offered;Design Service Offered
Product Price Range
High; Average
Hot Searches
Related keywords