Tower Crane TC6016 heavy machinery in china
Loading Port:

China main port
Payment Terms:

TT or LC
Min Order Qty:

1 unit
Supply Capability:

30 unit/month
Inquire Now
Customer Service
OKorder Service Pledge
Quality Product
Order Online Tracking
Timely Delivery
OKorder Financial Service
Credit Rating
Credit Services
Credit Purchasing
---
Add to My Favorites
---
Quick Details of TC6016 tower crane
Feature: Tower Crane
Condition: New
Max.Lifting Load: 10T
Span: 60m
Place of Origin: China(Mainland)
Model Number: TC6016
Packaging & Delivery of TC6016 tower crane
Packaging Detail: Nude package D
elivery Detail: 25-30days
Specifications of TC6016 tower crane
● Max. working range 60m, tip lifting weight 1.6T and Max. lifting weight 10T.
● Slewing mechanism and trolleying mechanism equipped with VFD technical control, stable and reliable,can provide stepless speed regulation.
● Outstanding in working efficiency, operating speed and stability. Reduce future maintenance cost.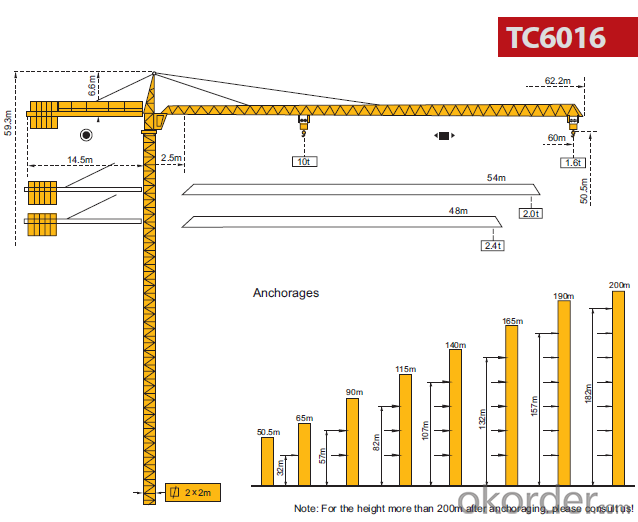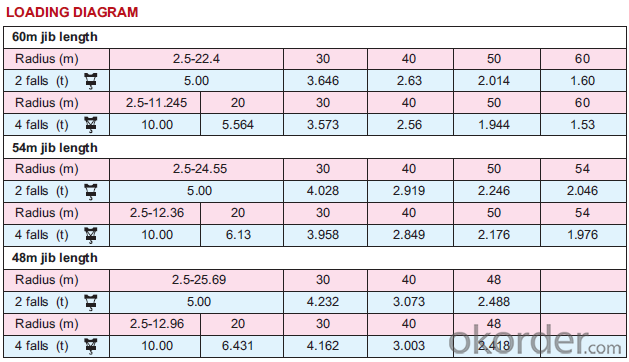 Free standing height (m)

50.5

Max height with attachment (m)

200

Working range can be adjusted(m)

48、54、60

Min working range(m)

2.5

Max lifting capacity(t)

10

Tip load @ 60m(t)

1.6

Hoist mechanism (VFD+PLC)

Falls

2

4

Lifting capacity(t)

0-2.5

0-5

0-5

0-10

Speed(m/min)

0-80

0-40

0-40

0-20

Motor

YZPBF250M1-6-45KW

Trolleying mechanism (VFD+PLC)

Speed(m/min)

0-56

Motor

YPBE132S-4-5.5KW

Slewing mechanism (VFD+PLC)

Speed(r/min)

0-0.6

Motor

YTW112M-4-4KW×2

Climbing speed(m/min)

0.5

Counterweight(t)

48m jib

54m jib

60m jib

15.45

17.85

18.9

Mast section size(L×W×H)m

2×2×3

Working temperature

-40-+60℃

Total power (KW)

60

Power supply requirement (KVA)

190KVA for generator

Cable type ( within 35 meters from site power source to lower

electric box of tower crane )

50mm2(3+2, 5 cores)

380V×95%=361V 210A

Rated working voltage & current

380V 116A
Images of TC6016 tower crane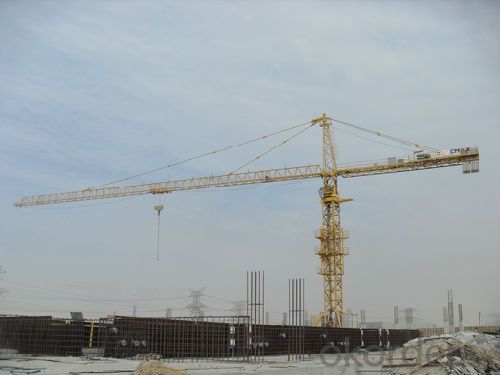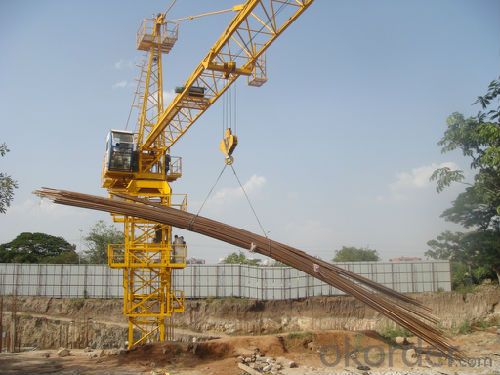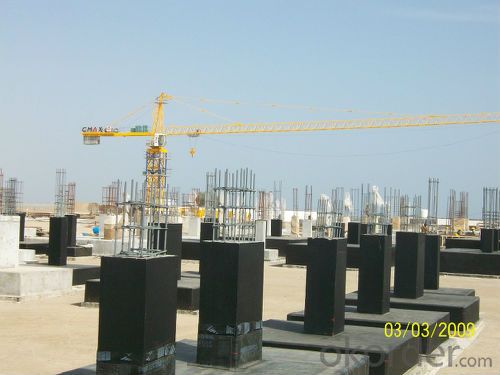 FAQ of TC6016 tower crane
Q: What is the principal to quote the right tower crane to the client?
A: First, we need to know clients' requirements. Normally the following information should be clarified by the client: max lifting capacity, height (height under hook), tip load and jib length.
Second, we need to know what the foundation requirement from the client is. (Fixed/undercarriage/ undercarriage with traveling system), mast section type (panel/integrated), power supply source (voltage, ampere and frequency), the distance between the machine and power supply……
Third if there are special needs, we could suggest proposal according to clear data provided by the clients. End-user, as construction machinery buyer, knows the site situation well and should make decision, such as the machinery specification, type…….
Q: What about our tower crane's warranty?
A: Usually there is one-year quality warranty including main electronic parts (not including consumable parts). There are consumable spare parts together with whole machine and normally they are enough for one year.
Q: What is 3 main mechanism of the tower crane?
A: there are trolleying mechanism/ slewing mechanism/ hoisting mechanism.
Q: Can you equip with light on tower crane jib, monitor, remote control and anemometer?
A: Sure. All of these could be provided with extra cost upon the clients' requirements. But according to general practice, remote control is not suggested because most of the operator feedback operation in the cabin will provide a wide working view.

To Lead The Revoluation of International Trade
Q:Denny Crane (played by William Shattner), and Alan Shore (played by James Spader) are partners in a Boston law firm. I would like to know if those those two are father and son in the series,

NO. They are good friends.
Q:Yeah, I think I know what cranes are used for. But in the context of building an apartment and so on, what is the role derricks there. And why is called cranes and derricks - What is the correlation between them.

Cranes are used for lifting heavy equipment. Derricks are used to drill for oil. They are two different things.
Q:Whats does the japanese crane symbolize?

The Japanese crane symbolizes serenity and hope. It is a legend in Japan that if you fold 1000 paper cranes, any wish will come true. There is a story about a girl named Sadako who died from radiation in Hiroshima after WWII who tried to fold 1000 paper cranes to be brought back to health. She nearly folded 1000, and died before then. People come to Hiroshima still today with 1000 folded paper cranes to honor Sadako.
Q:I just seen pics of a crane fly and not sure if I see crane flies in my house or mosquitos now. And do crane flies bite?

Crane flies tend to be much larger than mosquitoes. And no, crane flies don't bite.
Q:I am in dyer need of a camera jib wih very little budget and/or tools to build one. I am wondering if i can use a cymbal stand for a crash cymbal as a camera jib? My idea is to modufy it by attatching a small piece of wood to the top screw where you would put a cymbal the screw in an L piece (metal) to it or attach it ti the arm of the stand and just snigly fit it so as the arm is raised and lowered the L pice compensates and stays strait. i would attach the camcorder to the L piece with a 1/4 inch screw and washers. i also need the arm to move smoothly will this work with a crash stand. all advice i am grateful for thanks

Cymbal okorder /
Q:I don't understand why or how they still exist. I know I'll get some answers saying they're part of the food chain but what animal on earth would get a sufficient meal from one of these?

crane flies are very large. They might also play a part in pollination I'm not sure. I've never looked at the gawky insects before edit larave are decomposers in soil adults don't feed. So then the maggots are for the recycling of decayed matter. Thats their point. my info came from my field guide that is next to my bed at all times
Q:ok so i have to us my phone so just give me instructions no links no youtube videos cause my phone cant support them and my phone may not be able to load some of the links

You are asking for a lot but I have seen you request this a number of times, so I will do it...a sucker born. 1. Valley fold the paper in half so it makes a triangle. With the long side held away from you, valley fold the triangle in half again. 2. Lift the top triangle and valley fold it so that its top point meets its bottom point. Unfold the crease you have just made. Put your fingers inside the top triangle, open it up, and flatten it so it forms a square. Turn the paper over and fold and flatten the remaining triangle in the same way. 3. Make sure that the open ends of the paper are pointing down. Valley fold the top layer of both sides in to meet the centre crease. You will now have a kite shape. 4. Valley fold the top point of the kite down and crease well. Unfold the crease you have just made. 5. Open the sides of the kite by unfolding the flaps you made in Step 3. Lift the top layer of the kite's bottom point up so the paper bends at the crease you made in Step 4. Push the outside edges of the paper in to meet the centre line. Then flatten the figure so that you have a long diamond shape. 6. Turn the figure over and fold a kite shape on the remaining side as in Step 3. Repeat Steps 4 and 5 on this side. You will now have a two-sided long diamond. The bottom half of the diamond is split in two. 7. Valley fold the top layer of both bottom edges in to meet in the middle. Turn the figure over and repeat on the other side. 8. To make the crane's neck and tail, valley fold each half of the bottom section out to the sides. Crease well. 9. Unfold the right crease you just made and make an inside reverse fold. Repeat this step on the left side. 10.To form the head, fold down the end of the neck. Unfold this crease and inside reverse fold the head. 11.Hold one of the crane's wings in each hand. Blow hard into the opening on the underside of the figure and gently separate your hands. You crane will puff up and be ready to hang.
Q:So I have this teacher for almost 4 years and I didn't very much liked her style of teaching. During my sophomore year I was getting fed up with having her in my favorite class. Unfortunately she got ovarian cancer. Now that I think for what she has done and not acknowledging her, I feel really bad. To make things up I wanted to give her I guess the 1000 cranes before I leave for college.Is it okay to give it to her? If so, what do you do once you have all 1000 of them folded?

Well I don't think u have anything to feel bad about. Does everyone need to be treated like some kid of a hero because they have cancer? I think that is stupid. With all the people in the world everyone is gonna dislike someone. A ***** is a ***** no matter what disease she may have. After you fold 1000 cranes I think you are supposed to make a wish. Now if you wished that there was something that would remove her from your class, then I would feel guilty.But other than that I don't think you have anything to feel bad about. Or if you were really hard on her too but don't think that jut because she has cancer that she can be a ***** and everyone has to worship her. That is just bullshit. If she gives **** than she must be prepared to take ****. And as for giving them to her, I think it would be a nice gesture, but just think about it. What would you do if someone gave u a thousand paper birds? I think very few people would keep them. Now I don't know if you are supposed to give them away, but if you are, I think you should ive them to someone who means something to you personally and not because they have a disease. It is human nature to not like someone and just because they have cancer it shouldn't change that unless this experience has made them a better person and all that **** that you always hear about. But I don't think you have anything to feel bad about and not liking a teacher is completely normal. Please e-mail me your thoughts on this.
Q:I know that you have to unfold the origami paper crane, but how do you find the surface area of it???????????????????????????/ please help...........

Do you remember the formula for determining area? For a flat object (like your paper) the formula is Length X Width = Area. or LW=A So unfold your paper, and measure the length and the width, and simply multiply the two numbers. The resulting number will be your area. Of course, that is the area of the unfolded paper. Your crane in it's folded form will have a much different, and harder to find, surface area value.
Q:I got the crane gold 1.6 roller rocker I'm trying to install on my 95 z28 w/ an lt1 and it doesn't seem like they are installing quite right. I got the tall black nuts that hold the rocker down around the stud and the pushrods, that's it. Do I need to use those things that go below the rockers themselves (the things that slide over the stud and the rocker goes over it from the original rockers) or do I just install how I already am with just the crane rockers, black nuts and pushrods?

on the LT1 they come factory with screw in studs so the crane application should go without any problems the rocker the rocker guide from crane should slide right on to stud you don't use the old rocker guide for that
1. Manufacturer Overview

Location
Year Established
Annual Output Value
Main Markets
Company Certifications
2. Manufacturer Certificates

a) Certification Name
Range
Reference
Validity Period
3. Manufacturer Capability

a)Trade Capacity
Nearest Port
Export Percentage
No.of Employees in Trade Department
Language Spoken:
b)Factory Information
Factory Size:
No. of Production Lines
Contract Manufacturing
Product Price Range