SOLAR PANELS FOR HOT SALE ,SOLAR PANELS HIGHQUALITY 250W
Loading Port:

Shanghai
Payment Terms:

TT OR LC
Min Order Qty:

2500 watt
Supply Capability:

25000000 watt/month
OKorder Service Pledge
Quality Product
Order Online Tracking
Timely Delivery
OKorder Financial Service
Credit Rating
Credit Services
Credit Purchasing
---
Add to My Favorites
---
Item specifice
Material:
Polycrystalline Silicon
Max. Power(W):
250
Number of Cells(pieces):
60
---
Product Description:
Solar Monocrystalline Series (90W-100W) l : High efficiency crystalline solar cell. Even if under the weak light, the solar module can produce maximum power output.
II Tempered glass (toughened glass): Anti-reflecting coating and high transmission rate glass increase the power output and mechanical strength of solar module.
III EVA and TPT: Using high quality EVA and TPT to prevent destroying and water.
IV AI frame: Without screw, rner connection. 6 holes on the frame can be installed easily.
V Junction box: Multi function junction box with water proof.
VI Long lifetime: ≥25 years; Less power decrease.
VII Good performance of preventing from atrocious weather such as wind and hails.
VIII Resisting moisture and etching effectively, not effected by geology.
Advantages of Monocrystalline Silicon Solar Panel
• CNBM Solar performance guarantees for 25 years
• 12 years guarantee for workmanship
• Timeliness of delivery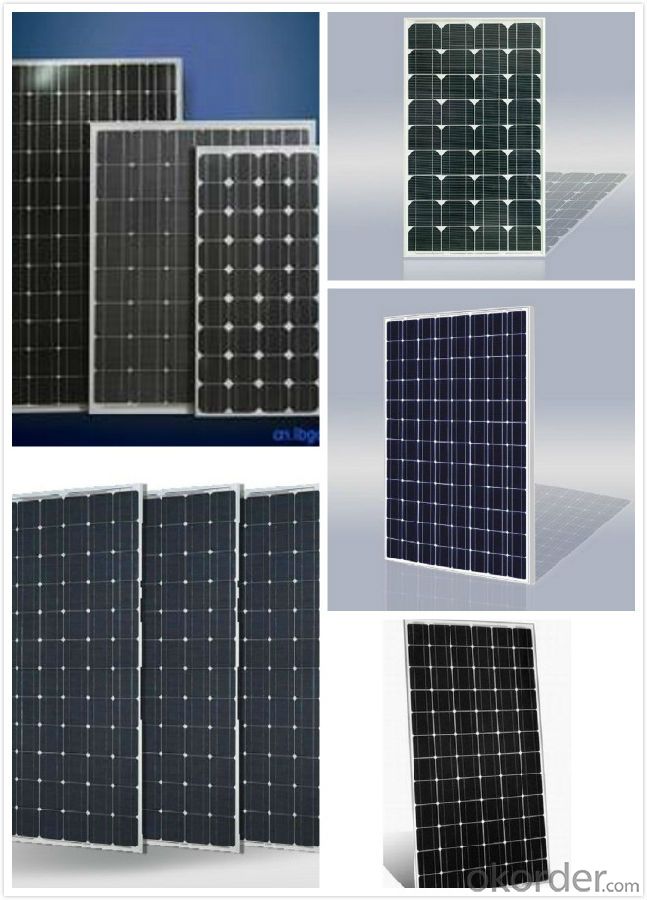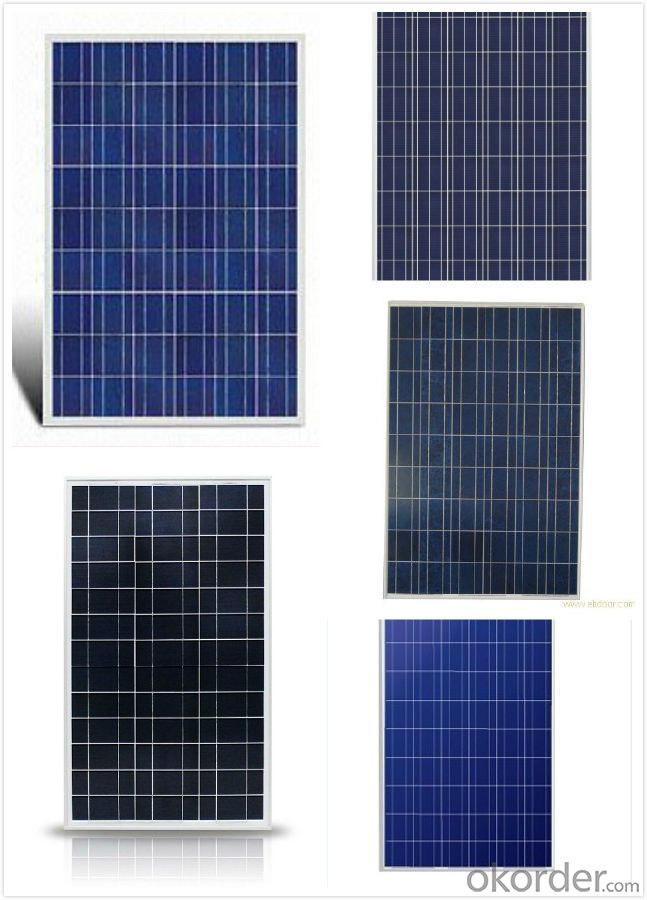 Specification of Solar Monocrystalline Series
- Optimal permutation on solar cells to keep enough heat diffusion, decreases hot spot effect.
- High quality and anti-ageing EVA, weather resistance backside raw materials assure reliable solar panels.
- Passed 5400Pa mechanical loads testing by UL, can withstand bad and high mechanical load working environment.
- With good sealed performance, moisture resistant, aging resistance, high/low temperature resistant, the inner terminals of our junction box owns good electrical performance transmission. Bypass diodes used can avoide hot spot effect and damages to panels. Output cables and mating connectors are safe and reliable for installation application. Adopt weather resistance, sealed, good sticky silica gel when assembling.
- Strict quality inspection on each procedure and 100% electrical performance test to meet power requirements.
- 0~+3% power tolerance.
- classification for all the panels in order to improve the integral performance of system and solar panel life span.
- TUV、UL、MCS、CE、ROHS、Golden Sun certified
- Underwriting of 25years output power warranty by The People's Insurance Company of China.
Q:

Yes, solar panels can be installed in extreme temperatures. Solar panels are designed to withstand a wide range of temperature conditions, including both hot and cold environments. However, extreme temperature conditions may affect the efficiency of the panels, reducing their overall performance slightly.
Q:How much energy can be generated from a solar panel on a clear, bright summer's day for example?

it depends on the size of the panel and if it is installed in an optimal location. there are many 00W panels commercially available and they can be ganged for a number of different output configurations.
Q:nan

Solar panels are a collection of photovoltaic cells, that are used to generate electricity, from light. Here is the simple explanation from wikipedia, concerning photovoltaic cells . Photons in sunlight hit the solar panel and are absorbed by semiconducting materials, such as silicon. 2. Electrons (negatively charged) are knocked loose from their atoms, allowing them to flow through the material to produce electricity. The complementary positive charges that are also created (like bubbles) are called holes and flow in the direction opposite of the electrons in a silicon solar panel. 3. An array of solar panels converts solar energy into a usable amount of direct current (DC) electricity. Solar panels are used extensively for power generation in many places, but most space applications (like satellites and spacecraft) use solar panels. If you look at a picture of the current configuration of the International Space Station, the giant wing things are the solar panels.
Q:I have the wattage of solar panel but i dont know about the voltage amp; current rating of it. Plz explain me about the voltage rating of solar panel.

The voltage rating and current rating are part of the specifications for the panel. You will have them listed on the spec sheet. The voltage number is usually the open circuit voltage of the panel, the voltage with no load. The current number is the short circuit current of the panel. In use, you need special electronics, called a Maximum Power Tracker (MPT) controller, which adjust the load to get the most power from the panel, and adjust the voltage output via a DC-DC converter to the optimal conditions to charge the attached battery. how to take batteries as per solar wattage ? sorry, don't understand this.
Q:Is it really necessary to make solar panels that expensive?

it cost less then $000. to make a car if you add all the cost of the material the average car made in the USA is sold for 30,000. before the company make a profit they need to sell 6 cars to pay for the labor. With a solar panel system it cost depending on you kilowatt use then they figure out the life expectancy of the unit what your monthly ele bill would be and that is what it cost for your system and that is with out the carrier charge from your power company who charge you for both when you use or sell power to the grid and most of the systems sold are sold to tie into the grid. as far as how much does it cost to make a solar panel The reason they give the price per watt is that is how they charge to sell them The process is not as complicated as they make it The high cost is in the so called shortage in silicon they claim there is a shortage of the type of silicon used in making the chips but last I heard silicon is just sand and it is the eight most common element on the planet it is the same process used to make computer chips which you can by now for around a dozen for a penny put that does chips togethet and you have one of the around 00 chips in a solar panel so a solar panel costcost about fifty bucks to make solar panel 00 watt sells for around $50. for a starter kit they sell them 200 percent mark up minimum the big cost is in the installation .
Q:Is it really possible for me living in Denver to build and install and setup my own solar panel to help make electricity for my home?

DIY okorder
Q:I have:4- 5v 200ma solar panels5- 3v ,000ma solar panels- 7amp charge controller- 400watt inverterNow I have all my solar panels linked in series which in theory should give me 35v, 5.8 amps at 203 watts. Is this correct?The main question is, what kind of battery should I get so I can run my miscellaneous electronics off of it?I may not have explained it so well so if you need more information, feel free to ask.

I okorder and they have deep cycle batteries exclusively made for solar panels. but in theory you should get more than one because it only takes around 4-5 volts to charge the battery and you do not want to have it that high even with a charge controller which i would also recommend getting which is like $50 on OKorder but a charge controller is used so you do not overcharge the batteries and fry them or undercharge the batteries and weaken its life it gets it just perfect. it lets the current go in and when it is charged fully nothing goes in an nothing comes out.... for a inverter the one i was going to get was $70 500 watt inverter but changes it from dc to ac...hope i helped
Q:

Yes, solar panels can be damaged by birds or other animals. Birds may build nests under the panels or peck at the wiring, leading to potential system malfunctions. Similarly, other animals like squirrels or rodents may chew on the wires or cause physical damage to the panels. It is advisable to take preventive measures to protect solar panels from such animal interference.
Q:

Yes, solar panels can be used to power a research facility or laboratory. Solar panels convert sunlight into electricity, providing a sustainable and renewable source of energy. By harnessing the power of the sun, solar panels can generate enough electricity to meet the energy demands of various equipment and appliances used in research facilities and laboratories. Additionally, solar panels can be combined with energy storage systems to ensure continuous power supply even when sunlight is not available.
Q:

Yes, solar panels can be installed on vehicles. They are commonly used on electric cars, boats, and recreational vehicles to harness solar energy and help charge their batteries.
1. Manufacturer Overview

Location
Year Established
Annual Output Value
Main Markets
Company Certifications
2. Manufacturer Certificates

a) Certification Name
Range
Reference
Validity Period
3. Manufacturer Capability

a)Trade Capacity
Nearest Port
Export Percentage
No.of Employees in Trade Department
Language Spoken:
b)Factory Information
Factory Size:
No. of Production Lines
Contract Manufacturing
Product Price Range
Hot Searches
Related keywords