Specifications of Seamless Steel Tube And Pipe For Gas Cylinder

Wide Range of Size: from 60mm to 559mm
Flexible MOQ: 4 ton/per size
Product: Seamless Steel Pipe for Gas Cylinder
1. Size Range:

2. Chemical Copmosition(%):

3. Mechanical Properties:

4. Tolerances on Demisions:

Packaging/Delivery of Seamless Steel Tube And Pipe For Gas Cylinder
Wrapped in bundles with steel strips or according to customers' requirements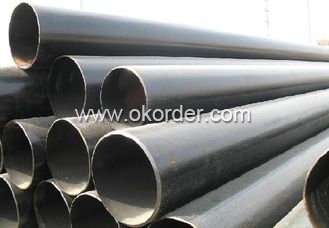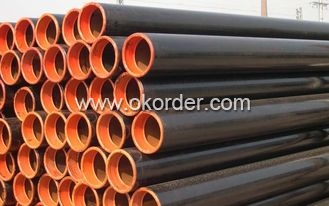 Q:

Steel pipes are used in the construction of hydroelectric power plants for various purposes, such as transporting water, containing and directing the flow of water, and supporting the weight of turbines and other equipment. They are typically used for penstocks, which are large pipes that carry water from the dam to the turbines, and for discharge pipes that release water back into the river. The strength and durability of steel pipes make them ideal for withstanding the high pressure and heavy loads involved in hydroelectric power generation.
Q:

The main difference between steel pipes and cast iron pipes lies in their composition and durability. Steel pipes are made from an alloy of iron and carbon, which results in a strong and durable material. They are highly resistant to corrosion and can withstand high pressure and temperature. On the other hand, cast iron pipes are made from molten iron and have a higher carbon content. While they are also durable and have good pressure-bearing capabilities, they are more prone to rust and corrosion over time. Additionally, cast iron pipes are typically heavier and more brittle compared to steel pipes.
Q:

Steel pipes are commonly coated to prevent external corrosion through various methods such as galvanization, epoxy coating, or polyethylene wrapping. These coatings act as barriers between the steel surface and the external environment, protecting the pipes from moisture, chemicals, and other corrosive elements.
Q:

Steel pipes are able to handle high-pressure applications due to their inherent strength and durability. They have a high tensile strength and are resistant to deformation under extreme pressure. Additionally, the seamless construction of steel pipes ensures that there are no weak points or joints that can compromise their ability to handle high pressures.
Q:What are the lengths of scaffold steel tubes?

Used to build scaffolding of steel pipes in general have two kinds, an outer diameter 48mm, wall thickness 3.5mm; another kind of outer diameter 51mm, wall thickness 3mm; according to its location and role of different, can be divided into vertical pole, horizontal rod, sweeping rod, etc.. According to the technical specification for construction of steel tubular scaffold with couplers, JGJ 130 - 2011[1]. The scaffolding steel pipe should be specified with the current national standard "GB/T13793" or "straight seam welded steel pipe welded steel pipe for low pressure liquid delivery" GB/T3091 Q235 ordinary steel pipe; steel pipe steel quality should meet the requirements of current national standard grade Q235 steel "carbon structural steel" in GB/T700. The scaffold pipe shall be made of a diameter of 48.3 * 3.6 steel tubes. The maximum mass of each steel tube shall not be greater than 25.8kg.
Q:

Steel pipes are insulated to prevent freezing by wrapping them with insulation materials such as foam or fiberglass, which helps to maintain the temperature of the pipe and prevents the transfer of cold air. Additionally, pipes can be buried underground below the frost line to protect them from freezing temperatures.
Q:What is the difference between steel pipe and round steel?

Widely used in the manufacture of structural and mechanical parts, such as oil drilling pipe, automobile transmission shaft, bicycle frame and steel scaffolding used in construction. Making ring parts with steel tubes can improve data application rate, simplify manufacturing process, save data and work hours, such as rolling bearings, rings, Jack sleeves, etc., and have been widely used in steel pipe manufacture.
Q:

Steel pipes are used in the construction of stadiums for various purposes such as structural support, plumbing, and drainage systems. They are commonly used to create the framework and support structures for the stadium's roof, stands, and other architectural elements. Additionally, steel pipes are also utilized in the installation of plumbing systems for supplying water and gas, as well as for drainage systems to manage wastewater and rainwater. Overall, steel pipes play a crucial role in providing strength, durability, and functionality to stadiums during their construction.
Q:

Steel pipes are typically transported from the manufacturing site to the construction site using various methods, including trucks, trains, and ships. These transportation modes ensure efficient and cost-effective delivery, depending on the distance and infrastructure available.
Q:

Yes, steel pipes can be used for irrigation pumps. Steel pipes are commonly used in irrigation systems due to their durability, strength, and resistance to corrosion. They can handle the high pressures and flow rates required for efficient irrigation, making them a suitable choice for connecting and transporting water from irrigation pumps.
After more than a decade's construction and development, we have taken a leading position in seamless steel tube industry in China. In the year 2007, it awarded Famous-brand product Certificate. Besides, we have been named as excellent supplier of Qualified Products by our customers for several times.
1. Manufacturer Overview

Location
Wuxi, China
Year Established
1991
Annual Output Value
300,000Tons
Main Markets
Europe; Southeast Asia; etc.
Company Certifications
API 5L;API 5CT;API Q1;ISO/TS29001
2. Manufacturer Certificates

a) Certification Name
Range
Reference
Validity Period
3. Manufacturer Capability

a)Trade Capacity
Nearest Port
Wuxi; Shanghai
Export Percentage
41% - 50%
No.of Employees in Trade Department
3900-4000 People
Language Spoken:
English; Chinese; Spanish
b)Factory Information
Factory Size:
Above 450,000 square meters
No. of Production Lines
Above 10
Contract Manufacturing
OEM Service Offered;Design Service Offered
Product Price Range
Average