1.Structure of Garden Furniture Outdoor Dining Set Description
1). Frame: Iron/Aluminum mainly, tube thickness optional.
2).Rattan: SGS PE RATTAN/WICKER, in flat/half round/round
3). Fabric: Outdoor UV-Resistant/Waterproof
4).Glass: 5mm/8mm/10mm Tempered Glass
2.Main Features of the Garden Furniture Outdoor Dining Set
1). SGS HDPE rattan: Flat or Round options with sizes 8*1.4mm, 9*1.5mm, Dia3mm, Dia5mm etc, SGS tested. Good UV radiation.
2). Aluminum Frame: 22*22*1.2mm etc, strong and durable. With powder-coding to against rust. Different color available.
3). Cushion Fabric: made of polyester and cotton, 280-560g/SQM, waterproof, high quality texture, won't fade or wash away.
4). Sponge Cushion: completely high-density sponge with woven-fabric cover.
5). Cushion workmanship: with durable zipper to be washable, carefully corded inside and piping outside.
6). Packing Options: Double bubble wrapped Or 3 layer/5layer/7layerExport Carton.
7). Modern Outdoor Patio Furniture that Blurs the Lines Between the Indoors and Outdoors.
3.Garden Furniture Outdoor Dining Set Images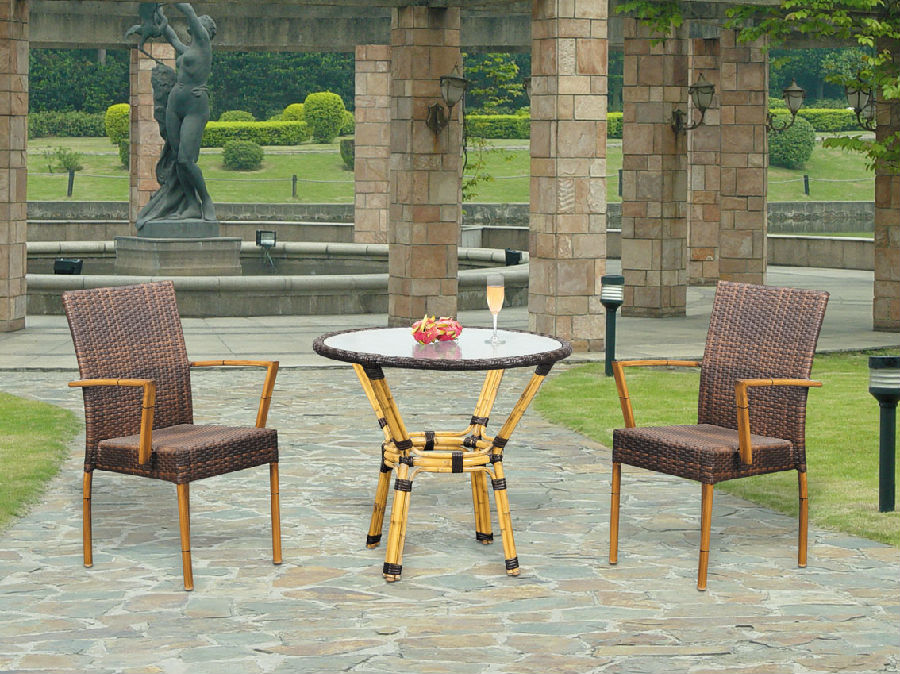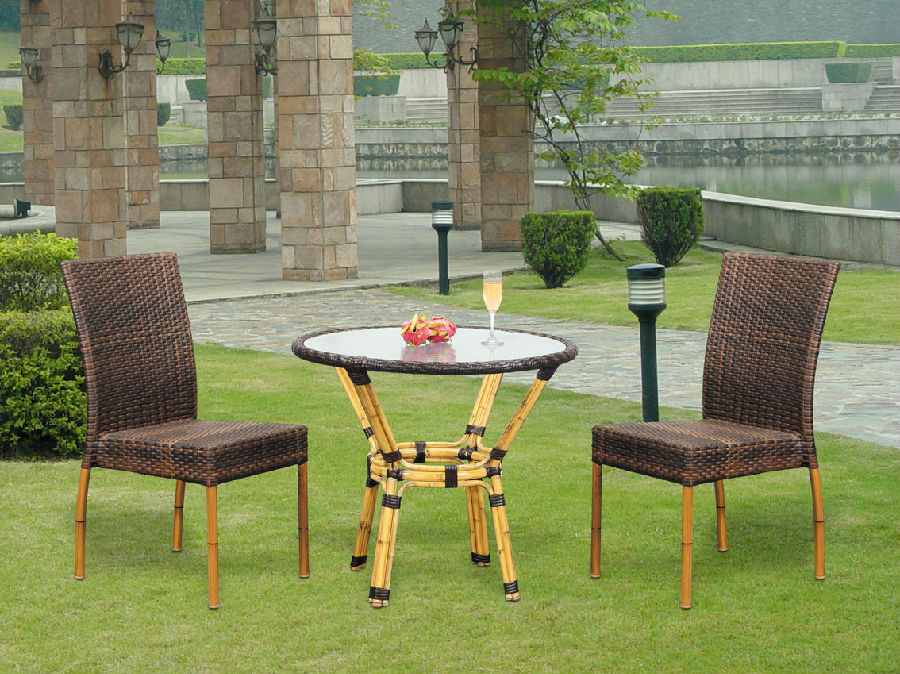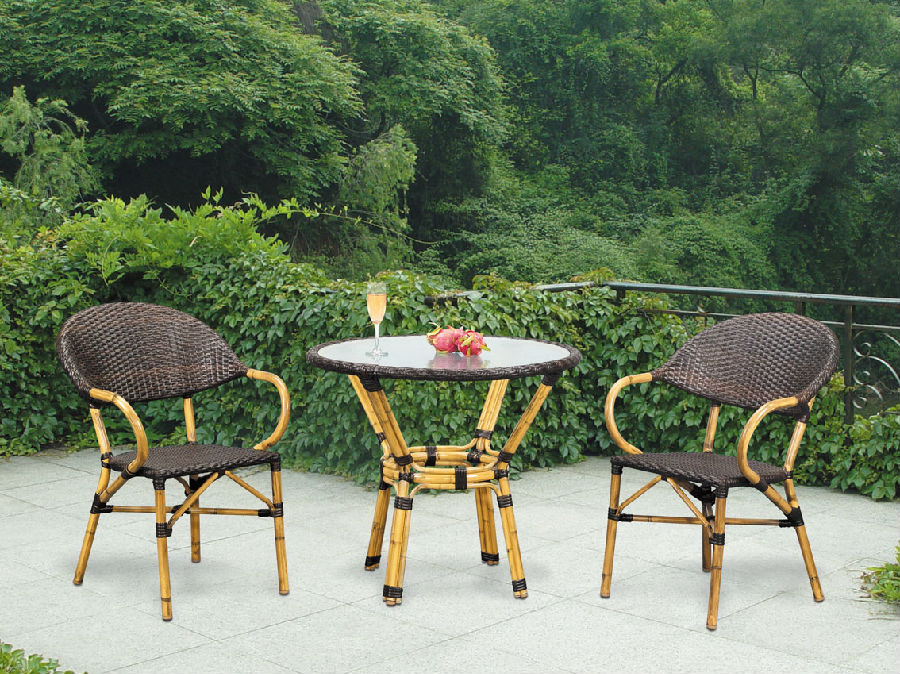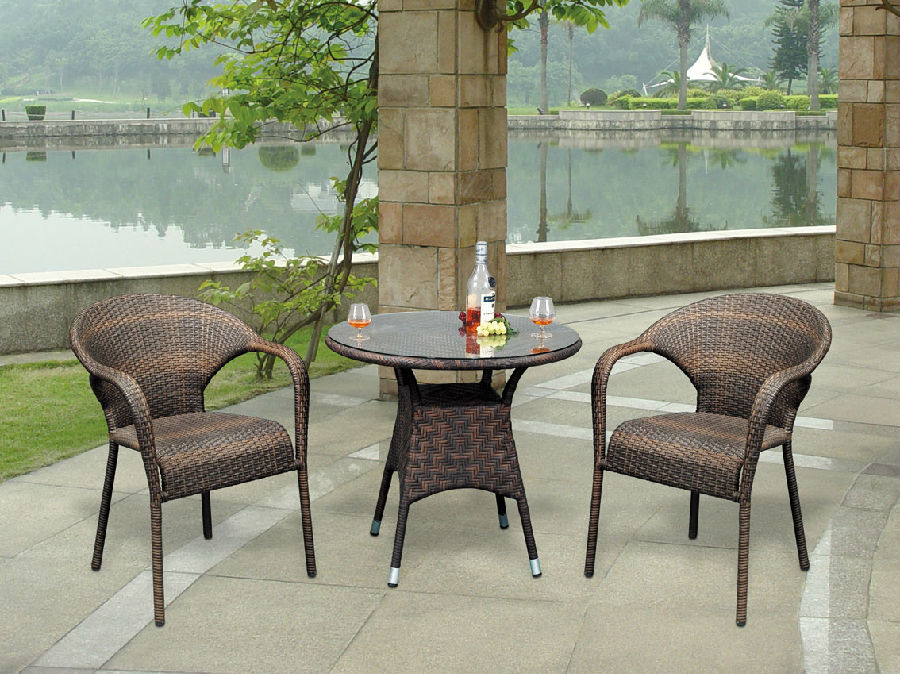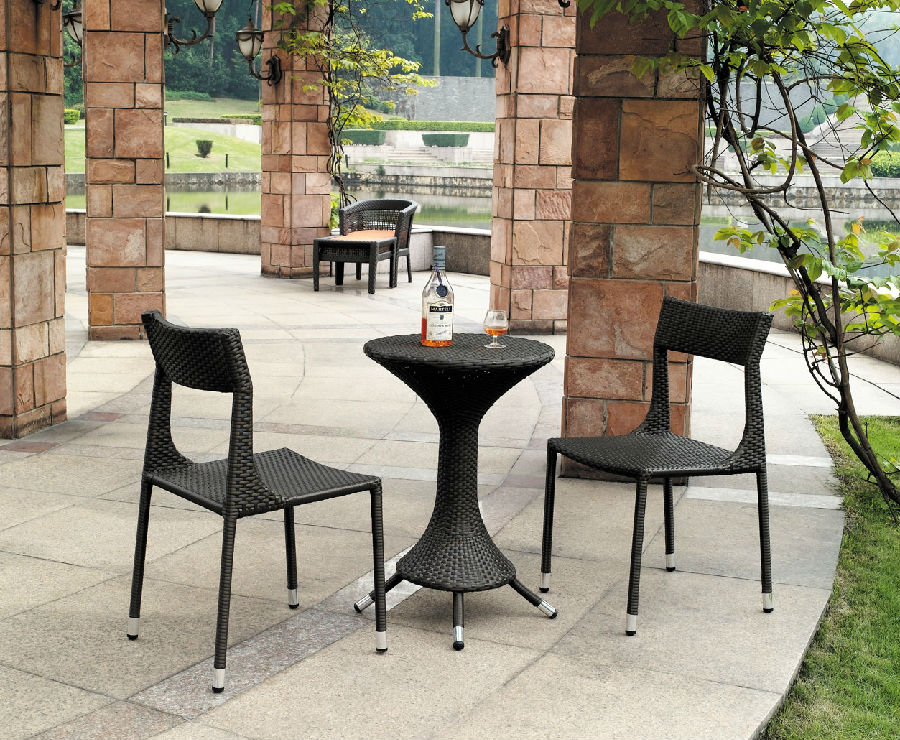 4.Garden Furniture Outdoor Dining Set Specification
Dining Set Chair: 82x85x2075px, aluminum tube: D22/19/13mm.
1).Table: aluminum rattan tea table:115x60x1175px , with 5mm tempered glass
tube:D25/19mm
rattan: PE, frame with powder coating
2). Dining Set: aluminum rattan 1seater Dining Set: 82x85x2075px, with 250px thickness sponge cushion, 1pc pillow, 250g/m2 short fiber waterproof
tube: D22/19/13mm
rattan: PE, frame with powder coating
3). Dining Set: aluminum rattan 2 Dining Set: 143x85x2075px, with 250px thickness sponge cushion, 2pcs pillows, 250g/m2 short fiber waterproof rattan: PE, frame with powder coating
4). Dining Set: aluminum rattan 3 Dining Set:204x85x2075px, with 250px thickness sponge cushion, 3pcs pillows, 250g/m2 short fiber waterproof rattan: PE, frame with powder coating
Modern Outdoor Commercial Patio Furniture from OKORDER.COM.
Unless you plan to go for a hike then the best way to enjoy the outdoors is on your outdoor patio furniture.
5.FAQ of Garden Furniture Outdoor Dining Set
1). How do you guarantee the quality when choosing materials?
Strong powder-coated aluminum frame, SGS tested PE rattan
2). Why such materials are workable for outdoor situation?
Good UV radiation, high temperature resistant, weather resistant, color fadeless.
High quality & waterproof cushion, washable, flexible, corrosion-resistant. Both suitable for indoor & outdoor place.
3). How do you make sure to meet personal enquiry?
Customized models, rattan designs, fabric colors, sizes all available. Popular and modern design.
4).How does the furniture made of?
100% hand-woven by skilled craftsmen
5). Modern innovations in patio furniture are more than what you see.
Q:does anyone know where I can find a futon/sofa bed, with a modern look, around the price of 150-200 dollars?please help,im redoing a room,so i need help haif you have any other tips on making the room look good, please let me know! (:thank you

Good ol' WalMart has futons for about that price range. But a word of advice: If it is going to get frequent use, get a wooden one, not a metal one. I bought the metal one, and the base only lasted about a year because prolonged sitting and sleeping on it bent the rods under the mattress. It got so uncomfortable I had to toss it and got a twin bed instead. I put a board about 2 feet wide by 6 feet long inside one end of the futon mattress so it could become a backrest, then piled a bunch of throw pillows on it so I could use it as a sofa too. Just dump the throw pillows on the floor, and it's an instant bed.
Q:I don?t get it can somebody tell me what it is supposed to be saying

so-fo king toddid(tarded) = so ******* retarded
Q:We bought a sofa about a year ago. We love it and it is still in excellent shape however, we are regretting the light tan color we picked. Not such a great choice since we have a 2 year old. Is it possible to dye it a darker color? Is this something we could do ourselves?

Dye Microfiber Couch
Q:HELP PLZ I NEED HELP

They okorder /
Q:My room is tiny. ANd I need a double bed. So I got one about 2 years ago and there is no space what so Im looking to buy a sofa bed (which i will be using as an actual bed rather than a guest bed) to replace my double bed. So I can have my mates over ect and were not all squashed in a tiny corner. I already have a memory foam mattress on my bed but its quite think so should be able to fold up with a sofa bed. Any suggestions on a comfy sofa bed or futon?? Preferable one that would be the size of a double when pulled out. Thanks :)

Sofa beds, unless you get the super good mattress are uncomfortable and require pulling pillows and remaking daily. Most do not fold with bedding let alone a memory topper. Your comfort options are: To use your existing mattress and make a murphy bed and add a sofa. Get a click clack bed (not a futon) you will have to make up each night. Make a loft if your ceiling is high enough. Lofts can be any height tall enough to slip the dresser or a desk under or a sofa. You can make a loft from bookcases and plywood.
Q:Why do they call them sofas? Have you been to Portugal?

No to the latter. Quite.
Q:I have a sofa that reclines on both ends. Do they make slipcovers for this type of sofa? If so, then where?

I'll okorder . Because there are so many variations of furniture these days, I would almost be sure that there is a slipcover to fit your sofa. My sister and I found one to fit her crazy arm chair so you should be able to as well. I hope this helps you some. :)
Q:We already have a fabric (slate blue color) recliner that is only about 6 yrs old, perfect condition that we have no intention (at this time) of replacing.With this new tax refund MAYBE coming this summer ($2100 WHOOOO HOOOO) I would like to replace our sofa/love seat. We have never had our own and this one is shot. I haven't told my husband of my desire yet but I figure if we spend 1/2 and save 1/2 on something we are putting into the house :) Anyway. Since our recliner is staying and it's fabric, we should probably not even look at leater as it wouldn't go. Correct? Or is mixing pieces ok? I'm not sure about leather w/ little ones either. Does the soft plushy type of leater scratch easily? Also..if we went w/ fabric, we should probably go w/ the slate blue color as close to the recliner as possible, yes? Or would going w/ a tan/darker tan/khaki color not look right? Our carpet is tan.

You could get leather, as leather will go with anything. However, there are a lot of styles and qualities of leather sofas. If you have a lot of kids and pets, I would wait on the leather. Go to a furniture store and look at what they have. Most stores have a designers section where you can check out fabric samples. I would suggest getting a durable fabric with a high # rating that will last for years and... get one that is in a print with lots of different colors (easier to hide spills and stains).
Q:I'm sitting on the TV trying to watch the Sofa but there is never anything on

Get a bag of chips a really hot bowl of soup and an overfilled glass of soda and there should be plenty to see on the sofa.
Q:i want to recover my sofa but i dont know how much fabric to by. So can somone help me find out.

Add the width times the length and divide it by nine.
1. Manufacturer Overview

Location
Year Established
Annual Output Value
Main Markets
Company Certifications
2. Manufacturer Certificates

a) Certification Name
Range
Reference
Validity Period
3. Manufacturer Capability

a)Trade Capacity
Nearest Port
Export Percentage
No.of Employees in Trade Department
Language Spoken:
b)Factory Information
Factory Size:
No. of Production Lines
Contract Manufacturing
Product Price Range
Hot Searches
Related keywords