Product Description:
Polished Porcelain Tile Beige Color CMAX65003 is one of the most popular color of Crystal Jade Serie, which is one serie of Polished Porcelain Tile in the present market. Just like other series, it could be used for interior floor for apartment, villa, super market as well as other public areas, due to its being high glossy and clean, homogeneous color shade as well as the reasonable price compared with natural stones.
Key Specifications Polished Porcelain Tile Beige Color CMAX65003:
Product information:
Material: soluble salt porcelain
Various colors are available
Size: 600 x 600mm
Thickness: 10mm
Features: non-slip, wear- and water-resistant
Packing: 4 pieces/carton, 29.5kg/carton
20-foot container: 880 cartons
20-foot FCL container: 1267sqm
Carton with pallets or customized
Primary Competitive Advantages Polished Porcelain Tile Beige Color CMAX65003:
First choice,top grade.
Water absorption:<0.1%.< p="">
Delivery Time:15~25 days after deposit.
Certicate: CE,ISO9001,Soncap,etc.
Competitive price and good quality
Usage— Suitable for home, high grade office buildings, high-grade hotel, airport, shopping mall,
deluxe clubs floor and wall tiles etc.
This series of products in addition to good wear resistance with ultrafine tiles, flexural strength,
and low water absorption, the appearance of the product, due to be fired into a crystal frit, so
three-dimensional effectprominent, white the texture clear, natural, delicate harmony and balance without duplication, with impeccable decorative effect, close to natural stone.
Technical characteristics:
Adopt international advanced ceramic cloth exquisite processing technology, selected high
quality pure raw materials, on the product body, with moist and gorgeous color, microcomputer
total precision control, multiple temperature control forming technology create gorgeous texture
hd grain boundary, bottom dense embryo thicker, pure texture, deduces the natural stone material through the external environment and the geological characteristics and the dynamic form of change,
also make products with high hardness, high gloss, low water absorption, strong dirt resistance, easy
to clean, etc excellent characteristic
Main Export Markets:
Mid East/Africa
Central/South America
Asia
Australasia
Southeast Asia, Mideast Asia
Product Picture :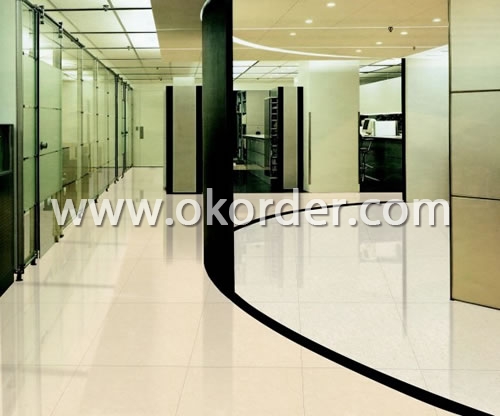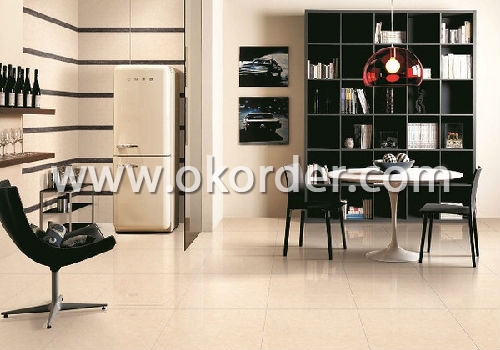 Production Line :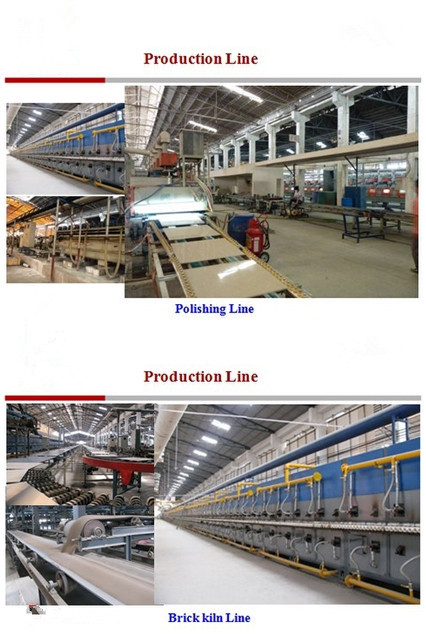 Product Certificates :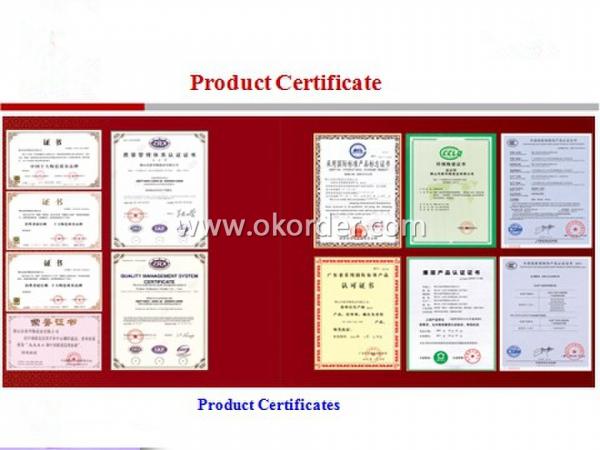 Packing Details :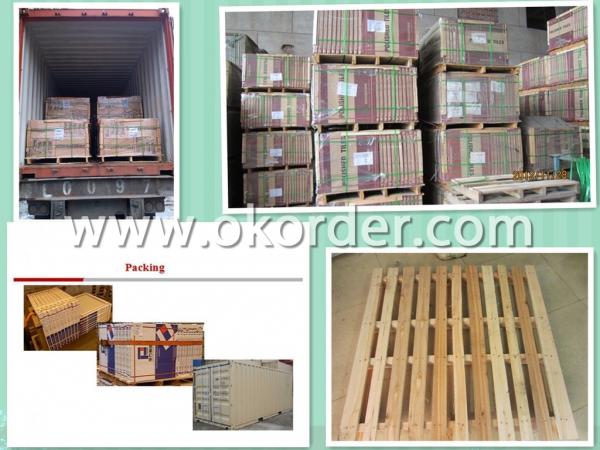 FAQ
1. For Polished Porcelain Tile, is the 30*60 available?
—— Yes, 30*60 is available. Due to the basic size is 60*60, we need to cut 60*60 tile into 30*60. 6 pcs are packed into one carton.
2. What is the MOQ for this tile?
—— Normally the MOQ is 1382.4 m2 for one 20' container. To support our clients, we could go with 3 models to fill one container at most.
3. Can we use the carton with our own design and brand name?
—— Yes. Normally we go with Neutral Carton or our Carton with our CMAX brand name. But for carton of client's own design, the MOQ for one size is 5 containers, due to the carton factory can't arrange production if quantity is below 5000 pcs.
Q:I am am re-tiling the kitchen counter. Please help. Thanks.

Most okorder /
Q:tiles at the top of my pool have fallen off, these tiles are in the water. what is best or suggested adhesive to reinstall them?

RE: what is best adhesive for pool tile? tiles at the top of my pool have fallen off, these tiles are in the water. what is best or suggested adhesive to reinstall them?
Q:We are building a tile shower and we have gotten it framed the way we want it. We haven't installed the backerboard or tiles yet, just the studs are placed. Do we need to backerboard and tile the sides where the door will be, or can we install the shower door directly to the bare wood studs?

Okay. So when I was three, I got a hold of a permanent marker and took it to my parents' fridge. My mother grabbed a tube of toothpaste and a washcloth. She gently rubbed the toothpaste into the marker and it came right off. My niece did the same thing recently and I tried toothpaste. It worked. Then all you have to do is rinse it. But this might be a bit different because the plastic from the calculator may have soaked up the ink. Give toothpaste a try.
Q:I have a basement about 25X25 does anyone know how much it would cost to put vinyl tile down?

Is the floor sealed properly to prevent moisture from causing tile to lift after installation if not it could cost double the amount assuming that the calculation is correct. I can only assume that 25x25 is in feet so that would be 625 square feet. self adhesive tiles may not stick well to cement so applying glue then the tiles might be a better idea. I am not sure about the price but the last time I checked these where less expensive then the self adhesive tiles. Personal I would consult with the folks at the hardware store talk to one of the older ones as they would have more experience. They will also help you estimate the cost so you can consider the value of your purchase before you decide proceed!
Q:I saw tiles on HGTV once for a bathroom (I want to use them for a kitchen backsplash) they are small tiles but they are attached to each other by a piece of mesh on the back, and you just peel the paper off the back and slap it on the wall, then grout over it. What are these, where can I find it, etc?

Mosaic tile sheets, and you should be able to find them at most home improvement stores, like Home Depot, etc.
Q:Can anyone tell me what type of tile this is? Name?

All i will say is: its normally not a best thought to put it correct on top. It turns into extra seemingly for it to come up. After which the approach of taking over a layer of laminate and a layer of ceramic tile could be that a lot tougher when it happened. I consider the one technique to make that work with out taking up the ceramic tile is to make an air tight seal between the two. I couldn't give you any strategies on how to try this though.
Q:I have a very outdated bathroom with pink tile covering just about every wall. I love to do DIY projects but can't afford to replace the tile. I can however afford to paint it. I read up on it and found the paint directions but don't want the end result to look tacky. Has anyone done this and liked the results?

Go for it! It won't look tacky if the instructions are followed. Be sure to very thoroughly clean the tile with a cleaner made for tile and grout, and use a scrub brush to scrub the tile and the grout lines well. If you plan to also paint the grout, you must let the grout dry for at least 48 hours. The longest lasting paint for this application, and one that with withstand peeling the longest, is oil-based paint. The cleanup process for oil-based paint could be a drawback, but for a long lasting finish it is the way to go. If you don't want to go with oil-based, water-based paints that contain a urethane resin are good paints to use as well. I would strongly recommend not painting the tile on the walls of the tub/shower, as the finish will not last due to the moisture and humidity in the shower. For this area, you can use a tile epoxy paint (usually available in white and creme color) and it will look good and protect the tile from the water. If going this route, be sure to ventilate the area as best as you can as the fumes are strong...but they will go away after 1-2 days. You can do this project, and it will look good. Best of luck!
Q:Home decoration with what tiles better

Research a lot of tiles, online tattoo comments brand tiles are: the famous Dongpeng many Shandong Zibo OEM turn, just advertising to do bright! Shop out is not smooth! Marco Polo also has a lot of branded brick! Comments that gold pottery is rubbish, poor service! Commented that the generals serious uneven, I really experience from the physical shop what is the stone arch bridge! Commented that Samit was serious in the drum, I also deliberately in the physical store is indeed the case, I have been set and back! Online comment Nobel is not flat, this I did not see! Gold rudder is expensive! ... ... I want to buy a brand name of the number of friends to the brand Tucao finished, not scolded like only Hongyu and crown beads, so I deliberately went to the two stores looked, really fabulous, but hit Hongyu sound Crisp, may be good bricks, but the price is very expensive, in our reputation there is no crown beads, so into the crown beads shop, but also very expensive. I deliberately poured the floor of the small floor of the brick, actually did not infiltrate a minute, so I decided to buy beads, but the price seems to be as expensive as Hongyu, only buy crown beads tiles and toilet bricks, to save money, kitchen brick to buy A miscellaneous brand. Hope that the crown will not let me down!
Q:I would like to install laminated flooring in my kitchen. Two of the wall are tiled. Is it possible to undercut these tiles or is there an easier method to do a neat installation?

Yes, it is possible. You could use an oscillation type cutter with a carbide tip. If you do use this, use a scrap piece of the flooring as a shim to get your gap at the bottom so you can get the flooring under the tiles. then cover the gap with your trim.
Q:I want room color which color perfectly adjust with my granite green tile

The corporate headquarters of Enterprise Rent a Car have Green granite on the floors and walls. Their leather furniture is a red wine color, and there's also some gold in it. I think other colors would be gold, yellow, tan, and that pallette. Good luck, I hope it comes out well.
1. Manufacturer Overview

Location
Year Established
Annual Output Value
Main Markets
Company Certifications
2. Manufacturer Certificates

a) Certification Name
Range
Reference
Validity Period
3. Manufacturer Capability

a)Trade Capacity
Nearest Port
Export Percentage
No.of Employees in Trade Department
Language Spoken:
b)Factory Information
Factory Size:
No. of Production Lines
Contract Manufacturing
Product Price Range