NU 204 E,Cylindrical Roller Bearing Used Mower Wheels Bearings
Loading Port:

Shanghai
Payment Terms:

TT OR LC
Min Order Qty:

10 set
Supply Capability:

100000 set/month
Inquire Now
Customer Service
OKorder Service Pledge
Quality Product
Order Online Tracking
Timely Delivery
OKorder Financial Service
Credit Rating
Credit Services
Credit Purchasing
---
Add to My Favorites
---
Specification

Model No.: NU 204 E

Brand Name: OEM

Size:20*47*14mm

Net weight: 0.132kg

Material: Chrome steel

Cage: Brass, Steel

Features:

1) Precision: P6 P5 P4 P2

2) Noise level: Z1, Z2, Z3, Z4

3) Vibration Level: V1, V2, V3, V4

4) Clearance: C2, C3, C4

5) Hardness: 58-63 HRC

6) Greese: As your requirement, such as SRL, PS2, Alvania R12 and so on.

Packing

1.Industrial packing: box

2.Commercial packing: box then into standard carton/wooden Box

3.According customer's requirement

Payment

T/T, L/C, Western Union

Delivery time

5-30days according to the quantity and your request

Services

Warrantee: 1 year

Samples: available

OEM: available

Free technical support and after-sales service
Product Specifications:
cylindrical roller bearing , Cylindrical roller and race for line contact bearing. Load capacity is big, mainly bear radial load .
1. Friction coefficient is small, suitable for high speed limit speed close to deep groove ball bearings
2.N and NU type axial movement, can adapt to shaft caused by thermal expansion or installation error and shell the change of relative position, can be used for free end bearing
3. On the shaft or hole of the processing and the demand is higher, bearing outer axis relative deflection after installation to be kept under strict control, so as not to cause contact stress concentration
4. Inner ring or outer ring separable, easy to install and remove
Product Applications:
Cylindrical Roller Bearing Application Flied:Rolling Mills,Crusher,Mining
Metallurgy Petroleum,Chemical Industry,Engineering Machinery,Port,Oil,Gas,
Wind,Agriculture,Lathe,CNC,Steel Works,Electrical Machinery,Axle/Limber,
Tractor,Autocar,Crude Oil Engine and so on.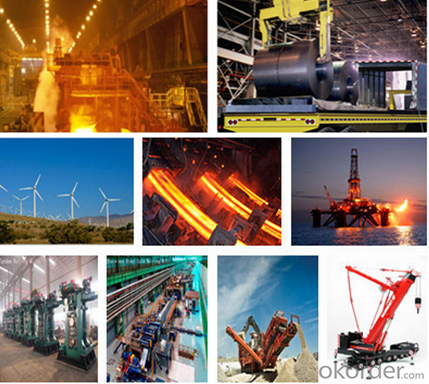 Q:How should I find the concentricity of cylindrical roller bearings after installation?

So, in the machining process, try to use special fixtures and parts drawing in tol and other measures to avoid such a remedy".
Q:My notes is the former has a taper hole on the cone position preload, the latter is a nut. But the online information seems a little different. Are the preload methods for two direction thrust angular contact bearings and angular contact ball bearings the same?

Dissimilarity! The former is mainly used as the support of the shaft with larger load. The main prevention is the radial runout, which is usually used individually, so there is not much demand for the preload. The latter is mainly used as a precision screw shaft for the radial motion and axial runout requirements are very strict, generally used when they are two back-to-back, when pre tightening have strict requirements, general requirements for the radial motion and axial runout should not exceed 5 per thousand mm.
Q:What are the differences between cylindrical roller bearings nu208m and nu208em?

E means "reinforced", "rolling", "thickening", "change", "change".. Hope to adopt!!
Q:What does "cylindrical roller bearing" ENV mean?

Cylindrical roller bearings, the basic model suffix ENV meaning:E: enhanced design with improved bearing load capacityN: the outer ring of the bearing is provided with a stopping grooveV: full installed roller (no cage)
Q:What is the limit speed and rated dynamic load of NSK full M40-19g cylindrical roller bearings, HTF?

D - tapered roller bearings with a contact angle of 28 degrees. C, CA (with solid brass cage), CD (with stamping cage), spherical roller bearing with high load. E -- high load cylindrical roller bearing. H - thrust roller bearing high load. J - tapered roller bearings of the outer raceway, the small end diameter, angle, outer ring width is consistent with the provisions of ISO. (2) material G - ring, rolling body is carburizing steel. H - ring, roll for stainless steel. (3) holder M - copper alloy solid cage. T - synthetic resin cage. W - press holder. V - no cage. (4) sealing ring, dust cover Z, ZS - one side with steel plate dust cover. ZZ, ZZS -- dust cover for two side steel plate. D, DU - one side contact rubber ring. DD, DDU -- two faced contact rubber ring. V - one with a non-contact rubber ring. VV -- two side non-contact rubber sealing ring. (5) ring shape K - taper hole, taper 1:12. K30 -- taper hole, taper 1:30. E - there is a notch or oil hole in the ring. E4 - oil tank with oil holes on the outer ring. N -- outside outer diameter band stop groove. NR -- outer ring, outer band, stop groove, stop ring.
Q:Is the nu240em cylindrical roller bearing split?

No, nu240em cylindrical roller bearings are integral.Bearing type: cylindrical roller bearingNew model: NU240EMOld model: 32240EHInternal diameter (mm):200Outside diameter (mm):360Width (mm):58
Q:Attention problems of cylindrical roller bearings

1. The installation of bearings must be carried out in a dry, clean environment. Before installation, the machined surface of the shaft and shell, the shoulder end, the groove and the joint surface shall be carefully inspected. All mating surfaces must be carefully cleaned and removed, and the cast surface must be clean. 2, before the installation of bearings, should be cleaned with gasoline or kerosene, dry after use, and ensure good lubrication, bearings generally grease lubrication, oil lubrication can also be used. Grease lubrication, grease, anti rust, extreme pressure and other excellent greases should be used. Grease filling capacity for bearings and bearing box volume of 30%-60%, should not be too much. Double row tapered roller bearing and water pump shaft bearing with sealing structure have been filled with grease, which can be used directly by users and can not be cleaned again. 3, bearing installation, must be applied equally in the circumference of ferrule end face pressure to press into the ring, and may not directly tap bearing end face to the top tool, so as not to damage the bearing. Small amount of interference in the case, at room temperature can be used to suppress sleeve bearing ring face, beating with a hammer sleeve, the sleeve will be pressed into the ring balance. If installed in large quantities, use hydraulic press. When pressing, the outer end surface of the outer ring and the outer shoulder of the shell face shall be ensured, and the inner ring end face is tightly pressed with the shoulder end of the shaft platform, and no gap is allowed.
Q:For bearing type, no outer ring single row cylindrical roller bearings, bore 40, thickness 21, roller diameter 8, roller length 12

Specific circumstances need to be further confirmed with your drawings.Reminder: please buy the product specifications and product quality guarantee, so as not to buy fake and inferior bearing products.Handmade, thank you for your adoption, and if you have any questions, please continue to ask.
Q:Why should the main shaft be coupled with double row cylindrical roller bearings?

Because double row cylindrical roller bearings with high carrying capacity, high precision, separation, easy installation and disassembly, mainly used in lathes, milling machines, machining centers and other high-precision machine tool spindle. Hope to be of help to you.
Q:what does that mean? Please enlighten master, thank you.

Cylindrical roller bearingN216E stands for the bearing retainer as a steel cageN216EM stands for the bearing holder as brass holderThe material of the cage is different (the structure that holds the roller in it for a long time)
1. Manufacturer Overview

Location
Year Established
Annual Output Value
Main Markets
Company Certifications
2. Manufacturer Certificates

a) Certification Name
Range
Reference
Validity Period
3. Manufacturer Capability

a)Trade Capacity
Nearest Port
Export Percentage
No.of Employees in Trade Department
Language Spoken:
b)Factory Information
Factory Size:
No. of Production Lines
Contract Manufacturing
Product Price Range