The tile is made by high-density fiberglass with compound decoration wool on the surface and fiberglass wool on the back .The edges are painted. With the characteristics of square in edges and angle,it will be parallel to suspension system after installation.
Product Applications:
office building, commercial facilities,
shopping mall, Airport and school,Halls etc.
Product Advantages:
1)Incombustibility/Non-flammability: Consmos Calcium silicate board is non-flammable and conforms to the national grade A standard (GB8624 Grade A) with excellent fire resistance property. In case of fire, the board will not burn and not give off toxic smoke.

(2)Thermal/heat insulation: Owing to low heat conductivity, the product has good performances on keeping warm and heat insulation.

(3)Water-proofing and moistureproof: The product is allowed to long-term exposure to moist environment but still very stable. The board still keeps intact after being soaked in water for one month, the phenomenon of swelling and out of shape will not happen. It has good adjusting mechanics like woods. Even it is used on wash house.

(4)Endurance/durability: Consmos Calcium silicate board provides good insulation against bugs, fungus and corrosion. It can last for a long time and will not corrode.

(5)Noise-proofing: Consmos Calcium silicate board provides good insulation against noise.

(6)High-Strength and Light weight: The board is light weight, in this case, it can decrease weight of building greatly. At the same time, the material is high-stength and not easy to be damaged.
Main Product Features:
1) Use fiberglass wool as raw material
2) Good photopathy, noise and thermal insulation, fire resistance, easy to install and maintenance
3) Widely used in the places with special requirements to light
4) Edges: square, tegular, concealed
5) NRC: 0.8 - 1.0
6) Level of fireproofing:A2
Raw material: level A (incombustible class)
b) Surface: A2 flame( resistant class)
7) Coefficient of heat preservation: 0.046W / (M.K)
8) Radioactive species limitation: None
Product Specifications: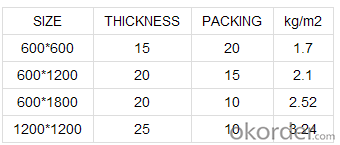 FAQ:
1)Q:Are you a factory or trading company?
A: We are a factory.
2)Q: I am interested in the products but I do not have experience
A: Tell us your budget and target market and we will give you professional advice of exact kinds and quantity.
3)Q: How can I get some samples?
A: We are honored to offer you samples.
4)Q:How does your factory do regarding quality control?
A: Quality is priority, we always attach great importance to quality controlling from every worker to
the very end.
Images: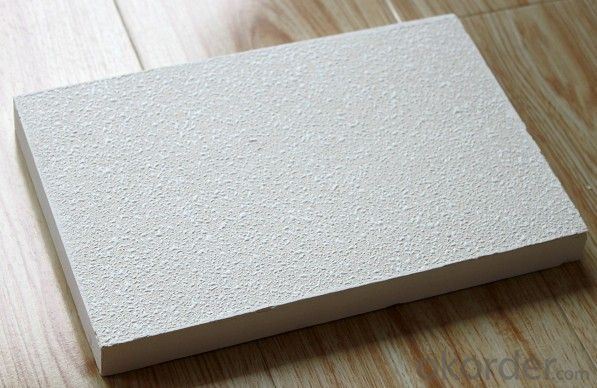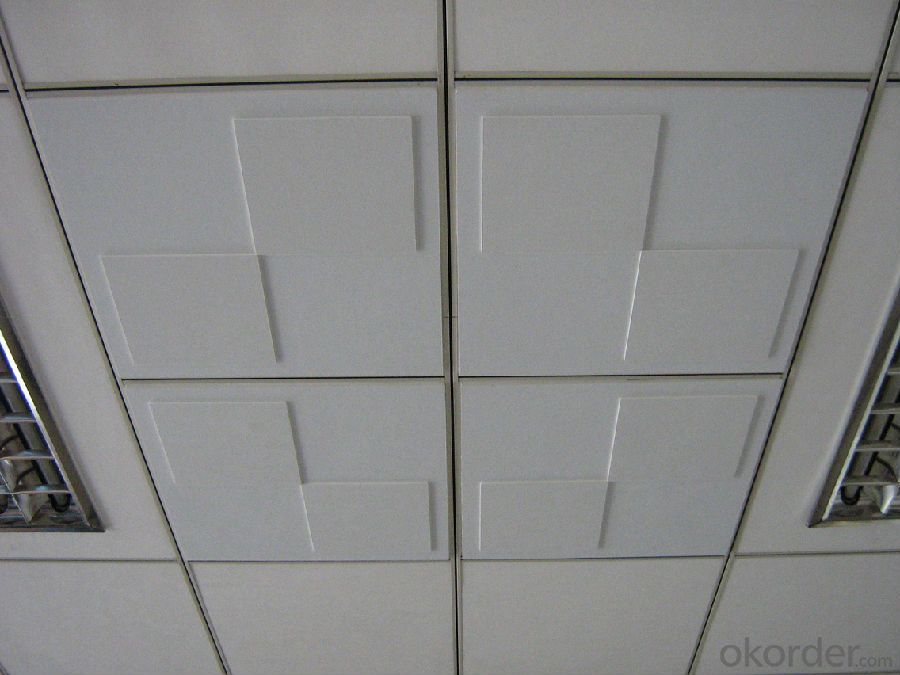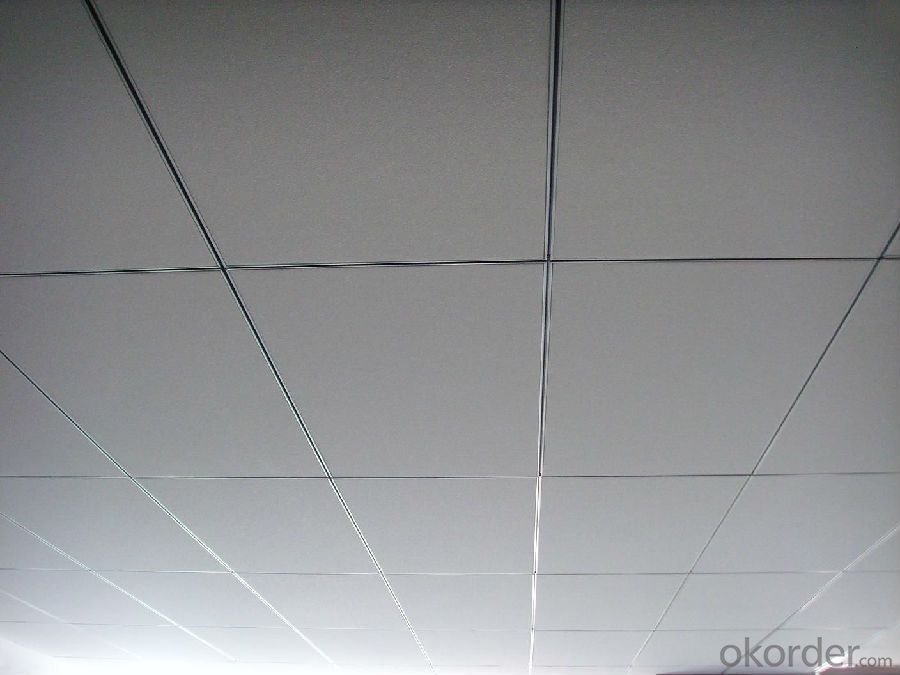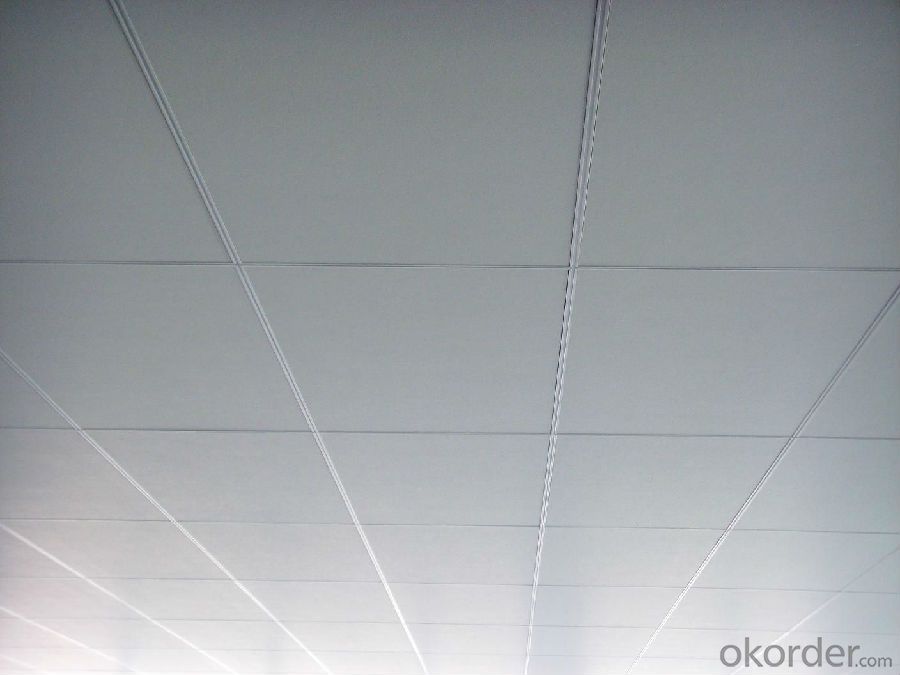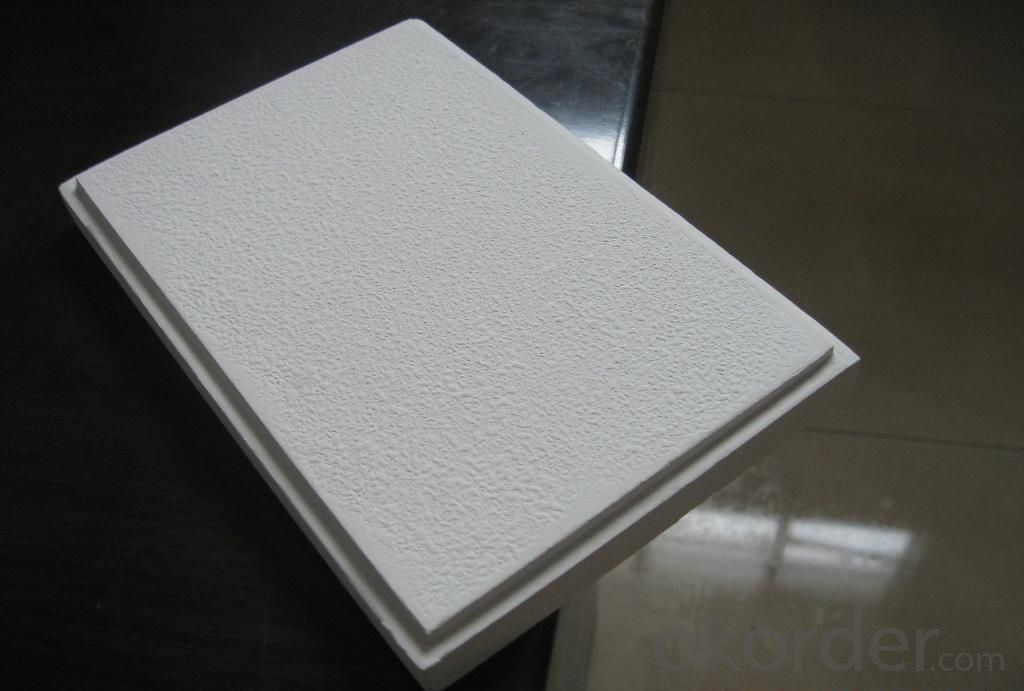 Q:Magnesium chloride crystal structure and detailed solution

From the magnesium chloride crystals 4.06 g 1.9 g anhydrous magnesium chloride, the mass of the crystal water in the magnesium chloride crystals was 4.06 g-1.9 g = 2.16 g 2.16 ÷ 18 = 0.12 mol The amount of MgCl2 was 0.02 mol. It was found that 0.12 ÷ 0.02 = 6 Magnesium chloride crystals in the crystal water is 6 times the amount of Mgcl2 so n = 6 Chemical formula for Mgcl2 · 6H2O
Q:You would have chosen to join the huts?

Wooden houses in Europe and the United States is very popular, especially in North America, wood structure building system since 1830 has dominated. Each year, more than 90% of the new 1.5 million to 2 million houses in North America use wooden structural systems. Which lasted for centuries, the wooden structure of the building with its a series of superior characteristics, so that residents living in North America enjoy the world's highest standards of housing.
Q:If you were a single woman with no man around, how would you fix a hole in the ceiling from water damage? And the roof? On a budget. Is this possible for a small woman to do this job by herself? Can someone give me step by step instructions? Photo of the damage attatched.

First take a ruler and pencil, make a square out line. try and find the studs and ONLY cut to the middle of the studs with a Razor Knife, You will need something to screw the new peace of sheet rock on to, so don't go over the stud. Once you get old peace down, you will more than likely have to do some repair to your plumbing or ceiling, as this is leaking somewhere. Look up Youtube for further instructions. Other person above has a good idea on joint compound.
Q:I have hanged the drywalls on both the ceiling and walls. My questions is how should I tape the joints between the ceiling and walls? Should I use a regular paper tape, a fiberglass mesh or a paper corner bead (inside corner)?

On a full sheet, the factory edge is dished down for taping. When to factory edges are stacked together, or nailed one along the other, use mesh tape, this is a freebie. Fill it up with a 5-6 knife and wipe off excess with 9 or 12 . On the long side of a full sheet this edge is not tapered and is called the butt end. Two sheets nailed together is the butt ends. This is optional. Mesh is easier, paper tape is better. Corners take paper tape. Spread a coat of mud with either a flat knife to both sides or use a inside corner trowell that does both sides. Crease tape into 90 angle. Lightly slide into corner, hold with left hand, and strech an place lightly with the other. Take your corner trowell and run over paper tape lightly spreading out mud, and tape. If there are any blister areas, you didn't get enough mud on the wall. Lightly lift tape and mush some more mud under the tape. Resmooth out the mess the best you can. On corner bead, nail evenly from center up and center down with opposing nails. Cover these with a coat of mud with a 6 knife and pretend like you know what you're doing and have a little fun.The drywall god's wisdom is this. After the first coat has completely dried(overnight) do not sand. Take you knife and knock off high chuncks and spread another coat. After it has dried completely, knife again and put on your last coat. You should be looking good by now. Then you can lightly sand. Don't bother with a sponge if you want a truely good job, because they follow the contour of what's there. Lightly sand and it should come out puss.
Q:Waterproof acceptance how to accept kitchen and toilet waterproof is done?

That white is off the water test is like to give you a basin, so you see it leak leak, is not broken, you have to go inside the basin with water inspection, but should pay attention to the length of the test, some things are not all of a sudden Can be seen, such as the house of leakage
Q:My neighbor told me that there is no attic space in the main bedroom. It is a 2 story house, but the master bedroom is the ONLY room that is significantly hotter than the other 2 rooms. Is it possible to put some sort of insulation over the existing ceiling and then drywall over it? Or....??????

yes it's called blown insulation,you can get it at lowe's and they will even rent you an insulation blower
Q:Is there any decoration material that can replace the glass on the sliding door?

In general, now pay attention to environmental protection Environmental materials are more rest assured that the general home decoration materials can be divided into wall materials, ground materials, decorative lines, the top materials and fasteners, connectors and adhesives and other five categories
Q:How to decorate the living room

Color and light - the layout of color and lighting is the main means of reflecting the artistic aesthetic and personality of the master. Color, should be the overall tone to be unified, do not use too much color, or will make the whole space is very messy. Note that the color decoration with soft decoration, which will produce your unexpected effect. Daytime living room to natural light-based, as far as possible to the natural light into the room; evening to artificial lighting, including decorative chandelier lighting, ceiling lamps, embedded lights and walls, such as mixed lighting, but to ensure that the room is bright Is still the first choice of lamps and lanterns, and then through the light to increase the level of space, contrast atmosphere.
Q:My house has not been renovated, according to the upstairs that he bought the best waterproof glue, do a number of waterproof treatment, try to see the water did not see a leak, told me to be assured! What is the possibility of future leakage? Thank you

First of all you have to make sure he did not? You'd better go down yourself and try to pour down! Bathroom sloppy, is often a place to have water! You'd better use the first cement to do it again, and then do a good job in Germany Dika waterproof again!
Q:Ceiling for light steel keel face coated gypsum board coated with white latex paint.

Use professional moisture-proof ceilings, such as Saint-Gobain. Jieke's moisture-proof gypsum board, or fiberglass ceilings.
1. Manufacturer Overview

Location
Year Established
Annual Output Value
Main Markets
Company Certifications
2. Manufacturer Certificates

a) Certification Name
Range
Reference
Validity Period
3. Manufacturer Capability

a)Trade Capacity
Nearest Port
Export Percentage
No.of Employees in Trade Department
Language Spoken:
b)Factory Information
Factory Size:
No. of Production Lines
Contract Manufacturing
Product Price Range
Hot Searches
Related keywords