Hot Sale PVC Gypsum Board Suspended Ceiling
Loading Port:

Tianjin
Payment Terms:

TT OR LC
Min Order Qty:

10000 m²
Supply Capability:

300000 m²/month
OKorder Service Pledge
Quality Product
Order Online Tracking
Timely Delivery
OKorder Financial Service
Credit Rating
Credit Services
Credit Purchasing
---
Add to My Favorites
---
1.Brief Description
The PVC gypsum ceilings are a combination of plaster board produced from high
quality natural gypsum which is free of any harmful substances, selected anti
static PVC/Vinyl facing and aluminum PET foil and excellent kind of glue plaster.
The product is available in various attractive designs suitable for different applications and usages.
It is widely used in areas such as offices, schools, shopping malls, Restaurants, hospitals and Laboratories, etc.
Material: Gypsum Board, non asbestos, sulfate free

Surface: High quality PVC/Vinyl

Backside: High quality aluminized PET foil

Edges: Square

Weight /cbm: 780kgs/m3

Tolerance: Length: ± 1.0mm, Width: ± 1.0mm,

Thickness: ± 0.5mm

NRC: 0.1 - 0.3

Light reflection: 0.75

Standards: Gypsum boards are manufactured according to EN-520, ASTM C1396, E84 and E96

Humidity resistance: up to 95% relative
3.Image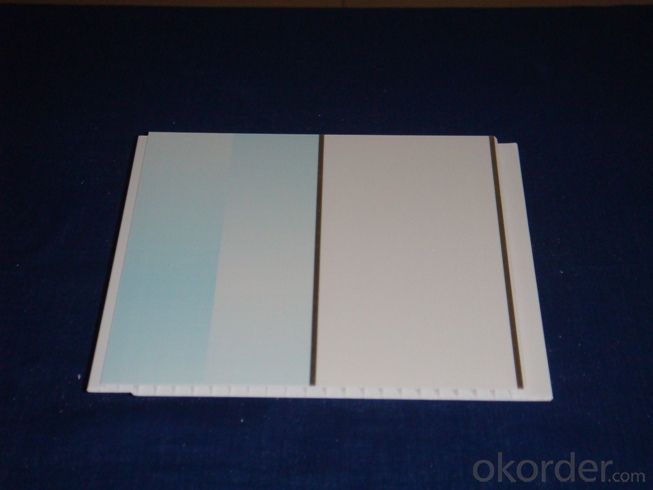 4.Detailed Specification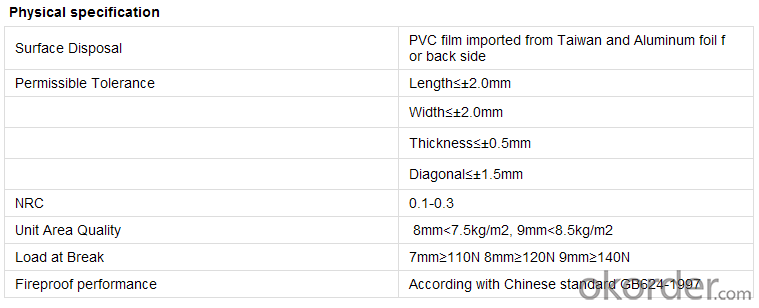 5.FAQ
Applications
Fireproof and waterproof

Dustproof and moth-resistant

Thermal insulation

Environmental and healthy

Plentiful and fashionable surfaces

Easy Installation and easy to clean
Q:PVC board paint blistering

Due to the high temperature of the bubble. 1, the product is ready to be placed after cooling for two to three days, not sun exposure or baking at high temperatures. 2, blistering, paint is a common common defects. Which is sometimes dry, sometimes liquid. Foaming is large and small, shape hemispherical. The size is usually related to the strength of the adhesion of the substrate, or the bond strength between the coatings, and the pressure within the bubble or blister 3, if the bubble continues to the substrate: should find ways to eliminate the source of moisture, repair loose caulking glue, consider installing the exhaust fan, remove the bubbles. If the bubble does not extend to the substrate: the bubbles should be scraped off, and then polished, any must be on the primer, and finally re-coating high-quality paint.
Q:Pvc board ceiling how much manual

Look at how big your squares are ordinary people and you will not be square
Q:My kitchen is equipped with red walnut hanging door, ask the cabinet with what color better

White hard to clean, so by the mix and match, the cabinet green, the management of Taiwan's counterfeit, disinfection cabinet red, in short, colorful.
Q:Who knows transparent PVC board 1.2 mm thick per square?

Long ride width is the square, the thickness of different prices different
Q:Bathroom cabinet pvc plate is solid wood particles board it

PVC board is a plastic plate, not a solid wood board
Q:PVC board and PVC pipe with the machine is the same?

Extrusion equipment is almost the same, the difference lies in the die forming mold.
Q:Pvc transparent board is building materials?

Branch Po PVC transparent board: the product is the introduction of foreign advanced technology, the use of advanced imports of raw and auxiliary materials produced by a high-strength, high transparent plastic sheet. The product is high strength, high transparency, good weather resistance, non-toxic, health, physical properties better than plexiglass. Widely used in equipment protection board, interior, drinking water tank, liquid level display. Product color: white, sapphire blue, brown, brown and so on Product thickness: 2-20mm Maximum width of products: 1300mm Product Length: 100-10000mm Recommended Specifications: 1300 × 2000mm
Q:Engaged in the wedding industry, want to wedding photos (generally 60cm * 90cm or so) of the backplane into a polymer material, and now the backplane is generally made of wood, with crystal to seal the photos on the board, do not know PC board, PP board, PE board, PVC board, ABS board, etc., for which polymer material is good, mainly can not bend, not easy to deformation, hardness slightly higher, as well as consider the cost, which board is more suitable? Seeking

Your idea is good. Use 2-3mm unexpended PVC board is the best, both environmentally friendly, and low cost. The other is very expensive, and PE, PP board is also soft, non-flammable. Of course, more expensive than wood
Q:PVC also fire it

Wear resistance Water resistance High temperature resistance The paint board is generally good Mirror resin board is generally good Three hydrogen ammonia board is generally good Good fire board bad Blister is good and bad
Q:I have an old house and recent found a spot on my ceiling where there is a watermark. upon prodding through i see that the spot where the large cast iron drainage pipe that runs to the basement that connects to the 6 PVC bathroom drainage pipe upstairs has developed a small leak. There is a small spot where this white stuff (looks old) has chipped off and that is where the leak is coming from. Nothing major, but still a drip....drip....drip...enough to ruin the drywall, and enough to be fixed. I need to know what kind of material (pvc cement, caulk, etc) i would use to seal up that joint, as ripping it all out isnt an option. Something that preferrably would set when its wet (if possible) as it seems to be nonstop dripping.thanks for the help!

bang of all the loose stuff around the hole the squeze some silicone caulk into it and then cover a large area of the pipe with JB Weld (a two part epoxy found at harware store) Nothing lasts forever Save up some money and get a plumber where there is a will there is a way
1. Manufacturer Overview

Location
Year Established
Annual Output Value
Main Markets
Company Certifications
2. Manufacturer Certificates

a) Certification Name
Range
Reference
Validity Period
3. Manufacturer Capability

a)Trade Capacity
Nearest Port
Export Percentage
No.of Employees in Trade Department
Language Spoken:
b)Factory Information
Factory Size:
No. of Production Lines
Contract Manufacturing
Product Price Range