| | |
| --- | --- |
| Net weight | 50g/m2--300g/m2 |
| Net width | 1m, 2m, 4m or by requirements. |
| Rolls Lengths | 10m, 50m, 100m or by requirements. |
| Shade rate | 30%-80% |
| Colours | Green,Black ,Dark green ,Yellow,gray,Blue and white or by requirements. |
| Material | 100% new material (HDPE ) |
| Using life | Minimum life length: 2-3years, under normal weather conditions and use. |
| Type | Warp knitted |
| Delivery time | 25-35 days after deposite |
| Export market | South America,Japan, the Middle East ,Europe , markets. |
| Min order | 4 ton/tons |
| Terms of Payment | T/T, L/C |
| Supply capacity | 300 ton/tons per month |
| Packing | Rolls on cardboard tubes & wrapped in plastic with color label (or any customized) |
Usages of Green Construction UV-resistant Building Scaffold Safety Net
:
v Construction: Scaffolding Netting is a lightweight HDPE debris netting,is used to circle the building site,in
order to protect the construction material or workers and pedestrians walking near the base of a scaffolding structure.
v Horticultural: can be used for flowers ,fruit trees in greenhouse or greenhouse covering or outdoors.
v Animals feeding and protect : can used for temporary fencing feed lots,chincken farms,etc.or protect plant against wild animals.
v Public areas: provide a temporary fencing for children's playgroud,as a shade sail parking lots,swimming pools,beaches atc.
Our Advantages of Green Construction UV-resistant Building Scaffold Safety Net
:
1.We are professional manufactuer with many years of experiences.
2.We have advanced facilities for production, most of the products are welded by automatic machine.
3.We have many years of export experiences, our friendly and professional sales team can offer favourable services.
4.We have strong after service that can give best solution for your projects.
5. We can arrange car pickup or hotel booking whenever you want to visit our factory.
Pictures of Green Construction UV-resistant Building Scaffold Safety Net: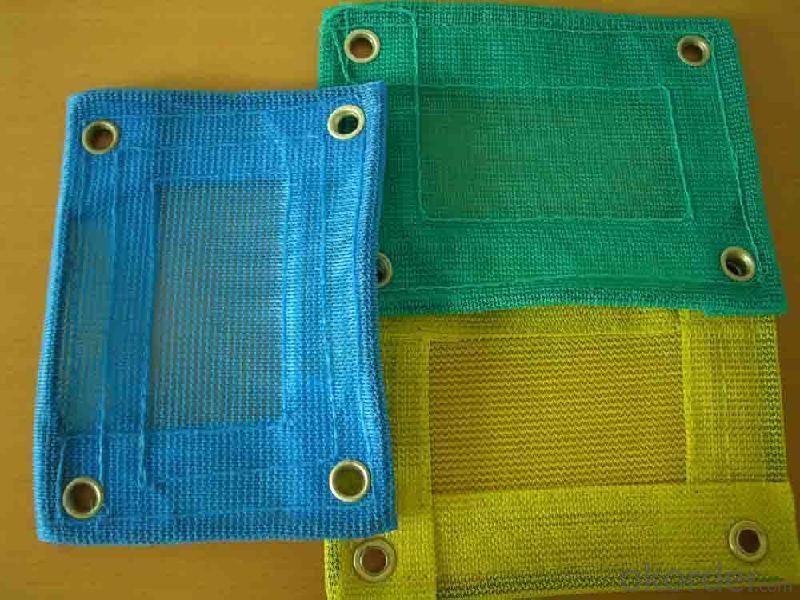 FAQ ofGreen Construction UV-resistant Building Scaffold Safety Net:
1.which products you produce?
shade net .shade sail. safety net. fence screen /wind screen net .balcony net. olive net . anti-bird net. anti-hail net. anti-animal net. anti-insect net. aluminum shhade net. bale net wrap. tree tie. ground cover/weed mat. fishing net.
2.how many years guaratee about your products?
Using 100% virgin HDPE adding UV,which can extend age of the nets for 3-10years.
3.Can you supply a sample?
Yes, we can .
4.what's the payment?
Usually we accept T/T, we also accept L/C.
5.Why we choose your products?
Our price is more competitive, we are not trading company, we are directly production factory, welcome to visit our fctory.
Q:

Plastic nets are commonly used in agriculture for various purposes such as crop protection, shade provision, and support for climbing plants. They are used to create physical barriers to protect crops from pests, birds, or harsh weather conditions. Plastic nets also provide shade to delicate plants, preventing them from sunburn or excessive heat. Additionally, they are employed as trellises or support systems for climbing plants like tomatoes, cucumbers, or beans, aiding their growth and maximizing space utilization.
Q:

No, plastic nets are not suitable for use in cricket pitches. Traditional cricket pitches are made of natural materials like grass, which provide the necessary bounce and grip for the game. Plastic nets would not offer the same level of performance and would likely impact the gameplay negatively.
Q:

Yes, plastic nets are commonly used in the packaging of household products. They provide a protective barrier and help secure the items within the packaging, preventing damage during transportation and handling.
Q:

There are several different types of plastic nets available, including safety nets, agricultural nets, fishing nets, and packaging nets.
Q:

Plastic nets can take several hundred years, or even more, to decompose in the environment.
Q:

Yes, plastic nets can have an impact on water flow. They act as physical barriers that can impede the movement of water, causing it to slow down or accumulate in certain areas. This can lead to changes in the natural flow patterns of rivers, streams, or other water bodies, potentially affecting the ecosystem and the organisms that rely on those flows. Additionally, plastic nets can trap debris and sediment, further altering water flow and potentially causing issues such as flooding or erosion.
Q:

Yes, plastic nets are suitable for marine applications. They are commonly used in various marine industries, such as fishing, aquaculture, and oceanographic research. Plastic nets offer advantages like durability, resistance to corrosion, and low maintenance, making them a practical choice for marine environments. Additionally, they can be designed to have specific mesh sizes and strengths, ensuring their effectiveness in different marine applications.
Q:

Plastic nets act as a physical barrier that prevents birds from landing or roosting in unwanted areas, such as rooftops, balconies, or garden spaces. The nets create an uncomfortable and unstable surface for birds, discouraging them from settling in these locations. Additionally, the nets can be installed in a way that covers larger areas, making it difficult for birds to find suitable perching spots. Overall, plastic nets serve as an effective and humane deterrent to prevent bird roosting in areas where their presence may cause damage or inconvenience.
Q:

Plastic nets help in protecting seedlings by providing a physical barrier against pests and animals, preventing them from feeding on or damaging the delicate young plants. Additionally, these nets can also shield seedlings from harsh weather conditions such as strong winds or heavy rainfall, reducing the risk of damage or uprooting.
Q:

Yes, plastic nets can be used for packaging purposes. They are commonly used for packaging fruits, vegetables, and other perishable items as they allow for air circulation and prevent spoilage. Plastic nets also provide protection and visibility for the product, making them suitable for packaging various items.
1. Manufacturer Overview

Location
Year Established
Annual Output Value
Main Markets
Company Certifications
2. Manufacturer Certificates

a) Certification Name
Range
Reference
Validity Period
3. Manufacturer Capability

a)Trade Capacity
Nearest Port
Export Percentage
No.of Employees in Trade Department
Language Spoken:
b)Factory Information
Factory Size:
No. of Production Lines
Contract Manufacturing
Product Price Range