Fire Blanket 100% Fiberglass/Silicone coated
Loading Port:

Shanghai
Payment Terms:

TT OR LC
Min Order Qty:

10 m²
Supply Capability:

100000 m²/month
Inquire Now
Customer Service
OKorder Service Pledge
Quality Product
Order Online Tracking
Timely Delivery
OKorder Financial Service
Credit Rating
Credit Services
Credit Purchasing
---
Add to My Favorites
---
Fire Blanket 100% Fiberglass/Silicone coated
Fire Blanket Introduction
Fire Blanket a simple initial fire extinguishing tools equipped on the enterprise, store, ship, automobile, civil buildings.especially suitable for the family kitchen, hotel, entertainment, gas stations and some other places which may catch fire, fire blanket are used to prevent fire from spreading and protect people to escape.
Descriptions:
The Fiberglass through special processing, smooth soft tight as silks and do not stimulate the skin, main specifications are: 1.0 m * 1.0 m;1.1 m * 1.1m;1.2 m * 1.2 m;1.2 m * 1.8 m;1.8 m * 1.8 m; it's one of the most ideal and effective outer protective layer for body/goods which must be away from heat source, and easy to package objects with uneven surface, it can be reused if no damage on surface.
Main Products of Us
>Model:CW400 100% fiberglass material (cheapest one)
Specfications:1*1M/1.2*1.2M/1.2*1.8M/1.8*1.8M
TUV certificated,Conforms to EN1869:1997
>Model:CS09 Silicone coated fiberglass
Specfications:1*1M/1.1*1.1M/1.2*1.2M/1.2*1.8M/1.8*1.8M
TUV certificated,Conforms to EN1869:1997
>Model CS06 Silicone coated fiberglass?(top quality)
Specfications:1*1M/1.2*1.2M/1.2*1.8M?
BSI certificated,Conforms to EN1869:1997
Package:
.Red fabric bag
.Red PVC bag
.Red PVC case
.Red PP case.
Product Show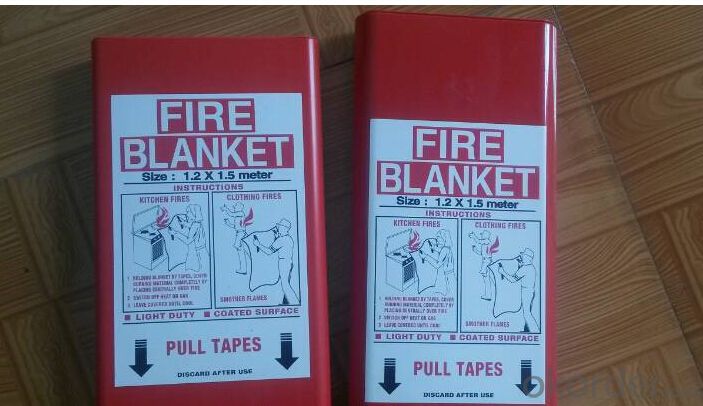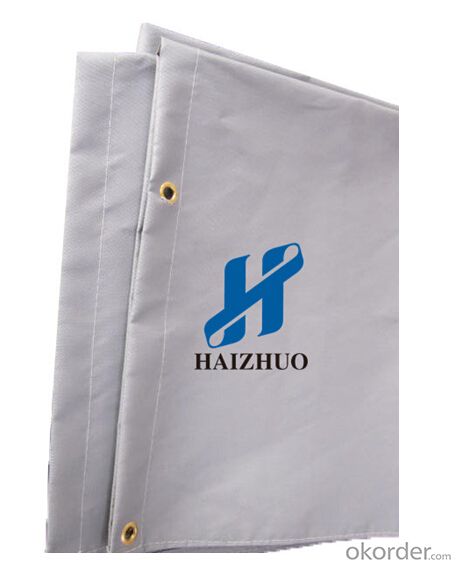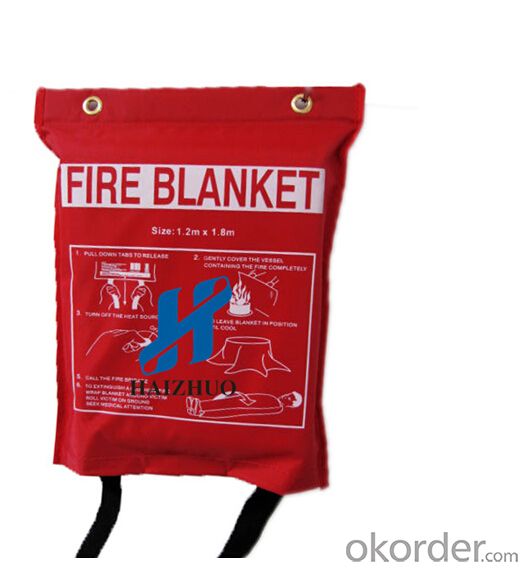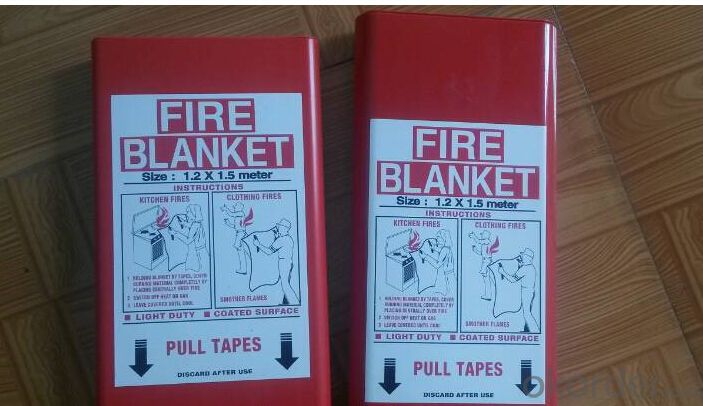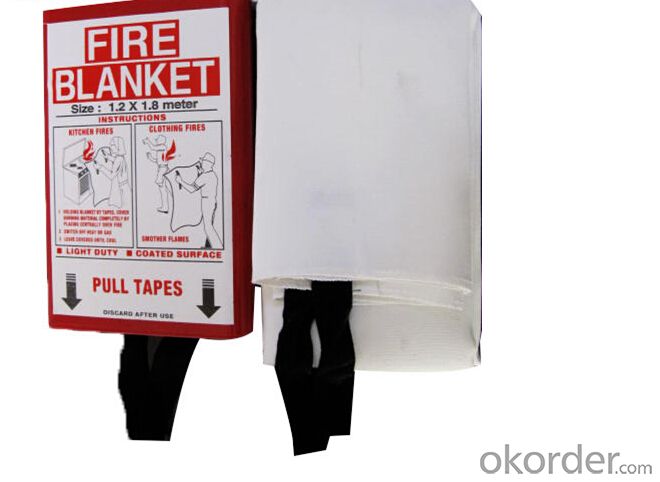 Features of Fire Blanket
Cause the fire blanket is a very soft texture of fire protection equipment, initial stage in case of fire, can with the fastest speed oxygen insulation fire extinguishing, control the spread of the disaster, also can be a timely escape with protective items, as long as a blanket around the entire body, the blanket has the property of fire prevention, heat insulation, the human body can be protected well when escape..
This product is portable, simple configuration, quick to use, and is a green environmental protection, pollution-free products, is the best choice for fire prevention.
How to Use
1, place the fire blanket in emergency package or fixed in gate sidewall wall or the wall of the kitchen to take!
2, when there is a fire, take out fire blanket quickly, holding the two black belt.
3, open fire blanket gently shake, as a shield in hand.
4, put the fire blanket gently on the fire, at the same time to cut off the electricity or gas.
5, fire blanket coverage in the burning object, and take active extinguishing measures until completely extinguished fire object.
6, stay on fire extinguishing object, and the fire blanket after cooling, the blanket into a ball, as no combustible garbage disposal.
7, if a man on fire, fluff out the blanket, totally encased in fire people,put out the fire, and quickly call the emergency telephone.
Q:I have a quilt my mom made for when I was a baby and she didn't use batting, but used regular fabric (making it very light). I'm making a baby quilt for my soon-to-be-born baby and I would like it to be like the one my mom made in the fact that she used fabric instead of batting but I need to know what fabric I should use. For the one I'm making, the top is 100% Cotton and the bottom is flannel/cotton. Can or should it be 100% cotton? Any suggestions will be helpful. Thank you.

100% woven cotton isn't too good for cuddling up to. You need a fabric that is soft. Polar fleece is big right now. And warm-not good for summer time. Check out fabric in the nursery section. Flannel is great, but make sure it is fire resistance. Take a sample of fabric and hold a match near it- cotton can go POOF up in flames. Make sure you pre wash all the fabric before you cut and sew. Especially if you are using cotton.
Q:Looking for a flat retractible or reel hose made from hard plastic? Saw a fellow contractor have one not the best pressure but was quick and easy to store in between jobs, I need something that will hold up

If a black hole could exist it would be a 2 solar mass sphere about 3 km in diameters with a surface gravity such that the surface escape velocity would be greater than the speed of light. Since nothing could escape the surface it would be invisible. It would act like any other celestial body of 2 solar masses and could actually have a bevy of planets orbiting it.
Q:I asked this question, but I have some more information. Its a sheet of rubber. That you can cut out what size or shape you need and than place it where you want to. Like under something that is shaking.Its not electric tape. Its maybe 1/8 of an inch thick. Or close to there. Its like a seal. Or it is a seal. You use it to seal things. I know this question is not clear at all, but please throw anything that I might find useful. Maybe some kinds of tapes and other things.

Laser light is just part of normal light. A single frequency of the visible spectrum. So with it being in the visible spectrum, we see it as whatever colour is produced by the frequency of light stimulated by the laser generator. Different frequencies give different colours.
Q:i bought fittings from Home Depot. The short nipples kept leaking from a T that i bought. I wrapped the threads 3 times around with teflon tape. Could i have overtightened it? i tightened it more after i saw the leak, but it still leaked just as much. any advice on how much teflon and how much to tighten them? Or maybe the fittings were defective? should i use pipe dope or something?

The CO2 inside the bottle is stored in a liquid form (like the LPG Cylinder at home) and when it is being propelled from the hose it is deliberately turned into a gaseous form, so one must realize that how could one single pressure guage indicate the pressure, volume and temperature of both the liquid and gas in terms of exothermic reaction.
Q:i put my electric blanket under the sheet that is directly on my matress and i heard somewhere that it could easily start a fire is this true?

Any bike with 50cc or more is (legally anyway) a bike, however regardless of engine displacement, you can be killed on any two wheeled auto be it a Vespa, Honda, Harley, or Schwinn. Possibly you consider that you are not in a position for the Honda CB350s and simply have not made that connection in your head but. My opinion is don't let fear restrict your choices. Take a motorcycle protection type and then that you could make a greater determination of what to trip. If it is only a displacement factor and you have already recounted that you like Vespas verify out the Vespa GTS 250. Honda and Yamaha even have 250cc scooters. If 250cc aren't ample, there are larger displacement scooters on the market as good. Yamaha Majesty four hundred Honda Silverwing 600 Suzuki Burgman 650 i exploit a Honda Reflex scooter to trip to work. Is the Reflex better or cooler then the above bikes? I do not know, however the Reflex is my option of scooter, and i'm joyful with that option. It's my hope that you are going to be as completely happy with the bike you decide upon to journey as i'm with the one I decide on to journey. Experience reliable
Q:Rifle protection armor questions.?

The tank does not have to be near the house, especially if you are on a large lot with plenty of room. Our tank is 60 feet from the house. Try to locate the original owner of the house, or ask the neighbors if any of them remember where the tank was placed. The septic tank may be located by probing with a metal rod, following the pipeline from the house or by listening to the noise a plumber's snake makes when it contacts the tank inlet. Care must be utilized during the probing as it may damage the inlet tees or piping. Making a water probe may be a great help locating a septic tank. We use them all the time. Get a ? X 6' galvanized water pipe, threaded on one end. Purchase a pipe to hose fitting and hook up to your garden hose. Turn the water on and sink the probe into the ground. The water will do the digging. Set up a grid pattern and probe every foot or two until you find the tank. Legally, septic tanks can be no closer than 5' from the house, so begin 6-7' from the house. The top of a concrete septic tank is about 5'x 8' and is usually 2-4' beneath the surface. Typically, the septic tank is in the front yard. I said TYPICALLY, so don't be surprised if the systems in the rear yard or under a patio slab, etc. We've seen um everywhere. If you smell the problem, this probably indicates the leach field beyond the septic tank is probably saturated also. It might need replacement.
Q:I have some of that glue stuff and a saw. There is no pipes shown on the plans I have.

A organic gas furnace is the approach for heating the homestead because of the fact that's properly exhausted and appropriate ventilated to get finished burn out of your gasoline so as that carbon monoxide isn't created. An oven would have an inclination to apply up oxygen interior the room and if there's no longer a stable flow of unpolluted air that's going to kind carbon monoxide. As a precaution examine with the enterprise of organic gas and get his opinion. you're able to detect a adventure.
Q:Next week they have to dace a speed bump do you think they will be gone?

I recommend NOT to use rubber as it can leave scuff marks - also never nail a pad to a heavy chair as inevitably the nailhead will find a way to scratch the floor. My tried and true (and cheap) way, is to cut small pieces of carpet and slip one of these under each 'foot' of the furniture (but underfelt might do - I like the strength of the carpet to withstand the work it has to do over long times) Yhe carpet can be cut to exactly match the 'footprint' and thus be invisible to the eye in effect - or you may cut neat shapes that you are happy to notice (small squares or stars). I use these on any floor - including over carpet - as it saves the carpet or vinyl from the indentations from heavy furniture. lastly - you can use a good contact adhesive applied to the back of carpeting - and to the 'foot' of the furniture (wait till it goes tacky then press together) if you want to make pads to fit the foot - the carpet surface goes down, to slide easily on timber floors, and the 'patch' is cut to exactly fit the foot so you don't see the ugly backing weave side.
Q:Using either one of the following methods, how do these objects work when putting out a fire?Removing the fuel - a fuel is anything that will burn.Removing the heat - throwing water onto the fire cools it down.Smothering the fire to cut the supply of air.Carbon dioxide extinguisher - how it is used: pointed and sprayed onto the fire forming an invisible blanket. - how it works: ?Fire blanket - how it is used: a non - flammable blanket is placed over the fire. How it works:?Water - how it is used: water is hosed onto the fire. How it works:?Sand - how it is used: sand is thrown onto the fire. How it works:?Thanks.
Q:We're wanting to go out camping tonight, but the temperatures are supposed to drop down to abut 27F just before sunrise (it's about 52F now at 4pm). Our sleeping bags are only rated for 40F, but could we add some extra blankets and keep the fire with some hot coals and sleep comfortably?

heck ya! take a comforter or 2 and use the other person for body warmth and wear some heavier pajamas and you will be fine. if you get too cold go sit near the fire for a bit and then go back to bed no worries
1. Manufacturer Overview

Location
Year Established
Annual Output Value
Main Markets
Company Certifications
2. Manufacturer Certificates

a) Certification Name
Range
Reference
Validity Period
3. Manufacturer Capability

a)Trade Capacity
Nearest Port
Export Percentage
No.of Employees in Trade Department
Language Spoken:
b)Factory Information
Factory Size:
No. of Production Lines
Contract Manufacturing
Product Price Range