E20 Emulsion E Glass Fiber Chopped Strand Mat
Loading Port:

Shanghai
Payment Terms:

TT or LC
Min Order Qty:

560 kg
Supply Capability:

10000000 kg/month
Inquire Now
Customer Service
OKorder Service Pledge
Quality Product
Order Online Tracking
Timely Delivery
OKorder Financial Service
Credit Rating
Credit Services
Credit Purchasing
---
Add to My Favorites
---
E20 Emulsion Chopped Strand Mat
E20 Emulsion Chopped Strand Mat is made of randomly distributed chopped E6 glass strands held together by an emulsion binder. E20 is suitable to reinforce unsaturated polyester, vinyl ester,epoxy and phenolic resins.
E20 is designed mainly for use in the hand lay-up process and also suitable for use in filament winding and continuous laminating processes. Its end-use applications include boats, bath equipment, automotive parts, chemical corrosion resistant pipes, tanks, cooling towers and building components.
Product Features:
◎ Good conformability.
◎ Good wet-through and fast wet-out in resins, rapid air lease, reducing rolling out time and increasing productivity.
◎ Low resin consumption.
◎ High mechanical strength of parts.
◎ Superior acid corrosion resistance.
Product Specifications:
| | | | | |
| --- | --- | --- | --- | --- |
| Property | Area Weight(g/m²) | Moisture Content(%) | Size Content(%) | Breakage Strength(N) |
| Methods | ISO 3374 | ISO 3344 | ISO 1887 | ISO 3342 |
| EMC225 | 225(1±6%) | ≤0.15 | 4.4(1±31%) | ≥80 |
| EMC300 | 300(1±6%) | ≤0.15 | 4.0(1±31%) | ≥100 |
| EMC375 | 375(1±6%) | ≤0.15 | 3.8(1±31%) | ≥120 |
| EMC450 | 450(1±6%) | ≤0.15 | 3.7(1±31%) | ≥140 |
| EMC600 | 600(1±6%) | ≤0.15 | 3.5(1±31%) | ≥160 |
| EMC900 | 900(1±6%) | ≤0.15 | 3.3(1±31%) | ≥200 |
Packaging:
Each Emulsion Chopped Strand Mat is wound onto a paper tube which has an inside diameter of 90mm. The roll outside diameter is approximately 265mm. Each roll is wrapped up in plastic film and then packed in a cardboard box. The rolls are stacked horizontally or vertically onto pallets. All pallets are stretch wrapped and strapped to maintain stability during transport.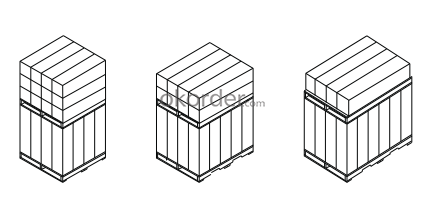 Storage:
Unless otherwise specified, the fiberglass products should be stored in a dry,cool and moisture-proof area. The fiberglass products should remain in their original package until prior to use. The room temperature and humidity should be always maintained at -10℃~35℃ and ≤80% respectively. It is best if the product is used within 6 months after production date.
Q:nan

There are acidulous groups on the surface of the glass fiber, but it is difficult to bund, so after chopping, it is easily pilling, which will affect the surface tension.
Q:nan

Leather, silicone, plating, red twill, the largest area can produce 1000mm * 500mm carbon fiber board (color carbon fiber board)
Q:nan

3) hand paste resin with low molecular weight; 2) glass fiber content can not be too high, carbon fiber, woven roving (cloth) etc.. Although the thick aramid fabric is difficult to be soaked with resin manually. (2) The raw material is unsaturated polyester resin; 2) It can be formed at room temperature. Operate the layer repeatly for several times. (3) the advantage 1) It is suitable for the production of a small amount of solvent. The mechanics and thermal properties are limited because of the high techinicals.
Q:nan

The strength of carbon fiber is higher than that of glass fiber. Carbon fiber is conductive, while glass fiber reinforced plastic is not.
Q:nan

Statin (similar to unidirectional cloth). It is different from the ordinary fabric, but also can be used in the production of glass fiber reinforced, three-dimensional woven fabrics and other forms of three-dimensional fabric. In certain applications will also further roving short cut, as well as for corrosion resistant occasions, which is generally used in glass mat. The shape of a solid fabric is massive. Alkali free glass fiber tape is commonly used in the manufacture of high strength, rectangular, unidirectional fabrics. Single warp fabric is a kind of coarse and fine warp weft four by breaking satin or long satin fabric, wet mechanical strength shall meet the requirements, greatly improves the shear strength of composites and resistance damage tolerance, and then use the barbed needle acupuncture. It is a continuous glass strand by throwing silk device randomly thrown in continuous mesh belt, such as winding, mould. The dumbbell shaped fabric, flat selvedge and weft density; the fabric made of laminated material to avoid the pollution of the process . The fiber in the continuous glass fiber felt is continuous. The most typical braid is a layer of warp and weft overlap together. Glass cloth is mainly used for producing all kinds of electric insulation laminate.
Q:nan

No static electricity, it uses special treating compound to draw raw silk by silanecoupling agent. It also suitable for glass steel injection molding process, and it is formed by multiple folded. With good choppability, it can be used to enhance the thermosetting resin,
Q:nan

5mm, 12mm, 3mm, 9mm.5mm, 6mm, 41, 24mm, etc.
Q:Plastic fiber content in how to detect, there are no professional instruments?

The high temperature burned the plastic part and the remaining ash was fiberglass. X light can also be used to produce the content depending on the spectrum of the light produced.
Q:nan

Glass fiber cloth and resin
Q:nan

At present, the world's carbon fiber production reached 40 thousand tons per year, the situation will not change a lot, In the past 20 years, 3K, Lombardy will exceed 5000 tons in 2010. However, short fiber and chopping fiber, metal, viscose or phenolic fibers are made by carbonization to form composite materials, automobile plate spring and drive shaft etc.. .
1. Manufacturer Overview

Location
Year Established
Annual Output Value
Main Markets
Company Certifications
2. Manufacturer Certificates

a) Certification Name
Range
Reference
Validity Period
3. Manufacturer Capability

a)Trade Capacity
Nearest Port
Export Percentage
No.of Employees in Trade Department
Language Spoken:
b)Factory Information
Factory Size:
No. of Production Lines
Contract Manufacturing
Product Price Range