Products Description
1.E glass woven roving 600gsm,1000mm width can be used for manufacturing all kinds of FRP products,which made by direct rovings in plain weave pattern.
2.Compatible with unsaturated polyester,vinylresin ,epoxy resin.

Characteristics
1.Consistent thickness and excellent surface treatment.
2. Rapid impregnating and good compatibility with resin.
3.Uniform tension,high dimensional stability and making handing easy.
4.Good mechanical properties and high strength of parts.
Technical Specification
TEST ITEM

STANDARD

STANDARD VALUE

AVERAGE VALUE

RESULT

AREA WEIGHT (G/M2)

ISO3374

600+/-5%

602

yes

WIDTH (MM)

ISO5025

1000±20MM

1000

YES

FABRICS COUNT

(ENDS/10CM)

WARP

ISO4602

25±2

25

yes

WEFT

ISO4602

25±2

24

YES

TENSILE STRENGTH(N/50CM)

WARP

ISO4606

≥4000

4015

yes

WEFT

ISO4606

≥4000

4015

YES

moisture CONTENT (%)

ISO3344

<=0.15

0.1

yes

WARP ROVING(TEX)

1200

1200

YES

WEFT ROVING(tex)

1200

1200

YES

LOSS ON IGNITION (%)

ISO1887

0.4-0.8

0.5

yes
FAQ
Package:Eech roll is packed by polyester bag,and then put into a cardboard box or plastic wowen bag.The weight of each roll is between 20 to 85 Kg, The rolls are to be horizontally placed and could be in bulk or on pallet.
Storage:Optimum storage conditions are between the temperature of 5~35℃ and with the humidity between 35%~65%.The product should be used within 12 months from the time of delivery and remain in theiroriginal packaging until just prior to use.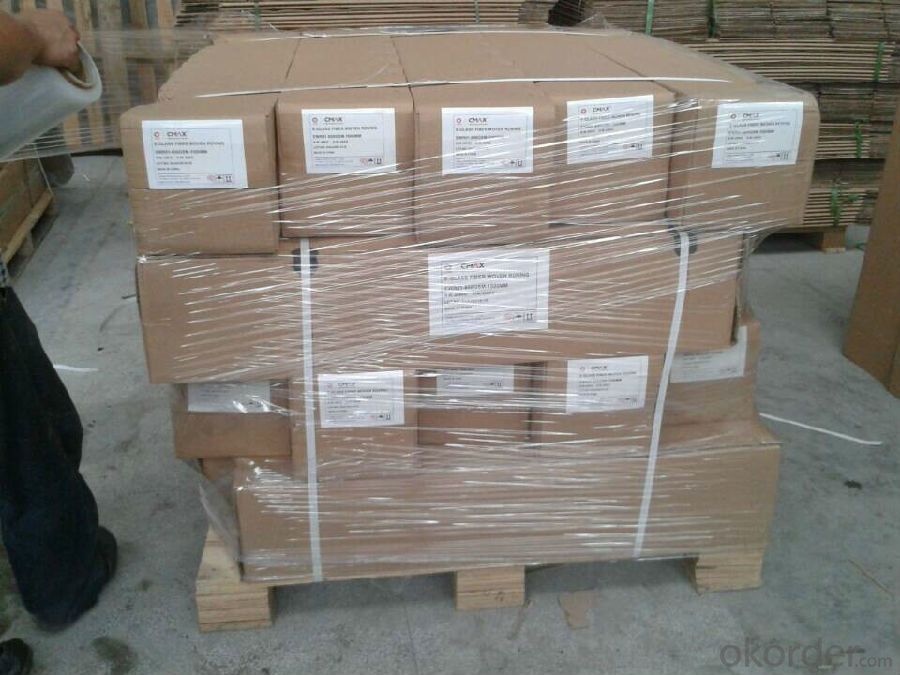 Q:nan

with strong ability in grinding). And when producing the asbestos shingle, there should be a progress of mixing the materials. The short fibercan be morceled by chopping machine or manually. The reason for short fiberis is avoid all fiber winding and fiber grinding (the main component of glass fiber is silica, and offal of glass fiber used for asbestos shingle. It is low cost, and do not need any special requirements. For the current market.
Q:nan

Opaque glass.
Q:nan

Polymethyl methacrylate Acrylic is also known as Acrylic and it is a combination of chemicals such as acrylic acid and methacrylic acid. It is often said that acrylic plate is polymethyl methacrylate (PMMA) plate which is combined by methyl methacrylate monomer.
Q:nan
Q:nan

If it is metal can, cleaning, descaling and brushing anticorrosion lacquer will be fine.
Q:What are the causes and methods of glass fiber surface treatment?

Heat - chemical treatment: first, the glass fiber textile products will be emulsified by paraffin wax and then be treated with surface treatment agent (mainly used for twisting textiles).
Q:Is glass steel a glass?

Reinforced plastics made from glass fiber or its products are referred to as glass fiber reinforced plastics or glass fiber reinforced plastics. Because of the different kinds of resins used, they are called polyester glass fiber reinforced plastics, epoxy glass fiber reinforced plastics and phenolic resin glass fiber reinforced plastics. Glass fiber reinforced plastics are transparent and opaque.
Q:nan

Aircraft runway.
Q:nan

Inorganic glass fiber reinforced plastic air pipe, according to the properties of the binding materials, can be divides into: Made of binding materials with glass fiber mesh cloth hydraulicity inorganic glass steel duct and made of cementitious materials and glass fiber mesh air hardening modified magnesium oxychloride cement duct with two types of modified magnesium oxychloride cement to the sulfate type. The pH value of the hardened material should be less than 8.8, and there is no alkalinity corrosion of the glass fiber. Inorganic glass steel duct should be used alkali-free, medium alkali or alkali resistant glass fiber mesh cloth, and are consistent with current national standard "glass fiber grid" JC561, "the alkali free glass fiber roving," JC/T281, "in the alkali glass fiber roving" JC/T576 regulations. The quality of magnesium oxychloride cement duct Magnesium Oxide should comply with the national standard "Magnesium Oxide" light burned magnesite products with WB/T1019-2002 regulations. Inorganic glass steel duct can divided into the overall common type (non insulation), integral insulation type (inner and outer surface of inorganic glass steel, middle insulating material) and combination type (by special adhesive, composite plate, flange, reinforcement angle etc) and the combination of insulation, its production parameters should comply with the provisions of the table 1, 2, 3. The longitudinal and transverse lap joint distance between adjacent layers of glass fiber grid cloth should be more than 300mm, and the distance of the same layer lap joint shall not be less than 500mm. Lap length should be greater than 50mm. The wind pipe surface thickness of the slurry flating glass fiber mesh cloth is appropriate. And the surface do not have dense pores and spillage.
Q:nan

It can pass through the electromagnetic wave. It is made of synthetic resin and glass fiber through the composite process with good electrical insulation, high strength, and easy coloring. Glass fiber reinforced plastic is a new functional composite material used in different field with light weight, good instantaneous high temperature performance and thermal insulation. Glass?reinforced?plastics has a wide variety with slow heat transfer(also known as glass fiber reinforced plastic, internationally recognized abbreviation is GFRP or FRP).
1. Manufacturer Overview

Location
Year Established
Annual Output Value
Main Markets
Company Certifications
2. Manufacturer Certificates

a) Certification Name
Range
Reference
Validity Period
3. Manufacturer Capability

a)Trade Capacity
Nearest Port
Export Percentage
No.of Employees in Trade Department
Language Spoken:
b)Factory Information
Factory Size:
No. of Production Lines
Contract Manufacturing
Product Price Range