CE Certificate ALL-IN-ONE lithium battery inside Outdoor New Product 100w 400W LED Solar Light
Loading Port:

SHANGHAI
Payment Terms:

TT OR LC
Min Order Qty:

1 set
Supply Capability:

3000 set/month
OKorder Service Pledge
Quality Product
Order Online Tracking
Timely Delivery
OKorder Financial Service
Credit Rating
Credit Services
Credit Purchasing
---
Add to My Favorites
---
100W Solar LED Street Light Feature:
LED Chip: 30PCS 3030LED

Luminous Efficiency: 160 lm/w

Color Temperature:3000~6000K for options

Solar Panel: 5V 25W, Mono-crystalline

Battery Type: LiFePO4 3.2V 28AH

Charging time: 6-8 Hours

Discharging time: 12-15 Hours

IP Rate: IP65

Material: Die-casting Aluminium

Product Size: 662*238*175mm

Install Height: 3-5m

Warranty: 3 years
100W Solar LED Street Light Advantages
This 5v led 100W-400W solar street lighting high power led light,solar panel street light is very convenient for customers to customize the light based on their requirements.

Motion sensor system, light control system, timing control system and timing + motion control system perfectly, ensure whole system more energy-efficient.

Easy installation - No power required, no cables required, easy installation within several minutes.

Solar panel and light angle adjustable - Adjustable in vertical direction, ensure maximum efficiency of photoelectricity conversion.

Good heat dissipation - Solar panel, battery and light body are not connected directly, LED light and lithium battery are not covered by a panel any more, longer lifetime.


100W Solar LED Street Light Projects: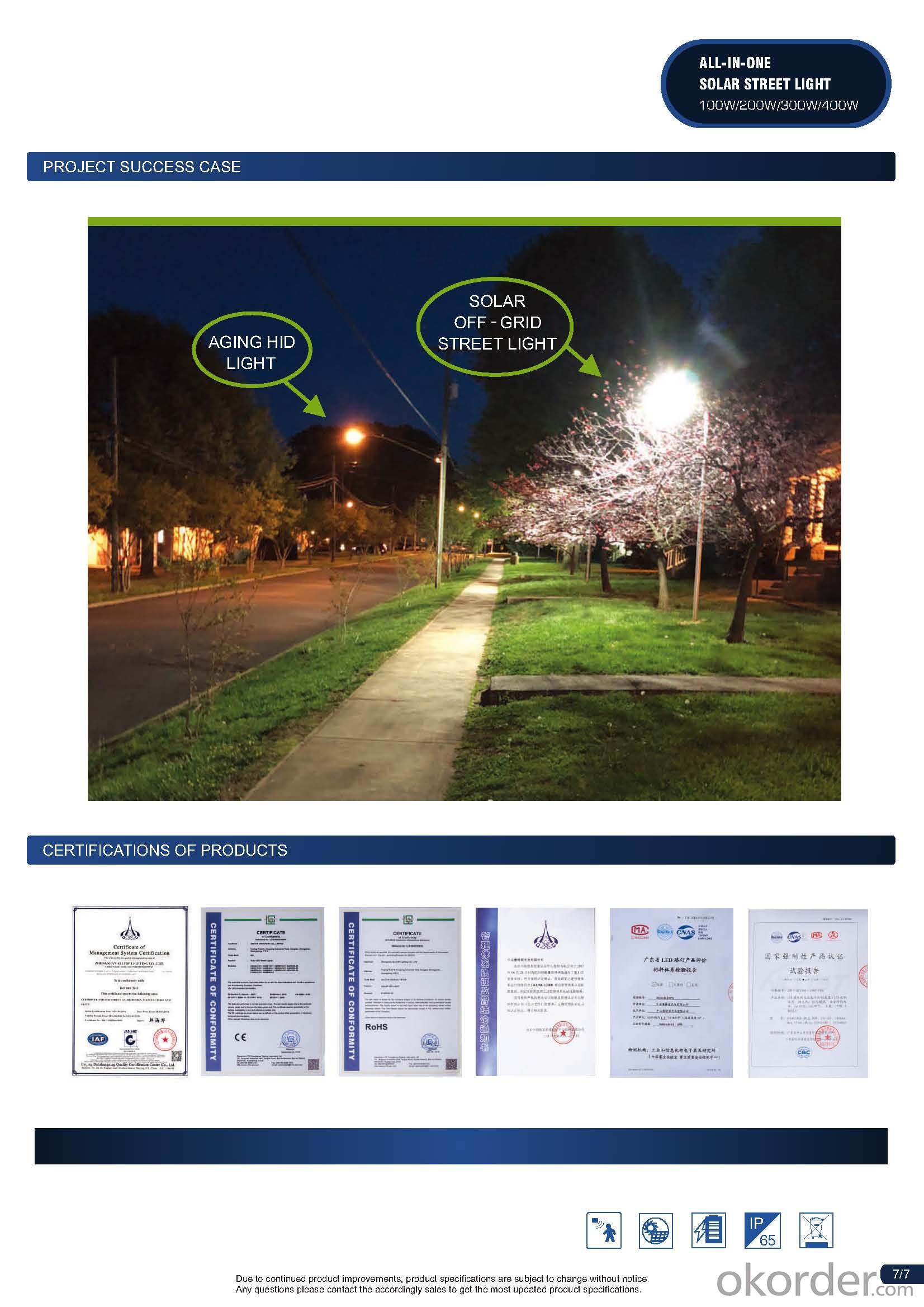 CE Certificate ALL-IN-ONE LITHUM BATTERT Outdoor New Product 100w 400W LED Solar Light for Street
Q:

No, solar lights do not require electricity as they rely on solar energy from the sun to generate power and illuminate.
Q:

Yes, solar lights can be used for outdoor weddings or event venues. They are a popular and eco-friendly choice for illuminating outdoor spaces during evening events. Solar lights are easy to install, require no electrical wiring, and can provide a warm and ambient lighting atmosphere for outdoor celebrations. They also offer the advantage of being energy-efficient and cost-effective in the long run.
Q:

Yes, solar lights typically come with warranties. The length and coverage of the warranty may vary depending on the manufacturer and model of the solar light. It is important to check the warranty terms and conditions before purchasing to ensure proper protection for your investment.
Q:

Yes, there are solar lights specifically designed for outdoor parking garages or lots. These solar lights are equipped with solar panels that convert sunlight into electricity, which powers the lights during nighttime. They offer a cost-effective and environmentally friendly solution for illuminating outdoor parking areas without the need for traditional electricity sources.
Q:

Yes, solar lights are suitable for night-time gardening. They are designed to store energy from the sun during the day and automatically illuminate at night, providing a convenient and eco-friendly option for lighting up gardens after dark.
Q:

Solar lights generally perform well in extreme temperatures, although their efficiency may be affected. In extremely cold temperatures, the battery may discharge faster, reducing the light's runtime. Similarly, in extremely hot temperatures, the battery may overheat, leading to reduced performance. However, modern solar lights are designed to withstand a wide range of temperatures and often include temperature protection mechanisms to ensure their longevity and performance in extreme conditions.
Q:

Yes, solar lights can be used for indoor gardening. They provide a sustainable and energy-efficient way to supplement natural sunlight for indoor plants. However, it is important to ensure that the solar lights provide the necessary spectrum of light for plant growth and are positioned appropriately to meet the plants' light requirements.
Q:

No, solar lights cannot be operated manually as they rely solely on sunlight to charge and function.
Q:

Old or damaged solar lights should not be disposed of in the regular trash as they contain electronic components and potentially hazardous materials. Instead, it is recommended to check with your local recycling facility or electronic waste collection center to properly dispose of solar lights. These designated facilities have the expertise to handle and recycle electronic waste in an environmentally friendly manner, ensuring the materials are reused or disposed of safely.
Q:

Yes, solar lights can be used for boating or marine applications. They are a popular choice for illuminating boats, docks, buoys, and other marine vessels or structures. Solar lights are energy-efficient, environmentally friendly, and do not require any electrical wiring or connections, making them a convenient and safe lighting option for boating and marine environments.
1. Manufacturer Overview

Location
Year Established
Annual Output Value
Main Markets
Company Certifications
2. Manufacturer Certificates

a) Certification Name
Range
Reference
Validity Period
3. Manufacturer Capability

a)Trade Capacity
Nearest Port
Export Percentage
No.of Employees in Trade Department
Language Spoken:
b)Factory Information
Factory Size:
No. of Production Lines
Contract Manufacturing
Product Price Range