BQ.TADANO MOBILE CRANE GT350E BY TADANO TECHNOLOGY
Loading Port:

Tianjin
Payment Terms:

TT or LC
Min Order Qty:

1 unit
Supply Capability:

10 unit/month
Inquire Now
Customer Service
OKorder Service Pledge
Quality Product
Order Online Tracking
Timely Delivery
OKorder Financial Service
Credit Rating
Credit Services
Credit Purchasing
---
Add to My Favorites
---
MASS
Gross Vehicle Mass: 34400 kg
Front axle mass: 12205 kg
Rear axle mass: 22195 kg
PERFORMANCE
Max. traveling speed: 74km/h
Gradeability(tanθ): 46%
Min. Turning radius: 11000 mm
Minimum Ground Clearance: 320mm
1.UPERSTRUCTURESPECIFICATIONS
BOOM
4-section full power partially synchronized telescoping boom of hexagonal box construction with 5 sheaves at boom head. The synchronization system consists of 2 telescope cylinders, extension cables and retraction cables. Hydraulic cylinders fitted with holding valves.
Fully retracted length -----10.6 m
Fully extended length ------ 34 m
Extension speed ----- 23.4 m in 127s
JIB
2-staged boom extension type. Triple offset(5º/25º/45º)type. Stored under base boom section. Single sheave at jib head.
Length --- 8.8 m, 15.2m
SINGLE TOP
Mounted to main boom head for single line work.
ELEVATION
By a double-acting hydraulic cylinder, fitted with holding valve.
Automatic Speed Reduction and Soft Stop function.
Elevation speed -----2º-80ºin /62s
HOIST--Main winch
Variable speed type with grooved drum driven by hydraulic axial piston motor through winch speed reducer. Power load lowering and hoisting. Equipped with automatic, brake (Neutral brake) and counterbalance valve. Controlled independently of auxiliary winch.
Single line pull -----31.2kN(3,190 kg)
Single .line speed ----118m/min (at the 4th layer)
Diameter-----16mm '
Length-----.190m
HOIST-Auxiliary winch
Variable speed type with grooved drum driven by hydraulic axial piston motor through winch speed reducer. Power load lowering and hoisting. Equipped with automatic brake and counterbalance valve. Controlled independently of main winch.
Single line pull -----34.3 kN ( 3,500kg )
Single line speed -----102 m/min (at the 2nd layer)
Diameter. -----16 mm
Length-----110 m
SWING
Hydraulic axial piston motor driven through planetary speed reducer. Continuous 360~ full circle swing on ball bearing slew ring. Automatic Speed reduction and soft stop function. Equipped with manually locked/released swing brake.
Swing speed -----2.5r /min
HYDRAULIC SYSTEM
Pumps-----Quadruple gear pumps driven by carrier engine through P.T.O.
Control valves-----Multiple valves actuated by pilot pressure with integral pressure relief valves.
Circuit------Equipped with air cooled type oil cooler. Oil pressure appears on AML display for main circuit.
Oil tank capacity-----approx. 527liters
Filters ------Return line filter
CAB AND CONTROLS
By 4 control levers for swing, boom hoist, main winch, boom telescoping or auxiliary winch with 2 control pedals for boom hoist, boom telescoping based on ISO standard layout. Control lever stands can change neutral positions and tilt for easy access to cab.
Steel construction with sliding door access and tinted safety glass windows opening at side, and operator's 5 way adjustable seat with headrest and armrest.
OUTRIGGER
4-hydraulically operated H-type outriggers. Each outrigger controlled simultaneously or independently from either side of carrier. Equipped with sight level gauge. Floats mounted integrally with the jacks retract to within vehicle width. All cylinders fitted with pilot check valves.
Crane operation with different extended length of each outrigger.
Equipped with extension width detector for each outrigger.
Extended width
Fully-----6,100 mm
Middle-----4, 000mm
Float size (Diameter) -----400 mm
TADANO Automatic Moment Limiter
Main unit in crane cab gives audible and visual warning of approach to overload. Automatically cuts out crane motions before overload. With working range (load radius and / or boom angle and / or tip height and / or swing range) limit function.
Nine functions are constantly displayed.
Either moment as percentage or main hydraulic pressure
Either boom angle or moment %
Either boom length or potential hook height
Either actual load radius or swing angle
Actual hook load
Permissible load
Either jib offset angle or number of parts of line of robe
Boom position indicator
Outrigger position indicator
FRONT JACK
Front outrigger mounted to the front frame of carrier to permit 360ºlifting capabilities.
Hydraulic cylinder fitted with pilot check valve. Equipped with front jack extension detector.
Float size (Diameter) -----260 mm
COUNTERWEIGHT
Integral with swing frame
Mass-----4100 kg
DEMENSION
Overall length-----12,770mm
Overall width-----2,490mm
Overall height-----3,570mm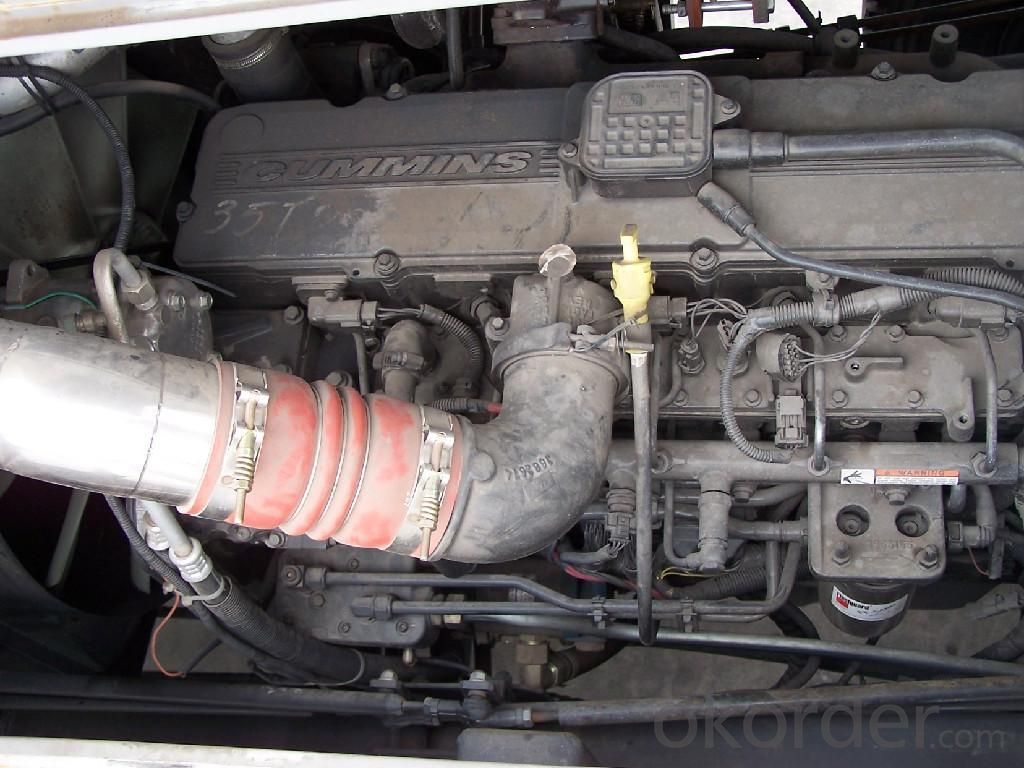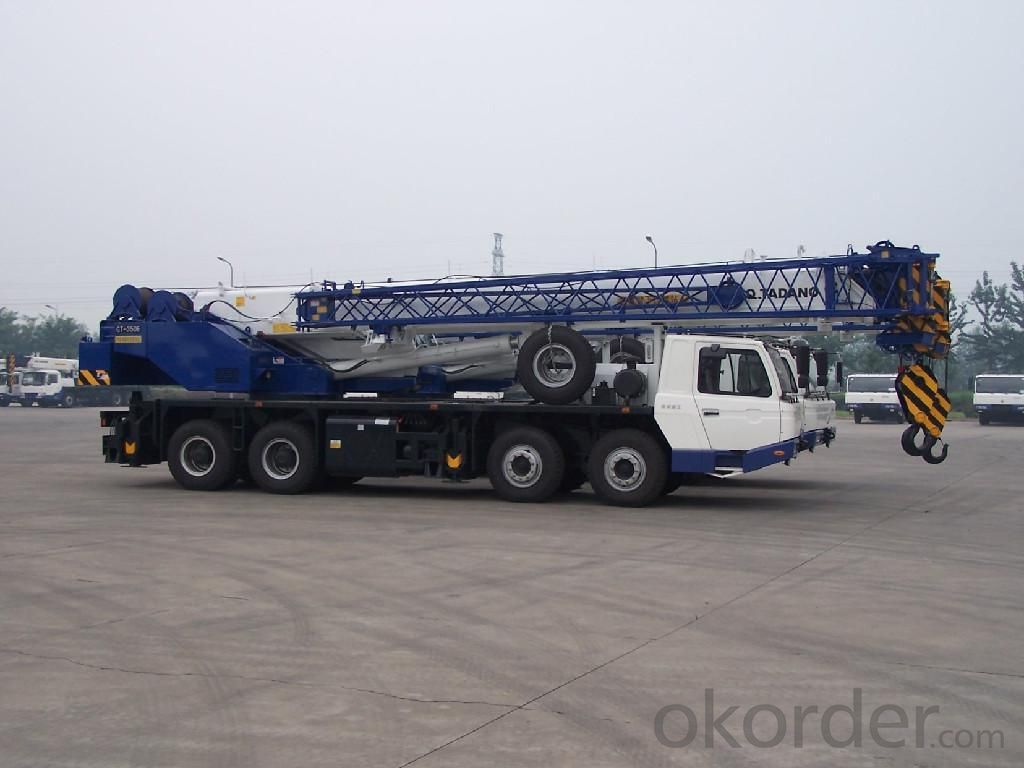 Q:Is the truck crane limited by the yellow mark?

Yellow standard car refers to the environmental protection department issued to the yellow environmental protection signs of the passenger car.
Q:How does the car crane (wheeled car crane) overturn insurance claims?

If the purchase of vehicle loss insurance, car cranes (wheeled car crane) overturned losses caused by the insurance company is responsible for compensation 85%
Q:Is the truck crane and truck crane mean?

The use of these two cranes is not the same. Lorry crane is installed on the car chassis, this vehicle is mainly used to transport the goods,
Q:Does the truck crane commander need a document?

Whether the command of the command is correct, is directly related to the security, so the command staff also need to learn evidence, to avoid blind command.
Q:How the position of the crane crane boom is arranged

Generally by adjusting the screw to make additional adjustments or increase the gasket under the slider method to make additional adjustments, the form of the slider with the different shape of the boom, the adjustment must ensure that the slider and the boom to ensure a certain gap between the
Q:What is the relationship between the winch and the reel and the reel shaft?

Reducer with bolts fixed together, and finally the reducer into the reel, and bolted.The order of installation Well, you should understand.
Q:How to get the weight of the truck crane

If the hanging material, the bar stretched far, the center of gravity is too large, can not afford to pay heavier things, or likely to cause rollover.
Q:How does the car crane handle?

By the Provincial Production Safety Supervision Bureau for a unified, from the date of issuance of two years without a test, continuous trial twice no longer tested.
Q:Do you need a harness for a truck crane?

You ask the car on the car or get off the cab? On the car operating room is no seat belt
Q:What is the material process for a truck crane?

And the price, crane parts such as Wanda rotary bearing manufacturing also benefited from the continuous emergence of new materials, making the crane to a lighter, better direction.
1. Manufacturer Overview

Location
Year Established
Annual Output Value
Main Markets
Company Certifications
2. Manufacturer Certificates

a) Certification Name
Range
Reference
Validity Period
3. Manufacturer Capability

a)Trade Capacity
Nearest Port
Export Percentage
No.of Employees in Trade Department
Language Spoken:
b)Factory Information
Factory Size:
No. of Production Lines
Contract Manufacturing
Product Price Range
Hot Searches
Related keywords