50W Mono Solar Panel for Solar System for Sale
Loading Port:

Shanghai
Payment Terms:

TT OR LC
Min Order Qty:

1000 watt
Supply Capability:

1000000 watt/month
OKorder Service Pledge
Quality Product
Order Online Tracking
Timely Delivery
OKorder Financial Service
Credit Rating
Credit Services
Credit Purchasing
---
Add to My Favorites
---
Item specifice
Material:
Monocrystalline Silicon
Max. Power(W):
50
Number of Cells(pieces):
36
---
Product Description
50W mono solar panel for solar system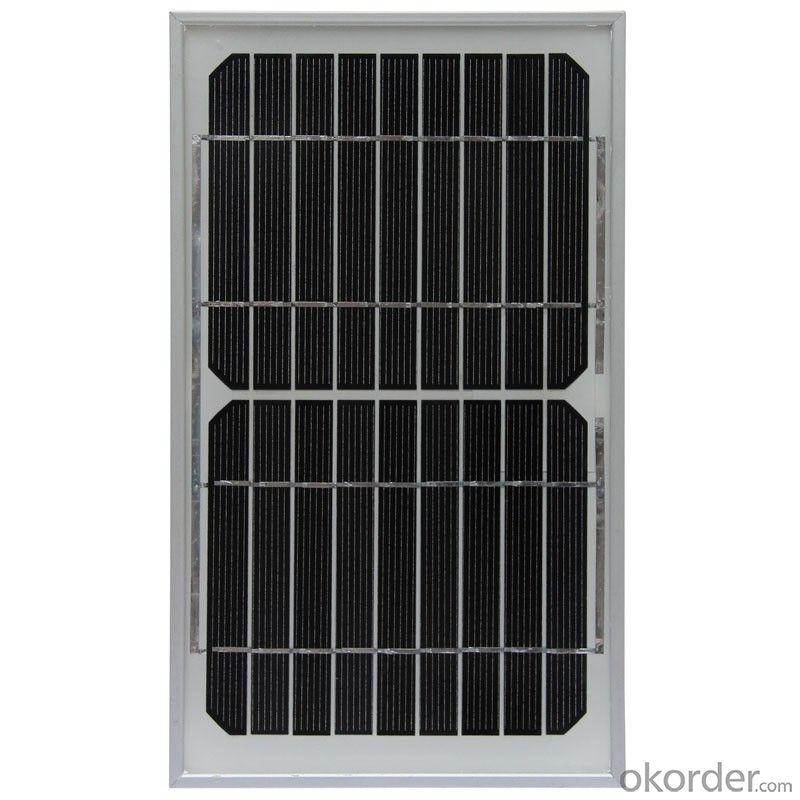 The 50Watts Mono Solar Panel Specifications:
1)Customized Type: 50W;
2)Max power: 50W
3)Output cable: 4.0mm/0.9m
4)Fixing Adhesive: Silicone Sealant(white);
5)Max Load: 2.4kpa Wind Load/5.4kpa Snow Load;
6)Tempered Glass: 3.2mm;
7)Backfoil: White/Black TPT;
8)OEM Service Is Available;
9)Encapsulation Material: EVA(0.50± 0.03mm Thickness);
10)Temperature Range: -40° C to +85° C;
11)Packaging And Delivery:After 10-15days Of Your Payment;
12)Packaging Details: Carton/Wooden Case;
13)Delivery Detail: 7-15 Days.

Characteristics
1)High reliability with guaranteed +/-3% output power tolerence.
2)The modules can withstand high wind-pressure,snow loads and extreme temperatures.
3)Bypass diodes to minimize power loss with shading.
4)High and stable conversion efficiency to ensure the highest quality.

Quality and Safety
1)25-year limited warranty of 80% power output.
2)10-yewr limited warranty of 90% output.
3)5-year limited warranty of materials and workmanshop.
4)ISO9001:2008(Quality Management system)certified factory.
5)Product quality warranty&products liability insurance to guarantee and user' benefits
6)EN 6100-6-3:2007 EN 6100-3-1:2007(IEC61000-4-2:2008 IEC 61000-4-3:2008)

Features:
1)Long Service Life;
2)High Efficency Solar Cells;
3)Special Aluminum Frame Design;
4)High Transmission,Low Iron Tempered Glass;
5)Advanced Cell Encapsulation.

Application
1)On Grid System,Off Grid System,Hybrid Sytem.
2)Solar lighting ,lamps,household electricity,highway transportation.
3)Construction and photovoltaic power planta and so on.

The Electrical Characteristics Of 50 watts Mono Solar Panel

| | |
| --- | --- |
| Maximum Power at ST(Pmax)W | 50Wp |
| Maximum Power Voltage(Vmp)V | 36/18 |
| Maximum Power Current(Imp)A | 1.38/2.77 |
| Open Circuit Voltage(Voc)V | 39.5/19.05 |
| Short Circuit Current(Isc)A | 1.51/2.98 |
| Cell Efficiency(%) | 18.6% |
| Module Efficiency(%) | 17.7% |
| Operating Temperature º C | -40º Cto+85º C |
| Maximum system voltage | 1000V(IEC)DC |
| Power tolerance | +/-3% |
| Temperature coefficients of Pmax | -0.45%/º C |
| Temperature coefficiency of Voc | -0.27%/º C |
| Temperature coefficiency of Isc | 0.05%/º C |
| Weight(kg) | 4.5 |
| Number of cell(pcs) | 4*9 |
| Dimensions(mm) | 500*735*28 |

Why choose our solar panel is you ideal choose?

1. The important raw material, Solar cells, come from domestic public company and Taiwan famous company. Quality assurance: 25 years long life span, Industry leading power output warranty 10 years 100%, 20 years 95%, 25 years 85%.

There are some company which select inferior solar cells that are processed from recycled silicon material from small workshop, so their solar panel service life maybe less than 5 years because inferior solar cell power reduce much more every year.

2. Our company has automated production line for solar panel. Good technology, good quality assurance. Strong production ability: 300 pieces 300w solar panels can be manufactured per day. Most of company weld solar cell with artificial manual work. Bad manufacturing technique is difficult to keep consistency of products.
Q:about solar panel

The answer depends upon the type of solar energy captured . Photovoltaic Solar Panels convert the energy into electricity. This electricity is ran throughout the building via wires. Thermal Solar Panels typically capture the energy in the form of heat. The hot water is circulated through the building in water pipes.
Q:I've built a set of lights, fan and a clock running on only solar power. The problem is, i have to present it tomorrow and when the light isn't particularly strong it won't work too well. It works flawlessly when its under my desk light on max brightness but the only the light works when i set it to low brightness. Currently, tomorrow in my city it won't be sunny so any advice for trying to make it work under low light?

Solar panels are designed to be used to recharge a battery or series of batteries, not for direct power. That is the inherent weakness of solar systems. The only way to have it work in low light conditions if to have several cells wired in series and have a voltage regulator to limit the amount of voltage that can be supplied. Other than that, add a battery and a charging circuit that the cell would supply power to.
Q:i also need to know how does a solar panel work

solar panel convert sunlight into electricity,The controller is connected between the photovoltaic panels and batteries,it makes electricity generated from solar panels charge batteries.
Q:

Yes, solar panels can definitely be installed in a community or neighborhood. In fact, installing solar panels at a community or neighborhood level can have several benefits. It allows for a more cost-effective approach, as the installation and maintenance expenses can be shared among multiple households. Moreover, it promotes a more sustainable and environmentally friendly energy source, reducing reliance on fossil fuels and lowering carbon emissions. Additionally, community solar projects encourage collaboration and community engagement, fostering a sense of unity and shared responsibility towards a greener future.
Q:I want to buy a solar panel kit but I'm unsure of how it works. Basically I want to run my entainment set, Xbox, cable box, 46 led tv, and some desktop speakers. I went online and found a kit for like 250 or something like that at homedepot and was wondering if that kit is worth the money or go bigger or something.

It isn't really that simple. First you have to decide if you are going to use it after dark and in cloudy weather. If so you are going to need batteries to store power. You are also going to need an inverter to convert the direct current, low voltage power to 20 volt alternating current. Once you have made those decisions you need to determine power requirements. Look at the back of each piece of equipment and find the wattage rating for the device. Add them together and you will have a starting point for power consumption. Since you will want to charge the batteries during daytime and you have parasitic drain from the inverter use you want to increase that number by 50%. When selecting the number of panels you want you have to assume they will not operate at the optimum they do deteriorate over time so de-rate them by about 50%. Once again, look at the data plate to determine wattage and get enough panels to meet the power requirements using the criteria I have mentioned.
Q:

Yes, solar panels can be used in areas with high pollution or smog. While pollution or smog can reduce the efficiency of solar panels by blocking sunlight, they can still generate electricity even under such conditions. However, the overall energy output may be slightly lower compared to areas with less pollution or smog.
Q:

Yes, solar panels can be damaged by birds or other animals. Birds may create nests under solar panels, which can cause damage to the wiring or block sunlight. Additionally, animals like squirrels or rodents can chew on the wires, potentially causing electrical issues. It is recommended to take preventive measures, such as installing barriers, to protect solar panels from such damage.
Q:Pretty much, can solar panel's support the entire houses electrical needs generally, because I know sometimes the owner's can sell unused electricity back, any ideas or any ideas on how much the average home uses in kWh

Solar okorder
Q:All I know is they check for amps watts voltage and everything... they dont have to be used for solar panels but um they have like alittle spinny thing in the middle of them. you spin it around to what you wanna test such as the amps watts voltage and stuff.... idk what their called but im looking to buy one to test my solar panels when they come in

Voltmeter.
Q:

Yes, solar panels can be installed on a barn or shed. In fact, barns and sheds are often ideal locations for solar panel installations due to their large, open rooftops that receive ample sunlight. Installing solar panels on a barn or shed can help generate clean and renewable energy while utilizing otherwise unused space.
1. Manufacturer Overview

Location
Year Established
Annual Output Value
Main Markets
Company Certifications
2. Manufacturer Certificates

a) Certification Name
Range
Reference
Validity Period
3. Manufacturer Capability

a)Trade Capacity
Nearest Port
Export Percentage
No.of Employees in Trade Department
Language Spoken:
b)Factory Information
Factory Size:
No. of Production Lines
Contract Manufacturing
Product Price Range
Hot Searches
Related keywords